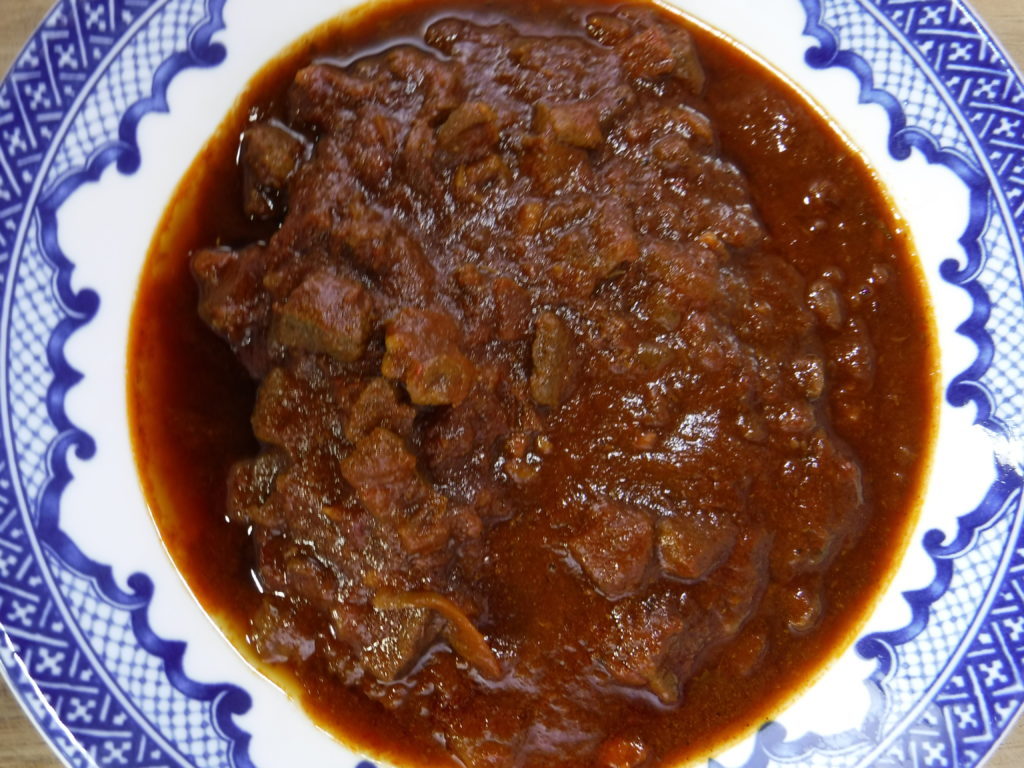 A few months ago, a hunter gave me a large piece of frozen venison, which I have kept in my chest freezer while I tried to figure out what to do with it. I decided to adapt two recipes from Robb Walsh's Texas Eats, since there are a lot of deer hunters in Texas trying to find a good way to use the fruits of their hunting. This first recipe is a way to use 3 lbs. of venison (or beef or buffalo). It is a classic Texas-style chili, meaning that it is composed of meat and flavorings, with no beans or extraneous vegetables. (Very keto – very unvegetarian!)
Note – Be careful when first handling hunted venison. Carefully wash the entire chunk of meat, ensuring that there are no hairs or bits of bark, etc. on the meat. These contaminants are easier to remove before the meat is cut up.
This batch was cut into small cubes, which did not take too long. I also considered putting it through the meat grinder on the coarsest die. In Texas, one can buy "chili grind", i.e. coarsely ground beef intended for chili.
2 Tbs. cumin seeds
8 oz. bacon, cut into strips
3 lbs. venison, cut into small cubes (or coarsely ground)
1 lb. onions, chopped
3-1/2 Tbs. chili powder
2 tsp. paprika
1 tsp. Mexican oregano (or Mediterranean if Mexican is unavailable)
1 tsp. freshly ground black pepper
½ tsp. dried thyme
½ tsp. salt
4 large cloves garlic, chopped
1-3/4 cups beef broth
28 oz. can pureed tomatoes
1 cup water
2 large ancho chiles, seeds removed.
Toast the cumin seeds in a small frying pan until fragrant, and then coarsely grind them with a mortar and pestle (or in a bowl with the back of a spoon.)
Heat the bacon in a large pot and cook until the bacon is crisp. Remove the bacon to a plate with paper towels, leaving the bacon grease in the pan. Saute the venison in batches in the bacon grease until well browned. Remove each batch to a bowl when browned, leaving as much grease as possible in the pan. After the meat is all browned, add the onions, reduce the heat to medium-low, and cook the onions until translucent, scraping the bottom to dissolve the browned bits left from the meat. Add the spices, salt, and garlic, and cook for a minute until fragrant. Return the venison and bacon to the pan, and add the tomatoes, water, and chiles. Bring to a boil and reduce to a simmer. Cook covered until the meat is tender. Add extra water if needed.
When the chili is about done, remove the ancho chiles from the pot, and put them in a blender or food processor. Puree them, and then return them to the pot. Stir well and cook for another few minutes to blend the flavors. Adjust the seasoning and serve.