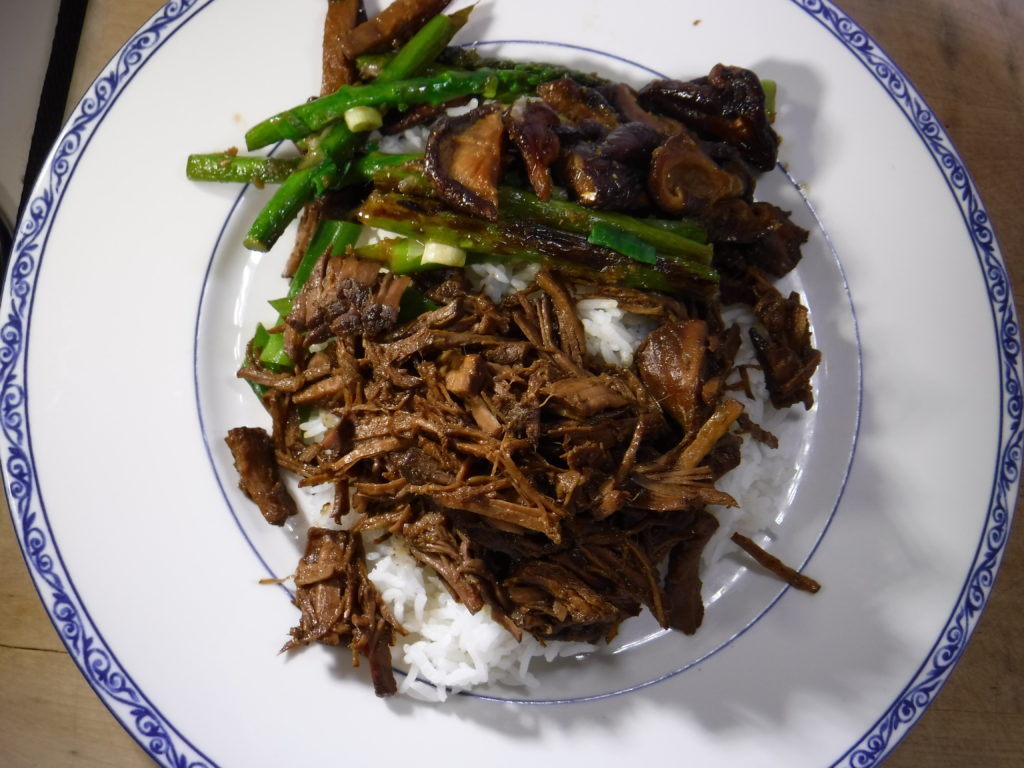 This easy braise filled the house with the smell of star anise from the Chinese Five Spice powder. We ate it with the Stir-fried Asparagus and Shitake Mushrooms and steamed rice. This recipe is adapted from Cook's Illustrated's "All-Time Best Chinese Recipes".
Cooks recommended making this with beef shank or short ribs, as flavorful and collagen-rich meats. I made it with the much cheaper and leaner chuck roast. I shredded the meat at the end, and Carol said she would prefer the meat in bigger hunks the next time.
This recipe uses a trick which I have used before, adding gelatin to the sauce to give more body and a better mouthfeel to the sauce.
2 packages (1-1/2 Tbs.) unflavored gelatin
2-1/2 cups plus 1 Tbs. water, divided
½ cup dry sherry
1/3 cup soy sauce
3 scallions, white and green parts separated, sliced
2 Tbs. hoisin sauce
2 Tbs. molasses
2-inch piece of ginger, peeled, sliced, and crushed
4 cloves garlic, peeled and smashed
1-1/2 tsp. Chinese five spice powder
1 tsp. red pepper flakes
3 lbs. boneless beef suitable for stews, cut into 1 inch pieces
1 tsp. cornstarch
Preheat the oven to 300 degrees. Adjust the oven racks so that a Dutch oven and lid will fit.
Put 2-1/2 cups of water in a Dutch oven and sprinkle the gelatin over it. Allow to soften for 5 minutes, and then cook over medium-high heat until the gelatin is melted. Add the sherry, soy, scallion whites, hoisin, molasses, ginger, garlic, five spice powder, and pepper flakes and stir. Add the beef, and bring to a boil. Stir well, cover, and place the Dutch oven in the oven and cook until the meat is tender. How long this will be will depend on the meat used. Chuck roast took about 2-1/2 hours. Beef shank will take longer.
When the meat is tender, remove the pot from the oven. Place the meat in a bowl with a slotted spoon. Remove any chunks of ginger or garlic. Strain the liquid and allow it to stand for 5 minutes in a narrow container so that the grease has a chance to rise to the top. Remove the grease. (There was very little grease from the lean chuck roast I used.) Return the strained liquid to the pot and bring to a boil, and then reduce to a simmer. Cook until it is reduced to about 1 cup. Mix the cornstarch with a tablespoon of water and add it to the sauce. Stir well. Add the beef and stir. Cook until the sauce has thickened slightly and the meat is heated through.