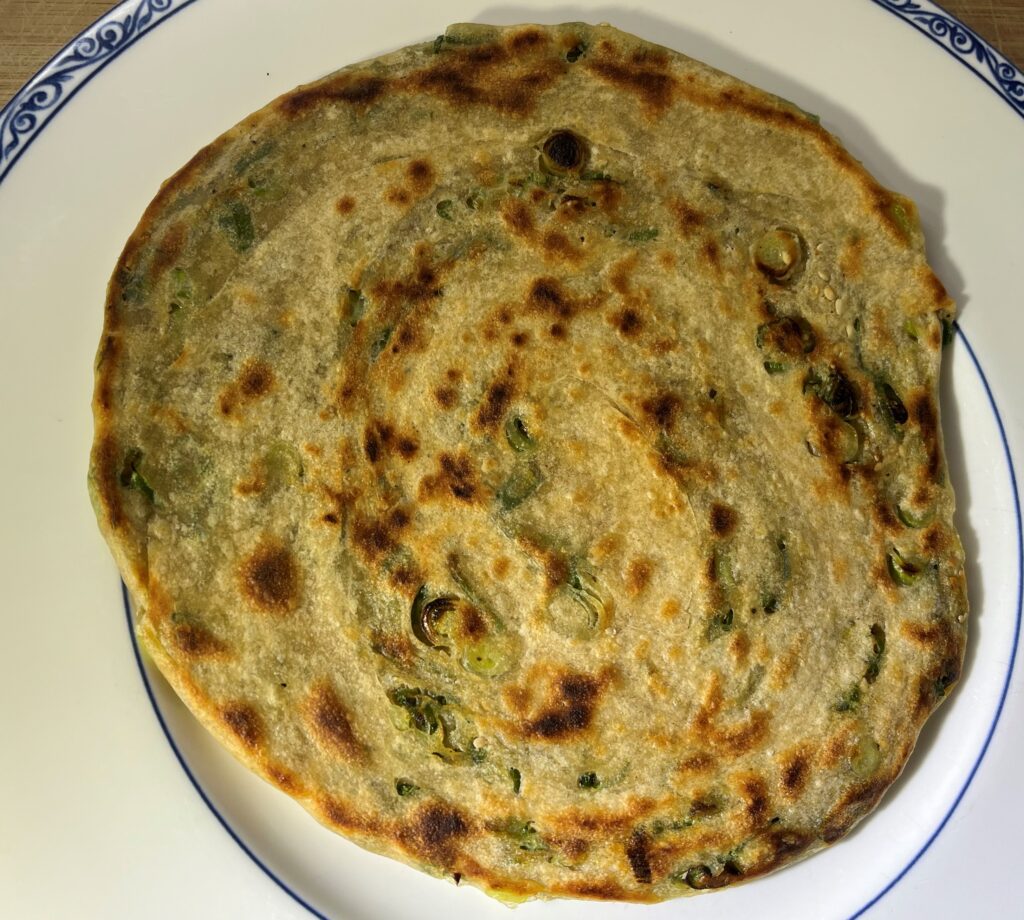 Scallion pancakes are a popular street food in China. They use a technique of making flaky layers by coiling up an oiled dough and then rolling the coil into a flatbread. This recipe follows one in AnsonMills.com, which provided 2 heritage ingredients which I used, Trigo Fuerte Flatbread Flour and Benne seeds. I suspect a mixture of 50% all-purpose flour, 25% bread flour, and 25% whole wheat flour, and sesame seeds would be good substitutes. Anson Mills gave extremely detailed instructions which I did not fully follow. I had good results with a simplified approach. This recipe will make 4 servings. We made a half recipe last night to serve with bulgogi, kimchi, and rice.
For the pancakes
10 oz. Trigo Fuerte Flatbread Flour
¾ tsp. fine sea salt
6 oz. 150 degree water
2 Tbs. Benne seeds
2 bunches of scallions, thinly sliced
2 Tbs. European-style butter, melted
Flaky sea salt
Freshly ground black pepper
Toasted sesame oil (for brushing the pancakes)
For the dipping sauce
3 Tbs. soy sauce
2 tsp. water
2 tsp. toasted sesame oil
2 tsp. rice vinegar
1-1/2 tsp. sugar
Pinch of red pepper flakes
½ inch knob of ginger, finely grated
1 scallion, thinly chopped.
In a medium bowl, combine the flour and salt. Heat 6 oz. of water in a microwave to 150 degrees and add it to the flour. Combine with a dough whisk and then knead by hand until it forms a smooth and elastic dough, about 5 minutes. Put in a small clean bowl, cover, and allow to rest for 20 minutes.
Cut an 18 x 12 sheet of baking parchment in half.
While the dough is resting, combine the dipping sauce ingredients in a small bowl.
In another small bowl, combine the sliced scallions and the melted butter.
Lightly toast the benne seeds in a small skillet and crush them with a mortar and pestle.
When the dough is rested, divide it into 4 equal pieces. Work with one piece at a time while keeping the other pieces covered so that they do not dry out. Put one of the pieces on a half sheet of baking parchment, long end facing you. Flatten the dough into a disk and put it on the first piece of baking parchment, covering it with the second piece. Roll it into an oval about 9 inches long by 7 inches wide. (I did not need any flour, but if the dough seems to be sticking to the baking parchment, sprinkle flour on both sides of the dough.) Sprinkle the dough with ¼ of the scallion/butter mixture, ¼ of the ground toasted benne seeds, some sea salt and some black pepper. Roll the dough along the long side and then elongate the roll a couple of inches by rolling and stretching it. Coil the cylinder and then flatten it with your hand, and then with a rolling pin between the two pieces of baking parchment flatten it into a 7-inch disk, using a little flour if necessary to prevent sticking. Remove the top piece of baking parchment and brush the top with some sesame oil.
Heat a non-stick skillet bigger than the pancake over medium heat. Put the pancake into the skillet oiled dough side down and parchment side up, and peel off the parchment. Cook the first side about 2 minutes. While it is cooking, brush the top side with some sesame oil. Then reverse the pancake and cook the other side for about 4 minutes or until done. Cover the cooked pancake to keep it warm while repeating the forming and cooking process with the next dough. We found this was a good 2-person job, one person cooking a pancake while the other person prepared the next one.
Cut the cooked pancakes into 8 wedges and serve with the dipping sauce.