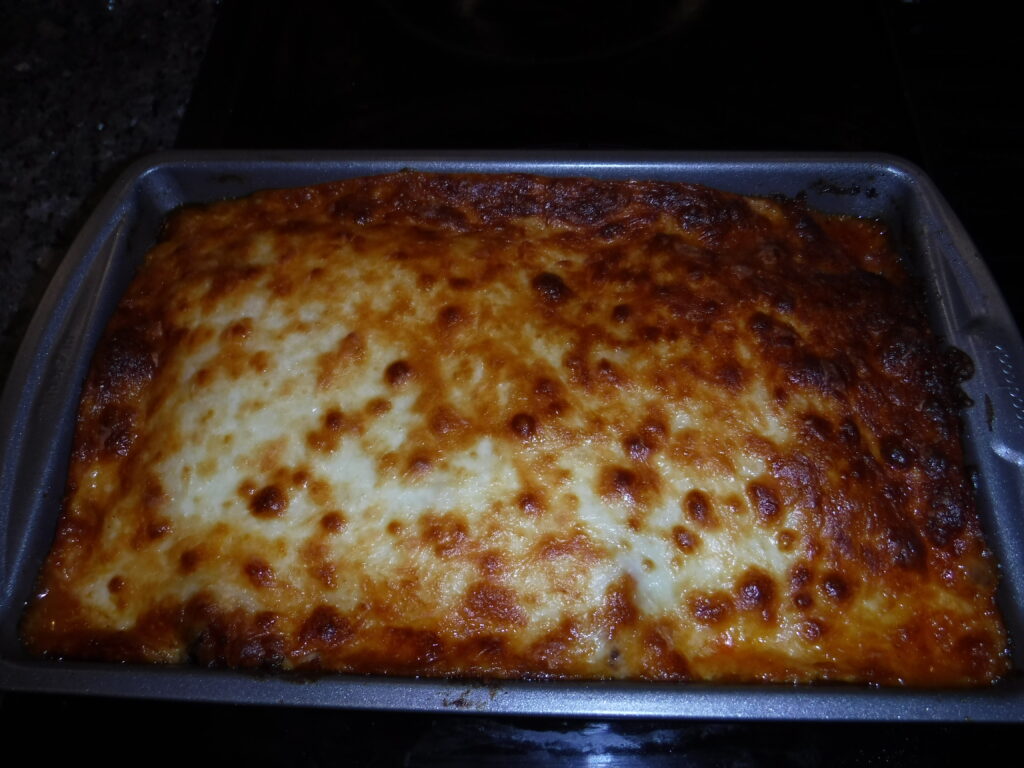 Chicken Parmesan is an Italian-American classic (and also a dish which I am sure you cannot find in the Old Country). This version is adapted from Alex Guarnaschelli's Cook with Me. She thinks this is 4 to 6 servings, which would be very large servings. It is more like 8 servings for me. She also thought this could be made in an 8 x 8 baking dish, which if so, would have to be quite deep. I ended up making a single layer of the ingredients in two 7 x 11 pans. This takes 2-3 hours to make since the breaded chicken needs to rest at least an hour.
Chicken
3 cups panko bread crumbs
3 large eggs
2 tsp. garlic powder
1-1/2 lbs. boneless, skinless chicken breasts
Kosher salt
2 Tbs. extra virgin olive oil
2 Tbs. unsalted butter
Sauce and Cheese
4 cups Homemade Tomato Sauce
½ cup fresh basil leaves, chopped
1.5 lb. shredded whole-milk low moisture mozzarella
1 cup grated Parmesan
Preheat the oven to 375 degrees. Spread the panko on a cookie sheet. Bake until golden brown, about 5 to 8 minutes. Remove from the heat and cool completely on the cookie sheet.
Cut the chicken breasts into 2 or 3 pieces, and pound each piece until ¼ to ½ inch thick. Sprinkle them with salt.
Add the garlic powder to the cooled panko and mix well.
Break the eggs and scramble them with a little water. Put them in a shallow bowl.
Get ready another cookie sheet. One by one, dip the flattened chicken pieces in the egg on both sides and then coat both sides with the panko. Put the breaded chicken pieces in a single layer on the cookie sheet. Cover with plastic wrap and rest in the refrigerator for at least an hour and up to 6 hours.
Preheat the oven to 350 degrees
In a large skillet, heat the olive oil and butter over medium heat until the butter is frothing. Cook the chicken pieces in batches so that they are cooked in a single layer without crowding. Brown the first side for 3-4 minutes, and then brown the other side 2-3 minutes. Put the browned chicken pieces on another cookie sheet. Add additional oil if necessary.
When all the chicken is cooked, pour off any excess oil and put the tomato sauce in the pan and cook until it is warm.
To assemble the chicken Parmesans, put the chicken pieces in a single layer in the baking dishes. Cover with tomato sauce and basil, and then with the cheeses. Bake for 25-30 minutes until the pans are bubbling and the cheese is browned. If the cheese is not quite browned enough, turn up the temperature in the oven and give it a few minutes at a higher temperature.
Serve with crusty bread or pasta.