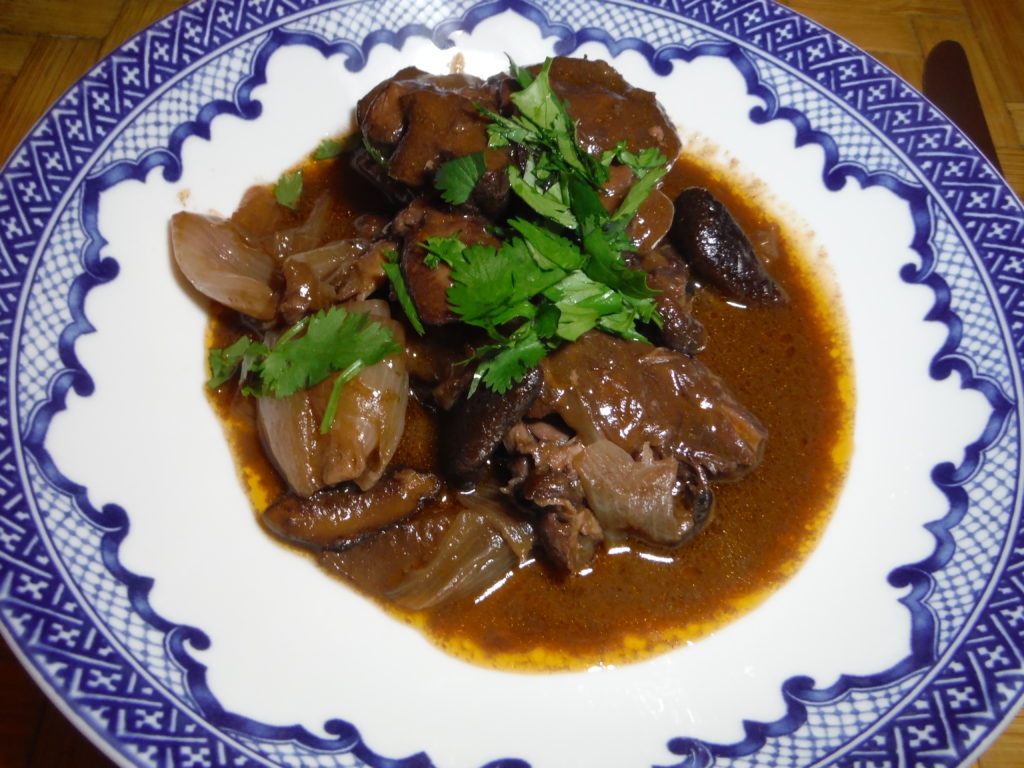 This is an example of Vietnamese-style French food, like yoshuku, Japanese-style Western food.  It was a big hit at dinner today.  The recipe is adapted from Luke Nguyen's cookbook "Indochine: Baguettes and banh mi: finding France in Vietnam" which I found in a bookstore in Auckland, NZ.  Since I worked for 11 years in Asia, and worked for a number of additional years on Asian business from the US, I have been very interested in European-Asian fusion cuisine.  This version varies from the usual French version since it uses shitake mushrooms, coconut water, fish sauce, and cilantro in addition to standard French ingredients like red wine.
3.5 lbs. chicken drumsticks or thighs
14 oz. red wine
2 bay leaves
2 Tbs. fish sauce, divided
2 sprigs fresh thyme
20 dried shitake mushrooms
2-3/4 oz. butter
6 large shallots, peeled and cut into large chunks
1 Tbs. vegetable oil
1 Tbs. flour
2 cups coconut water (unsweetened)
2 tsp. tomato paste
3 Tbs. chopped fresh cilantro (as a garnish)
Baguette or similar bread
Put the chicken in a gallon ziplock baggie with the wine, 1 Tbs. of fish sauce, bay leaves, and thyme. Press all the air out. Seal and refrigerate overnight.
The next day, drain the chicken in a colander, reserving the marinade. Discard the thyme and bay. Pat the chicken dry.
Soak the shitakes for at least 20 minutes. Then pat dry and slice. Set aside.
Heat a Dutch oven over medium heat. Add half of the butter. When the butter is bubbling, add the shallots and shitakes. Saute for about 5 minutes until the vegetables are browned. With a slotted spoon, move the cooked vegetables to a bowl. Add the rest of the butter and the oil. When hot, add the chicken, frying on both sides until golden. Sprinkle the flour and saute until browned. Stir in the reserved marinade and deglaze the pan. Add the coconut water, the tomato paste, the remaining Tbs. of fish sauce, and the vegetables. Bring to a boil and then reduce to a simmer. Cook, stirring occasionally, until the chicken is tender and the liquid is reduced to a thick sauce.
Sprinkle with cilantro and serve with sliced baguettes to soak up the sauce.