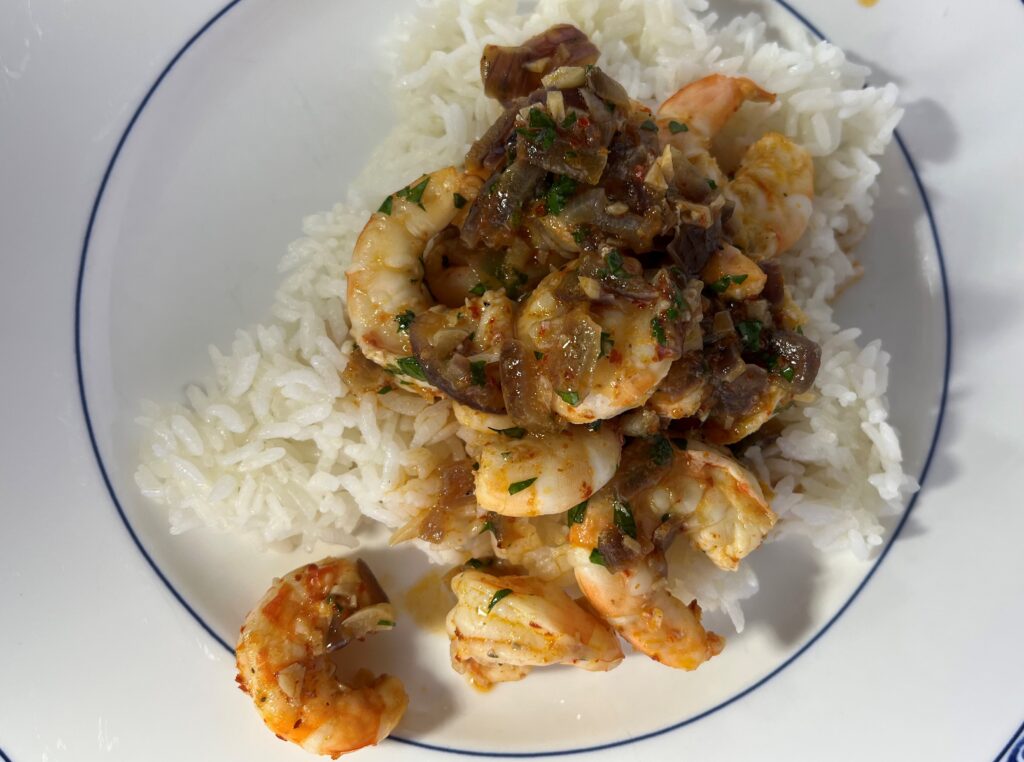 This is a Mexican variation on Gambas al Ajillo, the classic Spanish shrimp with garlic sauce. The tequila in this is the clear (unaged) type. Here is how I made 2 servings, based on a recipe in 177MilkStreet. This is a quick dish, taking less than half an hour. I served it with steamed rice and a salad.
12 oz. shell-on shrimp
1 tsp. lime juice
Salt and black pepper
3 Tbs. tequila
1 Tbs. butter
1 Tbs. olive oil
¼ red onion, chopped
3 cloves garlic, chopped
1 tsp. Aleppo pepper
2 Tbs. cilantro, chopped
Peel the shrimp. Place the peels in a small saucepan with water and boil for about 5 minutes until the peels have all turned red. Drain, reserving the broth.
Put the peeled shrimp in a bowl with the lime juice and some salt and pepper.
In a medium skillet, heat the butter and olive oil over medium heat. When hot, add the onions and cook for a couple of minutes, and then add the garlic. When the onions are translucent, add the Aleppo pepper and cook for about 30 seconds, until fragrant. Add the shrimp stock and the tequila. Stir well and cook until the liquid is almost gone, about 5 minutes. Add the shrimp and cook for about 3 minutes, until the shrimp is just cooked. (Do not overcook.) Remove from the heat and stir in the cilantro. Check for seasonings and serve with rice. (I added Peri-Peri sauce at the table.)