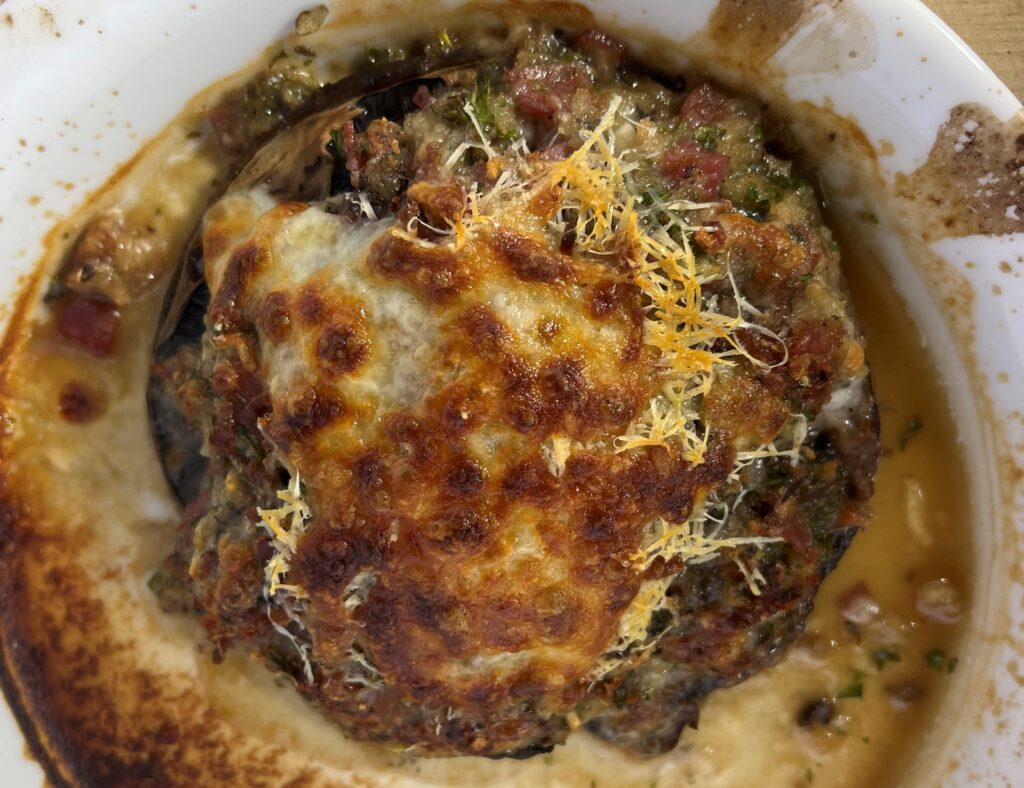 I recently saw on chron.com a recipe for one of the signature dishes at one of Houston's leading restaurants. "Stuffed Mushrooms Trastevere" was included in "Tony's: The Cookbook" in 1986 although it is no longer on the menu. Their recipe is fairly easy and straightforward, but I had to change it based on the ingredients available to me. At my local Kroger, the only stuff-able mushroom caps were portobellos, so what I did was serve one portobello per person with a salad and some fresh bread. It turned out very well. This is sized for two persons.
2 Portobello mushroom caps
2 Tbs. lemon juice
½ tsp salt
3 slices prosciutto, finely chopped
4 slices Genoa salami, finely chopped
1 Baby Bella mushroom, finely chopped
1 clove garlic, finely chopped
1 Tbs. parsley, finely chopped
1 pinch Italian seasoning
1 Tbs. panko
3/4 cup grated parmesan, divided
1/3 cup chicken broth
Freshly ground black pepper
¼ cup grated mozzarella.
In a small saucepan, put enough water to cover the Portobellos. Bring to a boil. Add the lemon juice, salt, and the Portobellos. Reduce to a simmer and cook for 5 minutes. Remove the Portobellos from the liquid to drain.
In a medium bowl, combine the prosciutto, salami, chopped Baby Bella, garlic, parsley, Italian seasoning, panko, 1/2 cup of Parmesan, and freshly ground black pepper. Mix well and wet with a little of the chicken broth.
Heat the oven to 350 degrees. Put the drained Portobellos in small broiler-proof baking dishes. Top with the stuffing mixture and pour the rest of the chicken broth in the dish around the Portobellos. Bake for 15 minutes. Sprinkle the tops with the remaining ¼ cup of Parmesan and with the mozzarella, and broil until the cheese is browned and bubbly, about 3 minutes. Serve immediately.