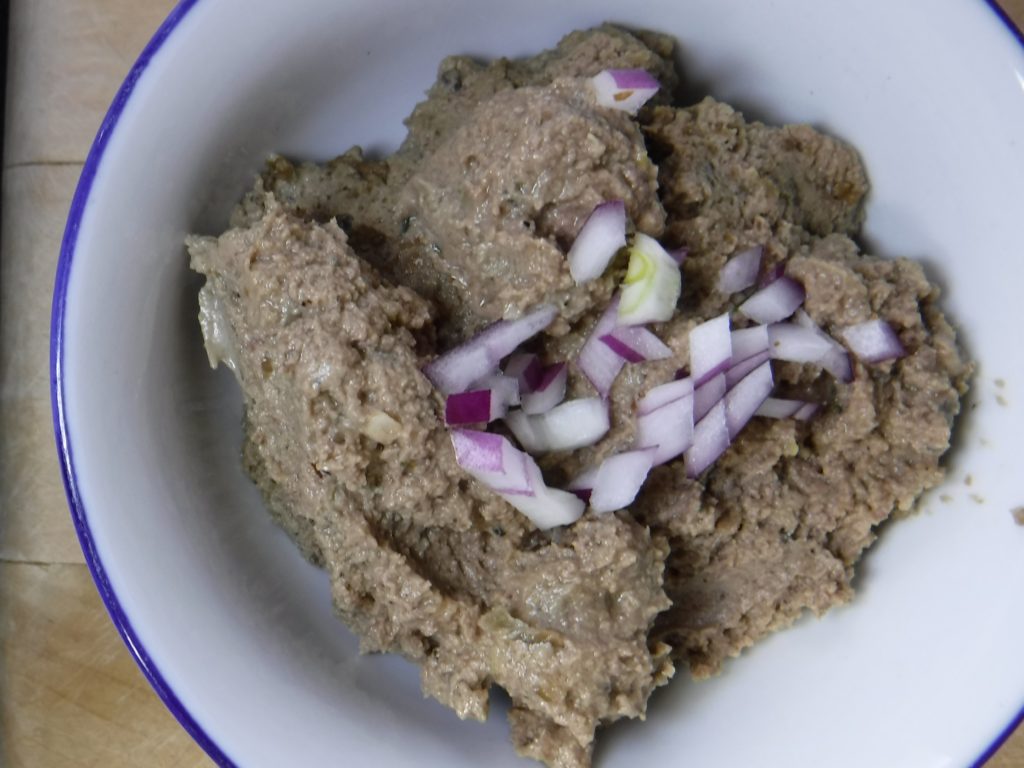 After taking apart two ducks to make breasts for duck prosciutto and legs for confit, I had two duck livers. In the true peasant spirit, that represented some food which should not be wasted, so I made paté out of them following a recipe in The Essential Pepin. The paté made a nice lunch on some good German bread. (Jacques Pepin would have served it on a baguette. In true peasant style, I used what I had.)
2 duck livers (~4.5 oz.), each cut into 4 pieces
6 Tbs. rendered duck fat (See Rendering Duck Fat)
2 cloves garlic, coarsely chopped
1 large shallot, peeled and coarsely chopped
¼ tsp. herbes de province
1-1/2 tsp. brandy
¼ tsp. salt
¼ tsp. black pepper
Red onion for garnish, optional
Heat the duck fat in a large skillet. Cook the shallots over medium heat for about a minute. Add the garlic, liver, and herbes de Province and cook another two minutes or so, stirring occasionally. The livers should be cooked, but not overcooked. Add the brandy, salt and pepper.
Transfer the mixture to a blender and blend until smooth. Cool to room temperature. Check the seasoning and then cover and chill in the refrigerator. Serve with good bread.
For longer term storage, put the pate in a 1 cup Mason jar. Melt some duck fat and pour a protective layer over the paté. (Butter could be used for this protective seal if duck fat is not available.) Protected in this way, it can keep for two months in the refrigerator.