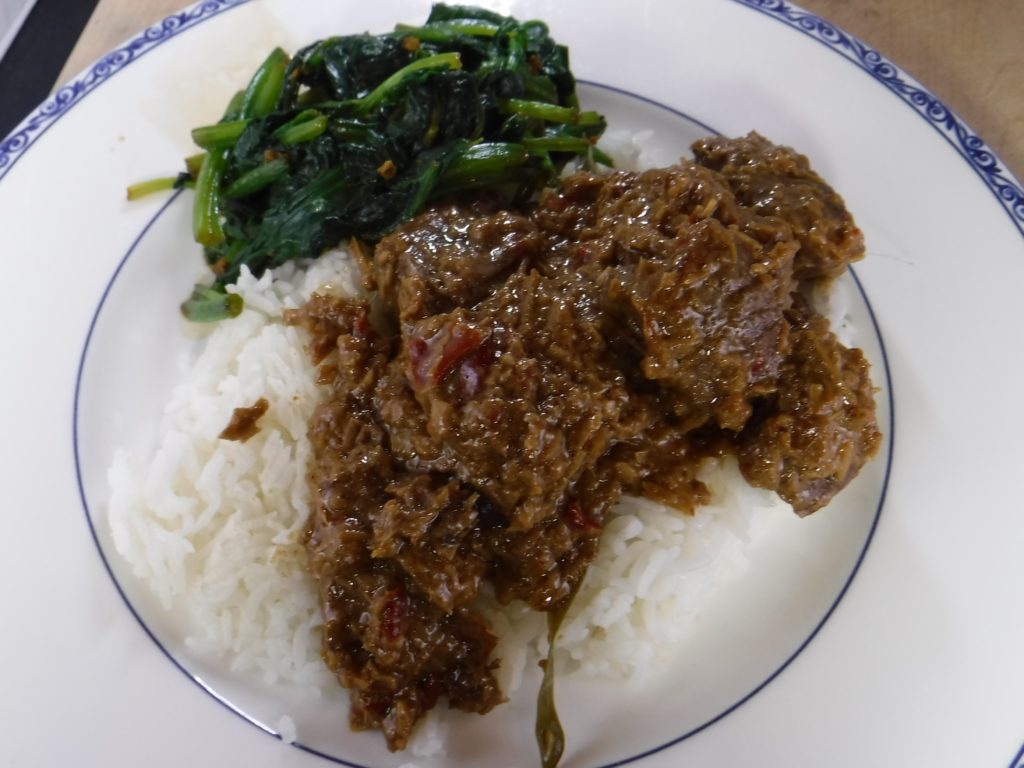 Beef rendang is a classic Malaysian beef stew. The first time I made it was in 1979. Carol and I were living in Houston and we were friends with a young Malaysian couple which had their first child in Houston, far from the support services of family members. A Malay tradition is to serve a new mother with beef rendang, a nutritious and comforting dish. I also remember the dish as being very red, whether from the chilies or some food coloring, and red is an auspicious color. (Red dyed hard boiled eggs was another traditional dish for the new mother.)
We volunteered to make beef rendang for them and borrowed one of their Malaysian cookbooks to do so. The cookbook was in English, but it assumed knowledge that we did not have. The recipe asked for a "catty" of beef, which I now know from Wikipedia is about 1.3 lbs. The book also assumed making coconut milk from scratch which we definitely did not know how to do. I ruined a cake pan banging a coconut with a hammer trying to open it to get at the coconut meat to start making coconut milk. In other words, we had no idea what we were doing, but our friends professed enjoyment of the beef rendang we cooked, and I am sure they were touched that we would go through the trouble of trying to make it.
Over 50 years later, I have finally gotten around to making it a second time, this time using a cookbook intended for non-Malaysians, Ping Coombes' Malaysia: Recipes from a family kitchen. Even this book presented its problems. For example, the author called for dried red Kashmiri chilies, which I was unable to find. Instead, based on the picture in the book, I used chile arbol, and that seemed to turn out well. The final product was definitely spicy, but not overwhelming to people who like spicy food.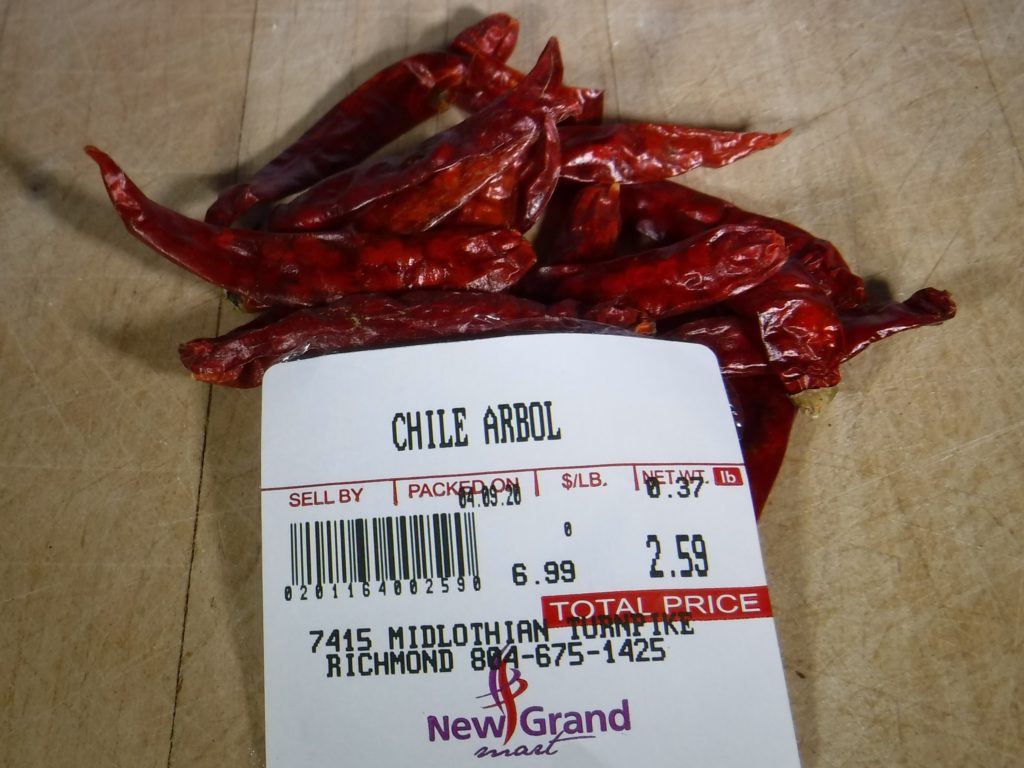 Another challenge was Thai ginger, or galangal. The recipe called for it to be coarsely chopped, but the galangal we bought from New Grand Mart was so hard that chopping it seemed out of the question. Instead, I was able to grate it without too much trouble.
Here is how we made it, following Ping Coombes' directions in general, but modifying them a bit for what was available. We served it with steamed rice and some sautéed greens, and it made a very nice dinner. There are two stages, making a spice paste, and secondly stewing the beef with the paste.
Spice Paste
15 dried red chilies (Kashmiri or arbol)
6-8 small shallots (6-8 oz.)
2 inch knob of ginger, peeled and coarsely chopped
2 inch knob of galangal (Thai ginger), peeled and coarsely grated. (Substitute another 1.5 inches of ginger if unabailable
3 lemongrass stalks (tender base only), coarsely chopped
5 Tbs. vegetable oil (plus more if needed)
Stew
Spice paste
2 lbs. beef chuck, round, or shin, cut into 1 inch pieces
1 lemon grass stalk, trimmed, halved, and bashed
13.5 oz. can coconut milk
2 Tbs. tamarind paste (softened in ¼ cup hot water and with seeds removed)
1 cup water
2/3 cup dried unsweetened coconut
2 fresh kaffir lime leaves, sliced
1-1/2 tsp. chicken Better than Bouillon (or 1-1/2 cubes of chicken stock or 1.5 tsp. chicken stock powder)
1 tsp. sugar
¼ tsp. salt
Bring some water to boil in a small saucepan. Simmer the dried chilies for 5 minutes and then remove them with a slotted spoon. Allow them to cool and then seed them. Place the seeded chilies and the other spice paste ingredients into the bowl of a food processor, and process until reasonably smooth.
Put the spice paste into a large pot on the stove and cook over medium heat until the mix is fragrant, about 5 minutes.  (Add additional oil if necessary.)  Add the cut beef and the lemongrass stalk and cook until the beef is all browned.  (Add additional oil if necessary.)  Add the coconut milk, tamarind paste, and water.  Stir well.  Bring to a boil and reduce to a simmer.  Cook uncovered until the beef is tender, 1-1/2 to 2 hours.  The pot will initially look very soupy, but it will eventually reduce into a thick sauce.
While the beef is cooking, toast the coconut in a large skillet. When browned, remove to a bowl. If the coconut is in large pieces, blitz it briefly in a food processor. The objective is small bits, but not flour.
When the beef is tender, add the toasted coconut, the kaffir lime leaves, the chicken Better than Bouillon, sugar, and salt. Stir and continue to simmer another 15-20 minutes. It is done when the beef is tender and is in a thick sauce. Serve with steamed rice.