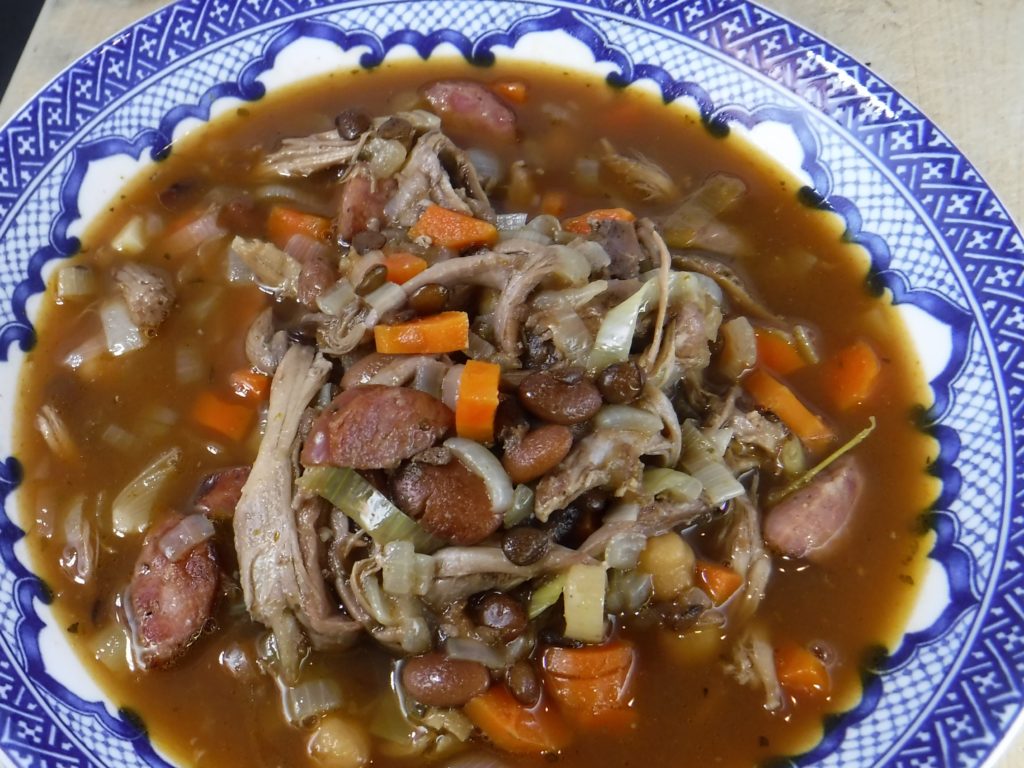 This is how I used up the stock and odds and ends of duck meat after I separated out the breasts for duck prosciutto and the legs for confit. I was following a recipe from The Essential Pepin for Duck and Bean Casserole except that I had more stock to use up so the final product was more like a soup and less like a "poor man's cassoulet". In any event, it was a very good soup.
8 oz. dried beans
Stock from 2 duck carcasses
Duck meat scavenged from 2 carcasses
1-1/4 tsp. salt
½ tsp. Herbes de Province
1 bay leaf
3-1/2 oz. smoked sausage, cut into thin slices
1 Tbs. olive oil
1 leek, white portion, washed and cut into small pieces
1 large onion, cut into small pieces
2 carrots, peeled and cut into small pieces
1 cup tomato sauce
Hot sauce for serving (optional)
Salt and pepper to taste
Wash the dried beans and put them into a large pot with the duck stock, salt, herbes de Province, and bay leaf. Bring to a boil and reduce to a simmer. Cook until the beans are almost soft, about an hour.
Heat the olive oil in a skillet over medium heat and saute the sausage until browned. Add the leek, onion, and carrot, and saute until the onion is softened, about 5 minutes. Add the sausage and vegetables to the beans and stock. Add the duck meat and tomato sauce. Continue to cook until the beans and the vegetables are fully softened, about 20 minutes. Check for seasoning. Add hot sauce at the table if desired.