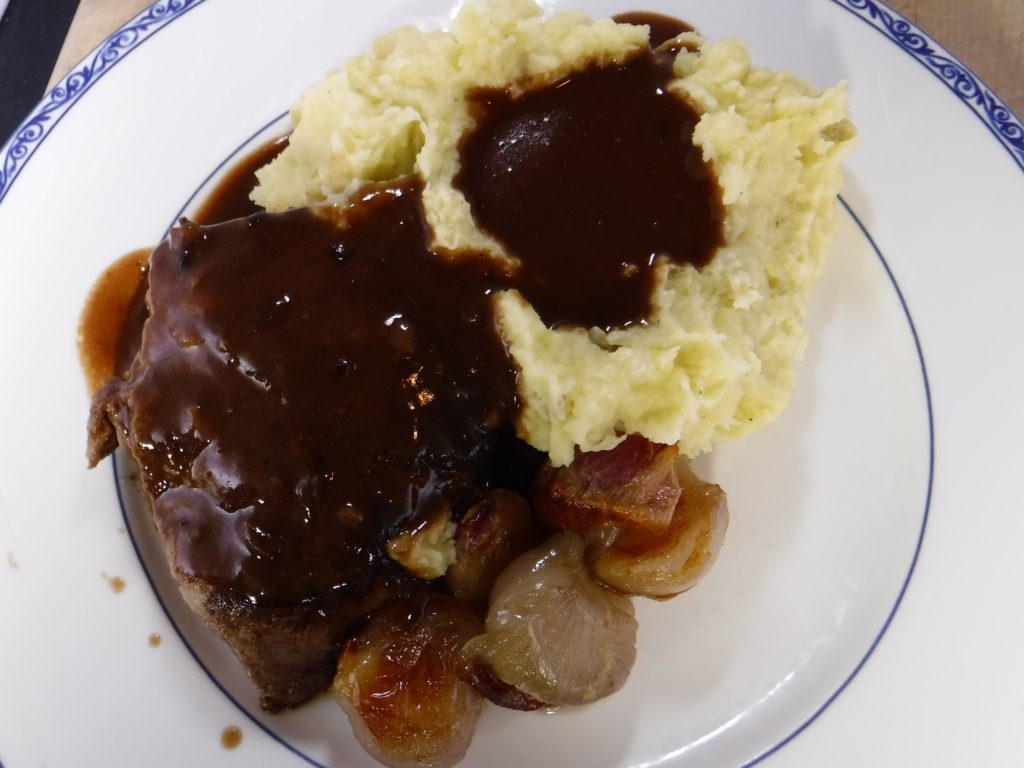 I read an article on the internet extolling the virtues of Marcella Hazan, the Italian cookbook author, and the article mentioned in passing how great Athony Bourdain's Les Halles Cookbook is.  That inspired me to buy a copy, and this is the first dish I have made from it.  So far, so good.  What I have found the most interesting is Bourdain's emphasis on proper preparation (mise en place in French).  He emphasizes what needs to be done when, and how to minimize the amount of time for the final cooking, which is useful both in a restaurant and at home when cooking for guests. As an example, in this recipe the steaks are first cooked in a skillet to get a nice crust, and then are finished in the oven so that the cook can make a pan sauce for the steaks while they finish cooking unattended.
The sauce was very tasty and the roasted shallots were very good. Amanda suggested that next time the shallots simply be placed on top of the steaks and under the sauce. In this picture, they are on the side to show them off. This recipe will serve 4.
13 shallots, all peeled – 12 whole and 1 thinly sliced
5 Tbs. butter, divided
1 Tbs. vegetable oil
4 8-oz. steaks (Bourdain used filet. I used NY strip)
Salt and pepper
1 Tbs. flour
3 oz. port
8 oz. beef broth (dark veal stock if available, inc. a little demiglace)
½ tsp. Marmite (optional)
Preheat the oven to 325. Put 2 Tbs. of butter and the 12 whole shallots in an ovenproof dish. Cover with aluminum foil. Bake, stirring occasionally, for 45 minutes, until browned and soft, but still intact. Remove from the oven and keep warm. Increase the oven temperature to 375 degrees.
Dry the meat with paper towels and season with salt and pepper. Heat the oil in a large skillet over high heat. When very hot, add 1 Tbs. of butter, which will foam. Sear the meat on all sides. Transfer the meat to a roasting pan to finish cooking in the oven. I used a meat thermometer and cooked it to 135 degrees, which took about 10 minutes.
Pour out the fat from the saute pan and add 1 Tbs. of butter.  Sauté the sliced shallot until soft over medium heat.  Add the flour and cook for 2 minutes.  Add the port  and cook until reduced in half.  Add the beef broth and optional marmite, and reduce until thick enough to coat a spoon. Enrich the sauce with the last Tbs. of butter. Serve the sauce over the steak and the shallots.  Mashed potatoes are a good side dish.