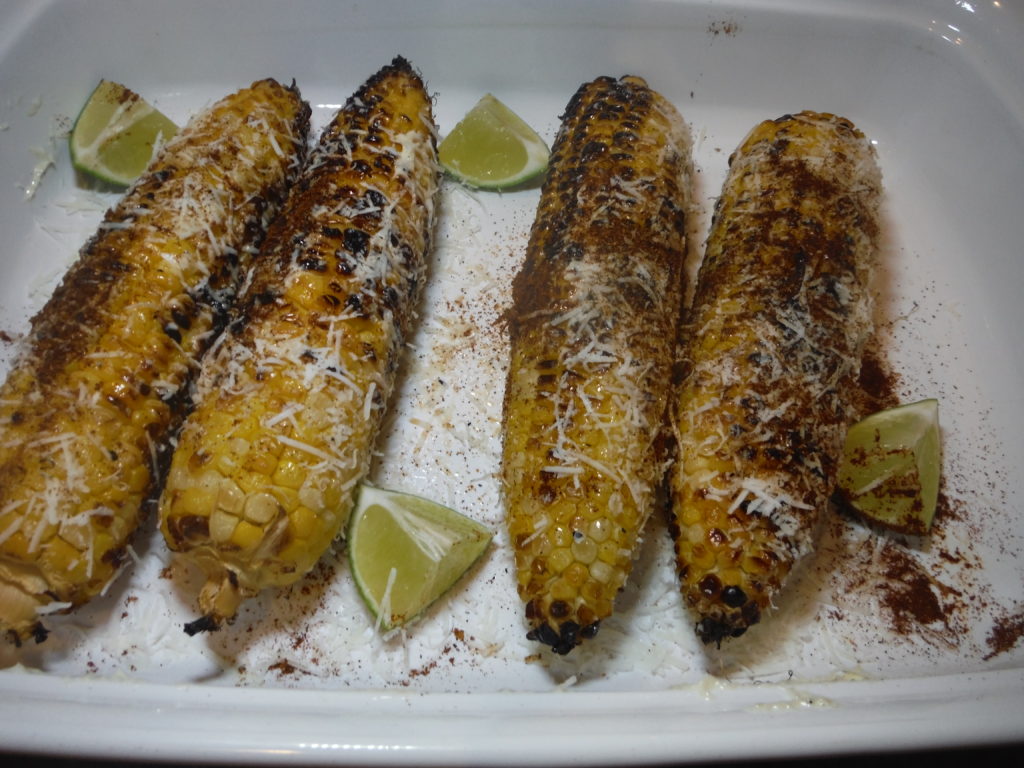 In recent years I have frequently seen references to Elote as a popular way in Mexico to eat corn. Since a key part of Elote is smearing mayonnaise on the corn, this sounded very dubious to me, but tonight my curiosity overcame my caution. No real surprise, Elote is actually quite good, and is also very easy if you already have the grill fired up, as we did tonight for some swordfish. Below are quantities for 4 servings. This post is adapted from a recipe in Bon Appetit in July 2014.
4 ears of corn, husked
2 Tbs. mayonnaise
¼ cup grated/crumbled hard cheese (cotija is most authentic, but parmesan, romano, or ricotta salata will do fine)
½ tsp. chile powder
¼ tsp. cayenne powder
½ lime, cut into 4 pieces
Vegetable oil for the grill
Line up 4 bowls, one with the mayonnaise, one with the grated cheese, one with the chile and cayenne, and one with the limes.
Heat the barbeque grill to medium-high heat, scrape well, and oil the grate. Grill the corn ears for about 12-15 minutes until nicely charred and cooked through.
Remove from the grill, and while nice and hot, spread the ears with the mayonnaise using a pastry brush, sprinkle on the cheese, and then the chile/cayenne mixture. Squeeze one of the lime pieces over each ear and serve.