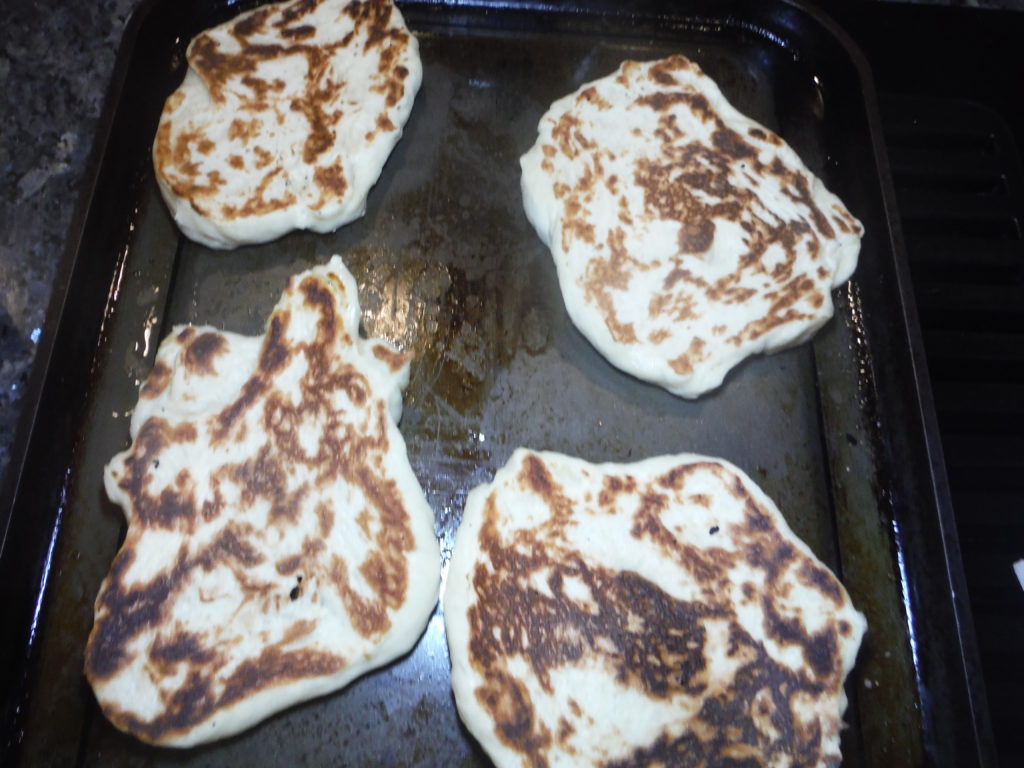 This past Wednesday, the New York Times had an article on the fresh bread which is presented to diners at the Joe & Misses Doe restaurant in the East Village of Manhattan. The restaurant calls this bread lavash, although as is clear from the photograph, this is not like an Armenian lavash, which is thin and crisp like a cracker. (Lavash used to be the best thing in the bread baskets at the Tokyo American Club in the 1990s when we lived in Tokyo.) Whatever one calls it, this is a tasty bread and is very quickly made. I served it on Wednesday to general acclaim with hummus, ajvar, and shish-kebab. Since it is a straight-forward bread with a short rise, and is cooked on a griddle, it would be very practical for cooking on a camping trip.
This makes enough to serve 8 people.
1 1/2 teaspoons dry yeast
2 cups of warm water
2 tablespoons granulated sugar
5 1/2 cups (23.8 oz.) all-purpose flour
1 1/2 teaspoons salt
Salt and black pepper
Olive oil
Proof yeast, sugar, and water in a bowl for 10 to 15 minutes.
Mix together the flour and salt in a second bowl.
Once the yeast mixture foams, mix in the flour with a dough whisk until all of the flour is hydrated. Knead the dough with a dough hook in a stand mixture for 2-3 minutes until smooth and elastic. Coat it lightly with olive oil, and allow it to proof for 15 minutes in a covered bowl.
Heat a griddle until medium-hot, and then lightly oil the griddle.
Break the dough into 2-3 oz. pieces, flatten them with your hands into disks 5-6 inches in diameter and put each disk on the griddle.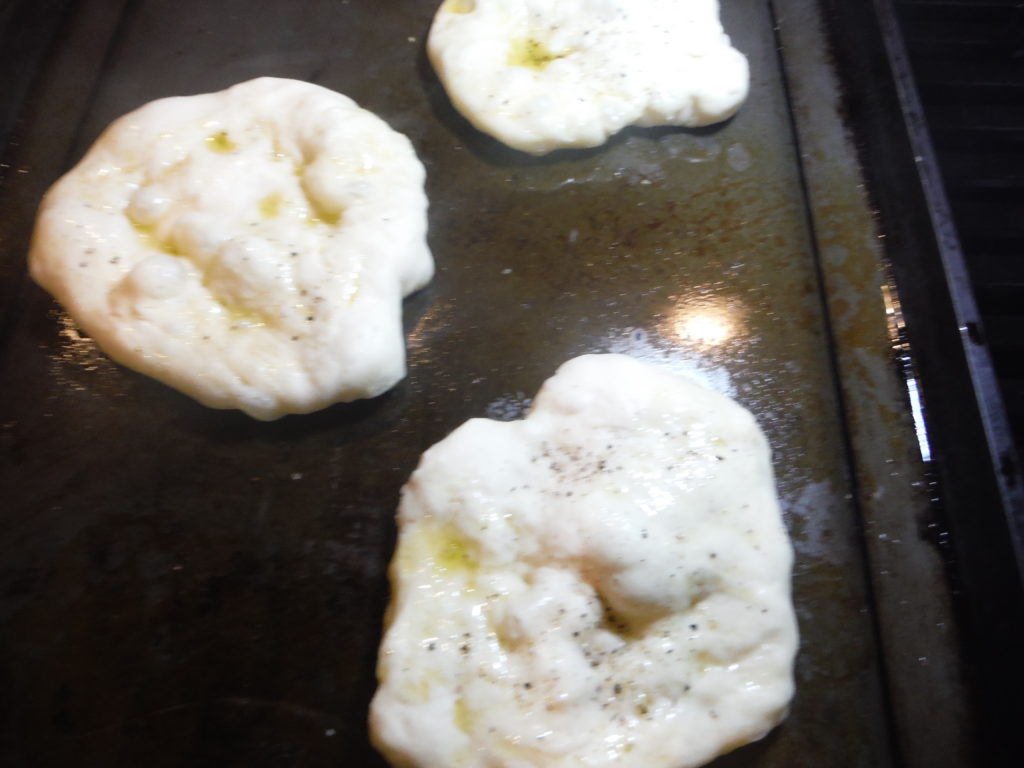 Cook for 2-3 minutes, and then flip to the other side for another 2-3 minutes. Flip back to the first side if it seems like the bread needs a little more time to be cooked through. The objective is to have each side nicely browned (but not charred) and the bread cooked through.  Season with salt and pepper and brush with olive oil, and serve immediately.
To adapt this for camping, have the flour and salt premixed in a ziplock baggie. Mix together the yeast, water, and sugar in a gallon ziplock baggie, and when foamy, mix in the flour mixture. Massage the dough through the baggie until well mixed, smooth and elastic. Allow it to proof in the baggie.