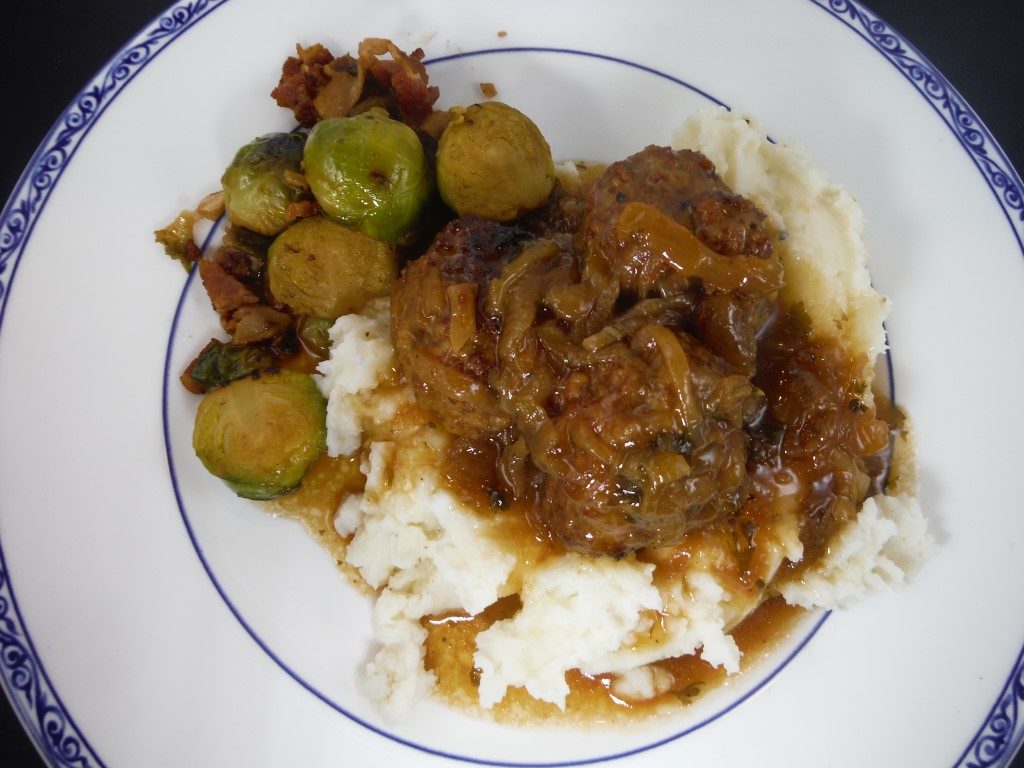 These pork meatballs in a sauce based on caramelized onions are a good example of English cooking – nothing fancy, but very tasty when executed well with good ingredients. This recipe is adapted from Ellen Brown's The Meatball Cooking Bible.
For the Sauce
2 Tbs. vegetable oil
2 Tbs. unsalted butter
4 large onions, thinly sliced
2 tsp. granulated sugar
½ cup dry white wine
2 cups chicken stock
2 Tbs. fresh parsley
½ tsp. dried thyme (or 2 tsp. fresh)
Salt and black pepper to taste
2 tsp. cornstarch
For the Meatballs
1 large egg, lightly scrambled
2 Tbs. whole milk
½ cup plain breadcrumbs
¼ tsp. ground nutmeg
1-1/4 lbs. ground pork
1 tsp. salt
Freshly ground black pepper
Cooking spray
Heat the oil and butter in a large Dutch oven. Add the onions, toss to coat with the fat, and cook for 10 minutes over medium heat, stirring occasionally. Sprinkle the onions with the sugar, salt, and pepper, and raise the heat to medium-high. Cook for about 20 minutes, stirring more often as the onions get more caramelized, stirring the brown bits on the bottom of the pan back into the onion mixture. When the onions are nicely caramelized, add the wine, stir and cook for a minute, and then add the chicken stock, parsley, thyme, and salt and pepper to taste. Be cautious about the salt until tasting the finished dish. Simmer until ready to add the meatballs, at least 5 minutes.
While the sauce is cooking, prepare the meatballs.
Preheat the broiler and line a cookie sheet with aluminum foil.
In a large bowl mix together the egg and the milk, and then mix in the bread crumbs. Add the nutmeg, pork, salt, and pepper. Mix well and form into 2 inch meatballs. Place on the cookie sheet and spray with the cooking spray. Broil about 6 inches from the burner, turning occasionally until browned on all sides.
Add the broiled meatballs to the sauce, stir, and simmer, stirring occasionally for 15 minutes. In a small bowl combine the cornstarch with 1 Tbs. of cold water, and stir into the sauce. Cook until slightly thickened. Serve with mashed potatoes.