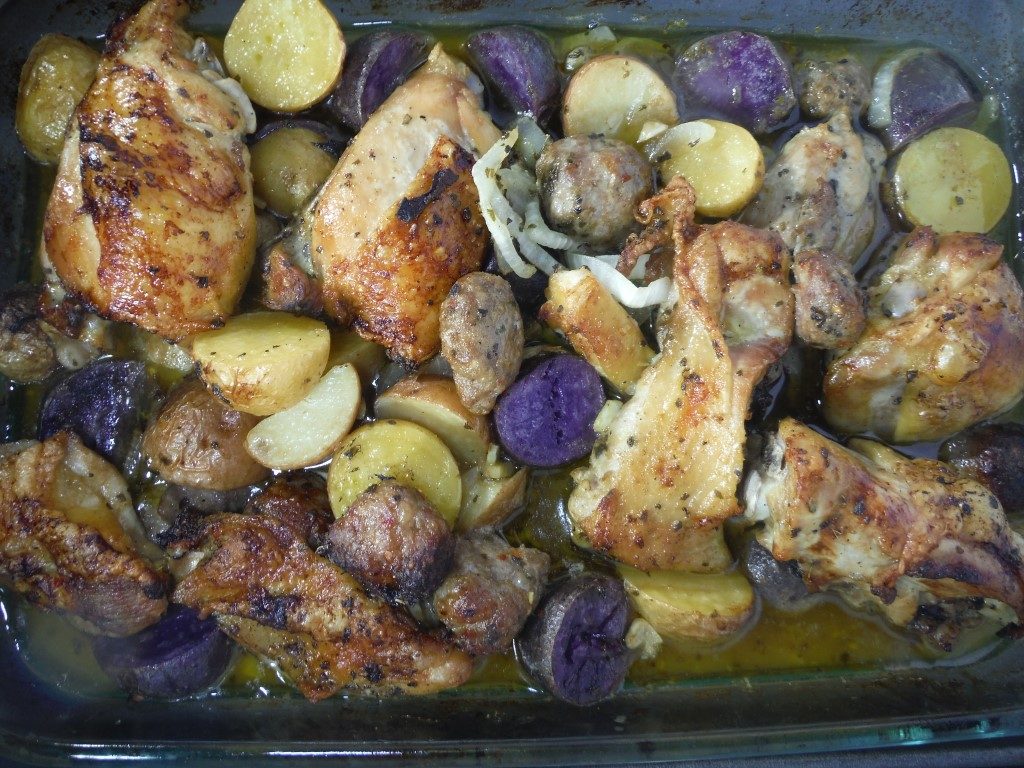 Carol said this was one of the best things I have cooked lately. It was largely based on a recipe in Joanne Smith's book Cuisine, Texas, about the variety of cuisines found in Texas because of the variety of immigrants who came there. (These included Carol's Slovak maternal grandparents, who lived in Galveston before moving on to Attica, Indiana.) This version also includes Italian sausage formed into balls, since I happened to have some in the refrigerator. It is optional, but maybe contributed to the complexity of the flavors. I used a small potato mix from Kroger, which included the purple potatoes which are very conspicuous in the photo.
1/3 cup olive oil
Juice of two lemons
½ cup dry white wine
8 cloves garlic, chopped
½ large onion, sliced
1-3/4 tsp. dried oregano
1 tsp. salt
1 tsp. freshly ground black pepper
¾ tsp. ground cumin
3 lbs. skin-on, bone-in chicken thighs, cut in half if large
½ lb. Italian sausage, formed into 1 inch balls
1-1/2 lbs. small potatoes, halved if not small enough
Heat the oven to 425 degrees.
In a large baking pan (such as a lasagna pan), add the oil, lemon juice, wine, garlic, onion, oregano, salt, pepper, and cumin. Mix together. Add the chicken, sausage, and potatoes. Stir to coat the meat and potatoes with the sauce and then position the chicken skin-side up. Bake until the chicken is cooked through and the potatoes are soft, between 1 and 1-1/2 hours. Baste every 15 minutes with the sauce while baking.