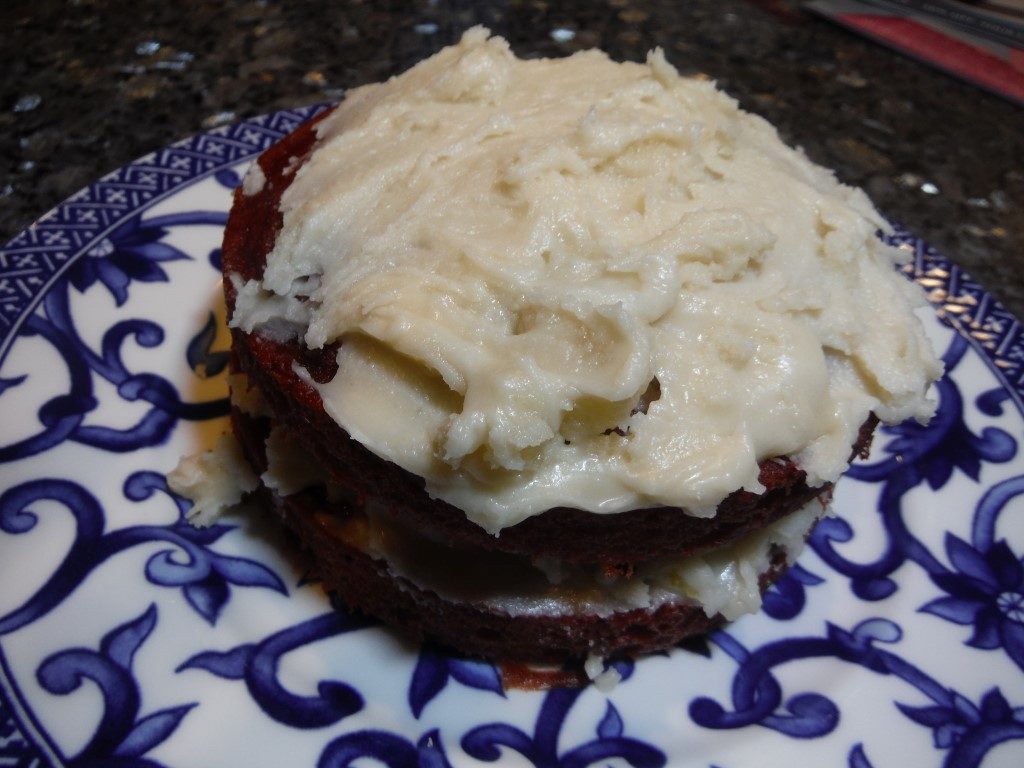 This red velvet cake for two turned out very well. I was looking around the internet for a small dessert suitable for two servings for Friday dinner, since that would be my last dinner home for a while due to a business trip. I ended up adapting a recipe from tastykitchen.com, which was to make red velvet cupcakes for two. I have some 4.5 inch spring-form pans which seemed perfect for this size cake, as well as some leftover cream cheese icing from a previous cake. I also saw on the internet the idea of using well cleaned tuna cans as mini cake pans.
A potential enhancement idea for a next time is to use half of a beaten egg instead of the egg white. A large egg is about ¼ cup, so half would be 2 Tbs.
1/3 cup plus 1 Tbs. all purpose flour
1/8 tsp. baking soda
1/8 tsp. salt
2 tsp. unsweetened cocoa powder
¼ cup vegetable oil
¼ cup sugar
2 Tbs. buttermilk
1 egg white
¼ tsp. red food coloring gel
1/8 tsp. white vinegar
¼ tsp. vanilla extract
Preheat the oven to 350 degrees.
Mix together the flour, baking soda, salt, and cocoa powder in a medium bowl.   In a second medium bowl, mix together the oil, sugar, buttermilk, egg white, food coloring, vinegar, and vanilla. Add the dry ingredients to the wet ingredients and mix to form a smooth batter. (I used a whisk.) Grease two mini-cake tins and pour half of the batter into each tin. Bake until cooked through, and a toothpick comes out clean. With the 4.5 inch cake pans, this took 15 minutes. Remove from the oven. Cool in the pan for 5 minutes, and then remove from the pan and cool on a cake rack. When cool, frost with cream cheese frosting.
Alternative: Skip the food coloring, and frost with chocolate frosting.