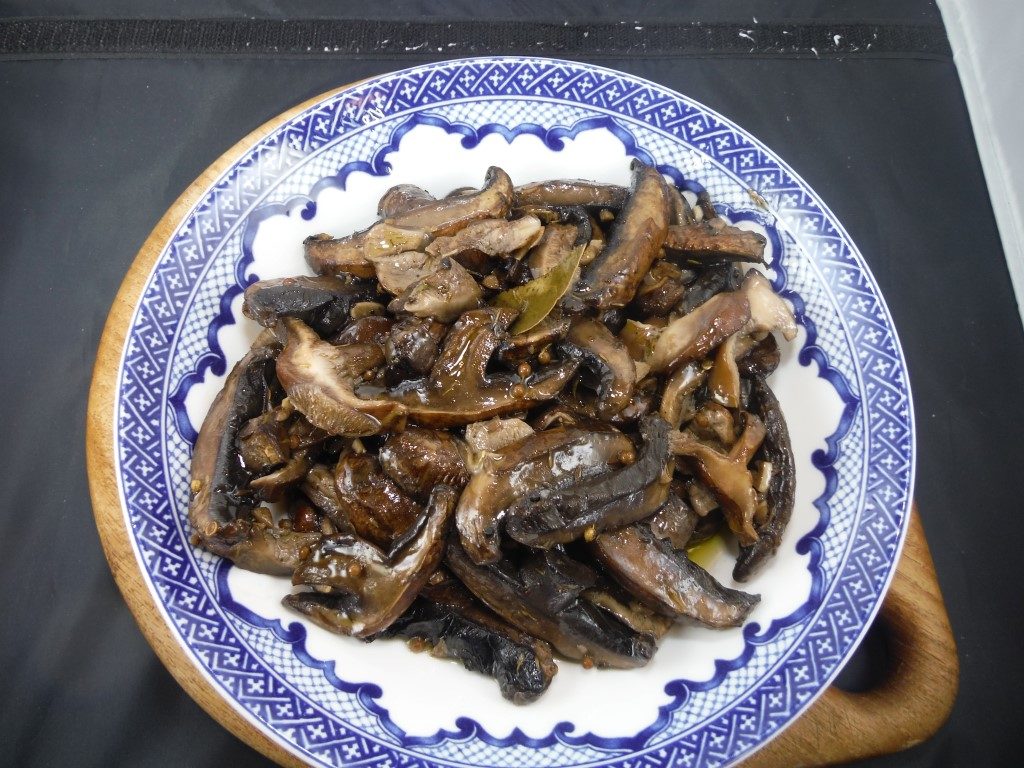 This classic appetizer is a French take on a Greek way of fixing mushrooms. This recipe is adapted from Craig Claiborne's Gourmet Diet, which was published in 1980 after Craig Claiborne, then the food editor of the New York Times, was advised that his blood pressure was way too high and he needed to do something about it, i.e. lose weight and reduce his sodium intake. His original recipe called for no salt at all, and I have modified it to have a little salt. Plan ahead, so that the mushrooms have time to marinade.
Normally this would be made with button mushrooms, but I made it today with what I had in the refrigerator, so it is 2/3 portobellos and 1/3 shitakes.
1 lb. mushrooms, cut into pieces if large
¼ cup olive oil
3 cloves garlic, chopped
¼ cup red wine vinegar
1-1/2 tsp. whole coriander seeds
½ bay leaf
¼ tsp. dried thyme
¼ tsp. freshly ground black pepper
¼ tsp. salt
In a large skillet, heat the oil and add the garlic. Cook for about a minute until the garlic is fragrant but not browned. Add the vinegar, coriander, bay, thyme, black pepper, and salt. Cover and cook, shaking the skillet, for about a minute. Add the mushrooms, stir to mix with the liquids, and cook covered over high heat for about 7 minutes. Occasionally uncover the pan and stir. Cook until the mushrooms are cooked through. Remove the pan from the heat and allow the mushrooms to cool. Transfer the mixture to a suitable container, cover, and transfer to the refrigerator to marinade for several hours to several days before serving.