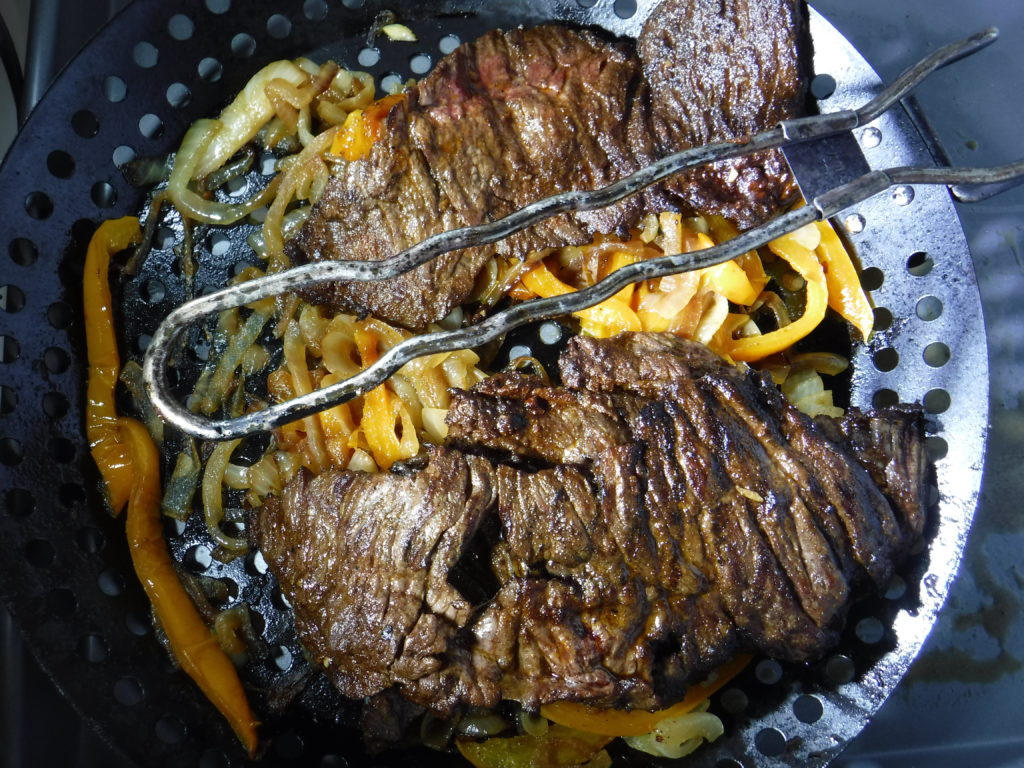 Fajitas are properly made from skirt steaks, which once upon a time were very inexpensive, as well as very flavorful. These days, skirt steaks are frequently so expensive, that when I want to make fajitas, I use sirloin steak instead. I was at New Grand Mart recently buying some Asian ingredients, and was pleasantly surprised to find that they had skirt steaks at a very reasonable price, ~$7/lb., so I bought some. I was in a bit of a hurry, so I looked around for a simple marinade recipe, which I found as "Steak Fajitas" in Robb Walsh's excellent The Tex-Mex Cookbook, and have adapted below. This was enough for 3-4 servings.
1 lb. skirt steaks
2 garlic cloves, chopped
2 Tbs. chili powder
6 Tbs. olive oil, divided
½ tsp. salt
1 large onion, sliced
1 large bell pepper
Salt to taste
Flour tortillas
Salsa (I used a Guacamole salsa)
Grated cheese (optional)
Put the skirt steaks in a gallon zip-lock baggie with the garlic, chili powder, 4 Tbs. of olive oil, and ½ tsp. of salt. Massage well to distribute the ingredients. Marinade at least 3 hours in the refrigerator, and up to overnight.
In a large skillet, heat the remaining 2 Tbs. of olive oil, and saute the onion and peppers until soft. Season to taste.
Start the grill. Put the onions and peppers in a grill basket. Grill the skirt steaks and heat up the onions and pepper mixture. A little bit of char on the vegetables is very good.
Slice the meat against the grain. Serve with the onions and peppers, flour tortillas, your favorite salsa, and grated cheese (optional).