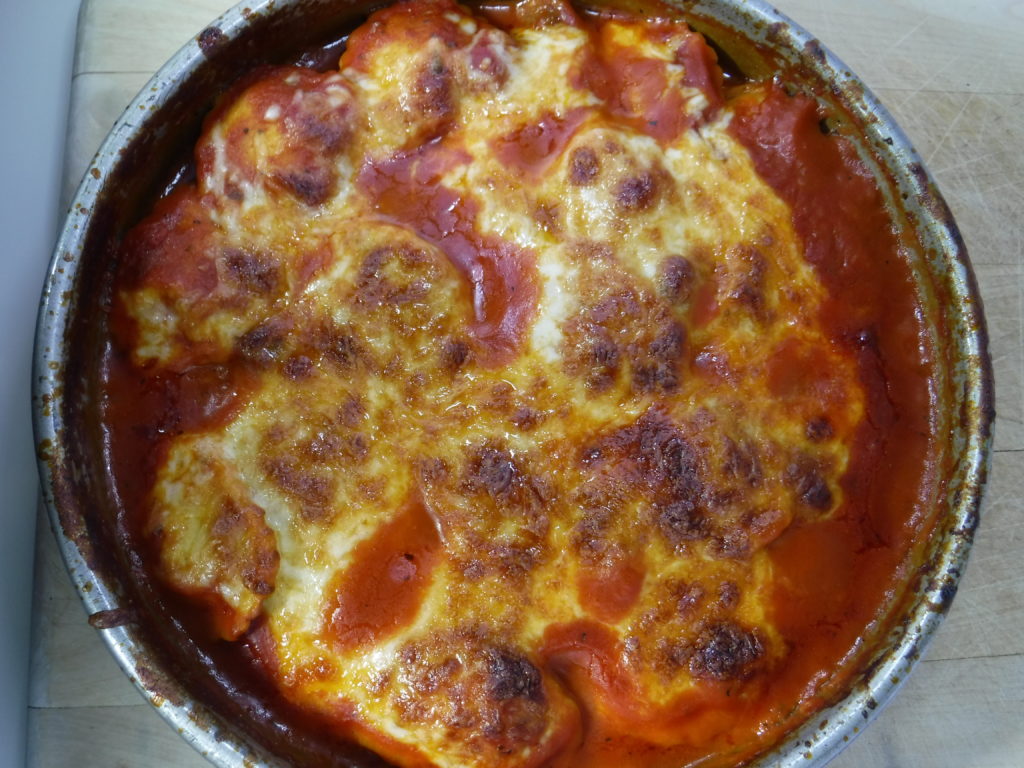 I have seen a couple of articles on the internet in which ravioli is used to make a simplified version of lasagna.  This sounded like a good idea for car camping, so last night I did a successful proof of concept adapted from a Food52 article.  I plan on using this for dinner on the next camping trip.  This basic version has only 4 ingredients (plus water), and was made in a 9 x 2 cake pan, since that is how I plan on making it while camping.  It could be made at home using any pot which can both be on the stove top and in the oven.
This basic idea could be made more or less fancy, for example, with home-made vs. jarred pasta sauce. Carol was suggesting last night adding some cooked spinach. In any event, here are the basics for 4 servings:
1 lb. frozen ravioli (I used meat. Food52 suggested cheese.)
24 oz. jar of pasta sauce
2/3 cup water
8 oz. shredded mozzarella
2 Italian sausages
At home, preheat the oven to 450 degrees. Camping, heat up 33 coals, 22 for the top and 11 for the bottom of a 12-inch Dutch oven.
Remove the sausage casing and form the sausage meat into ½ inch sized balls. On a stove, brown the sausage in the cake pan. When browned, add the pasta sauce and water to the pan and mix. Add the ravioli, and bring to a low boil, stirring occasionally. Cook for about 15-20 minutes until the sauce has thickened and the ravioli dough is cooked. Remove half of the ravioli and sauce to a bowl. Layer half of the cheese in the pan. Return the ravioli and sauce from the bowl into the pan on top of the first cheese layer. Add the rest of the cheese on top. Bake for 10-12 minutes until the cheese is browned and the lasagna is bubbling. Allow to rest for 10 minutes before serving.