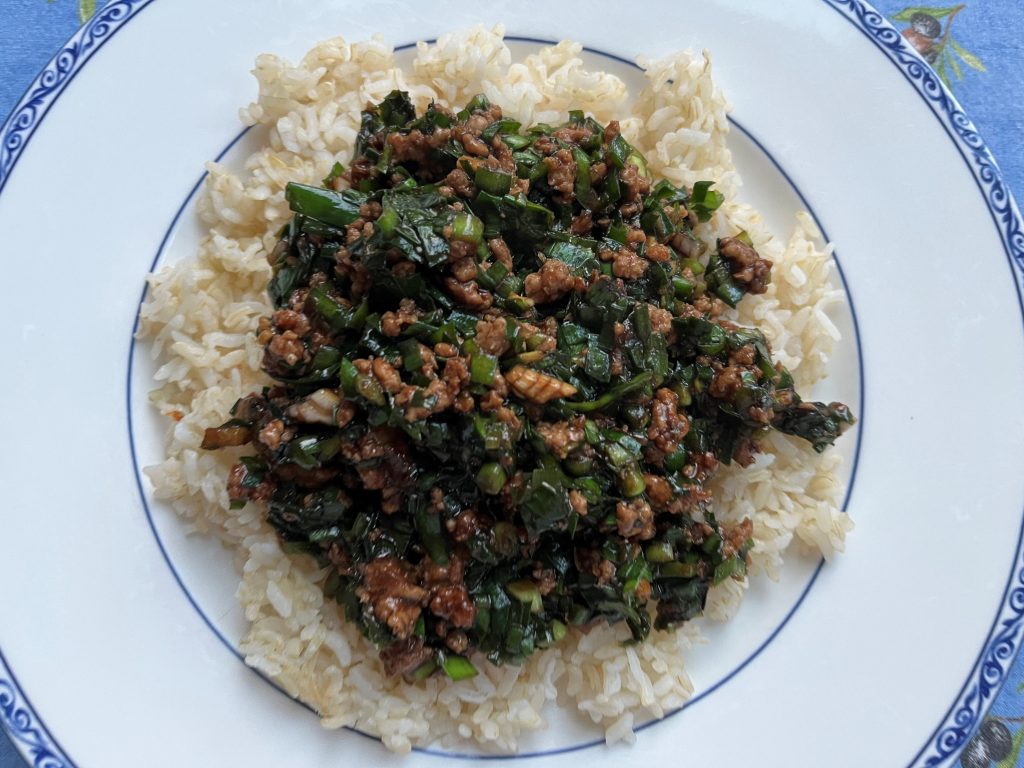 This was the first dish which I cooked from Winson Presents: A Taiwanese-American Cookbook. It was described as the favorite dish of the father of one of the authors. This used several specialty ingredients, most of which I was able to find at the New Grand supermarket. (The one I could not find was Bull Head Shallot Sauce. I substituted with Thai fried red onions, which I had in the pantry, and ordered the shallot sauce on Amazon.) This dish is essentially cut Chinese chives in a meat sauce. (Chinese chives are much larger than American chives and are sold at the New Grand in large bundles and priced by the pound.) I doubled the amount of meat from 8 oz. for 4 servings to 1 lb. for 4 servings. I think when I do it again I might want to increase the sauce ingredients by about a third to adjust for the higher amount of meat.
This will make 4 servings with rice. Have all the ingredients prepped and in place before starting cooking, which will take only 5-10 minutes.
1 lb. Chinese chives, chopped into ¼ inch pieces
1 serrano or 4 Thai bird's eye chilies, chopped
4 large cloves of garlic, chopped
¼ cup fermented black beans (mashed in a jar)
2 Tbs. vegetable oil
1 lb. ground pork
½ cup mirin
¼ cup shiro dashi (made from ¼ tsp. hondashi and ¼ cup hot water)
¼ cup rice wine (used Golden Mansion cooking wine)
2 tsp. cornstarch in 2 tsp. of water
2 Tbs. Bull's Head Shallot sauce
¼ cup toasted sesame oil
In a large bowl, mix together the chopped chives, chilies, garlic, and fermented black beans. In a small bowl, mix together the mirin, shiro dashi, and rice wine. In another small bowl, mix together the cornstarch and water.
In a large skillet, heat the oil over high heat. Add the pork and cook it, breaking it up into small pieces. After about 2 minutes, when the pork is cooked, add the mirin, dashi, rice wine mixture and cook for another 2 minutes. Stir in the cornstarch and cook until the mixture thickens slightly, another minute or so.
Turn the heat down to medium-high and add in the chives mixture from the large bowl and the shallot sauce. Stir frequently to thoroughly mix the meat mixture with the chives mixture. Mix in the sesame oil. Cook for a minute or so until the chives are barely cooked. Serve over steamed rice.