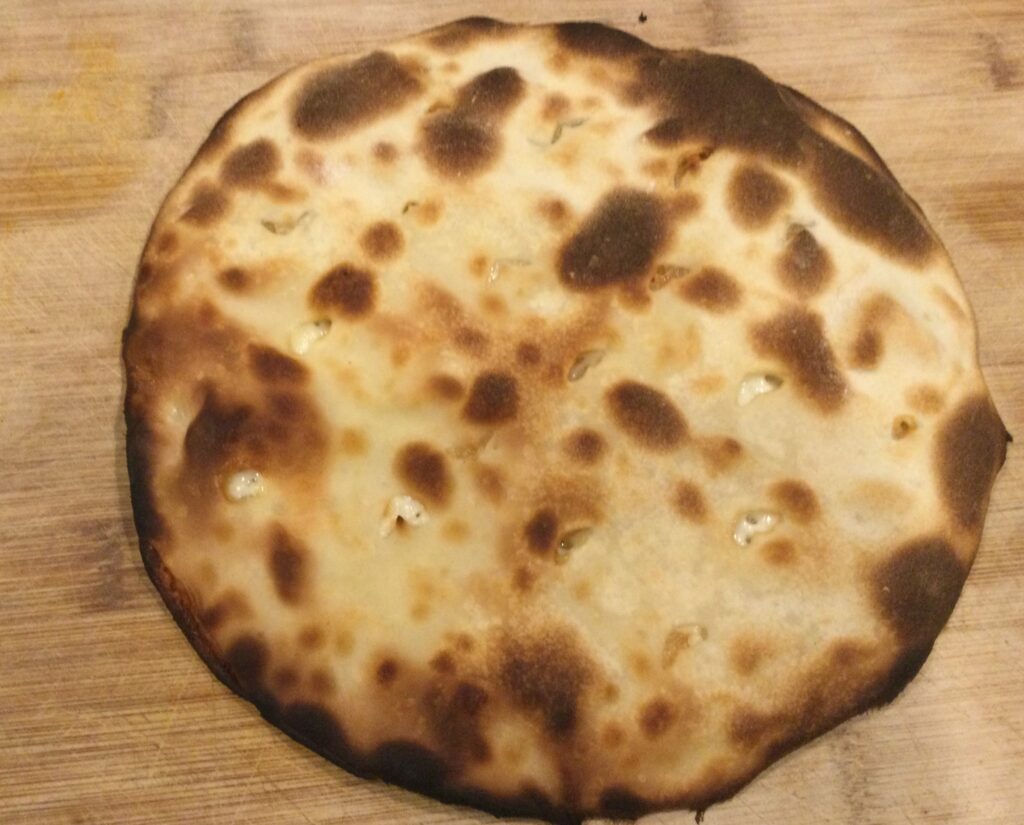 Focaccia di Recco is a thin and crispy focaccia stuffed with cheese which is a specialty of the town of Recco, which is near Genoa. It is more of a snack or appetizer than a meal. This version is based on an article in Serious Eats. In Recco this would be made with a local soft cheese, Stacchino (aka Crescenza or Stracchino di Crescenza) which is hard to find in the US. I used as a substitute Taleggio which I could find at Kroger. Another substitute would be Camembert. A full recipe per Serious Eats would make two 15-inch focaccias, and would serve around 8 people. For Carol and myself, I made one 9-inch focaccia, which we had for dinner with some Italian meatballs and a salad. This takes a total of about 100 minutes to make, including 45-60 minutes for the dough to rest. I forgot to sprinkle olive oil and salt on the top before baking.
The table below shows quantities for a full recipe and a 1/6th recipe big enough for a 9-inch pan and two persons.
All in grams
Full
1/6th
Bread flour
500
83.3
Sugar
15
2.5
Kosher salt
10
1.7
water
300
50.0
Olive oil
50
8.3
Subtotal
875
145.83
Cheese
400
66.7
Total with cheese
1275
212.5
Larger piece of dough
250
83.3
Smaller piece of dough
200
66.7
In a bowl, mix together the flour, sugar, and salt. Add the water and olive oil. Mix for about 2 minutes with a dough whisk to form a dough. Rest for 5 minutes.
On a floured surface, knead the dough until it is smooth and does not stick to your hands, about 2-4 minutes. For a full recipe, divide the dough into 4 balls, 2 larger (for the bottom layer) and 2 smaller (for the top layer). For the 1/6 recipe, divide into 2 balls. Cover and allow to rest for 45-60 minutes while the oven is preheated, with a cooking steel or ston,e as hot as it will get (550 or 500 degrees.
For the larger recipe, grease the back of a 15 inch pizza pan. For the smaller recipe, grease the back of a 9 inch cake pan. Elevate the pan upside down on a bowl to make it easier to work with. I greased the pan with baking cooking spray.
On a floured work surface, roll out and stretch the larger ball until it more than covers the greased pan.  Top this bottom layer with bits of the cheese.  Roll out and stretch the smaller ball until it also covers the pan, and put it on top of the cheese layer.  Push together the edges of the two dough layers around the rim of the pan to seal them together.  Using a rolling pin held at an angle, press around the edge of the pan to cut off the excess dough, which should be removed.  Using scissors cut little holes in the top dough.  Sprinkle with a little olive oil and Maldon salt.  Here is what the focaccia will look like before baking.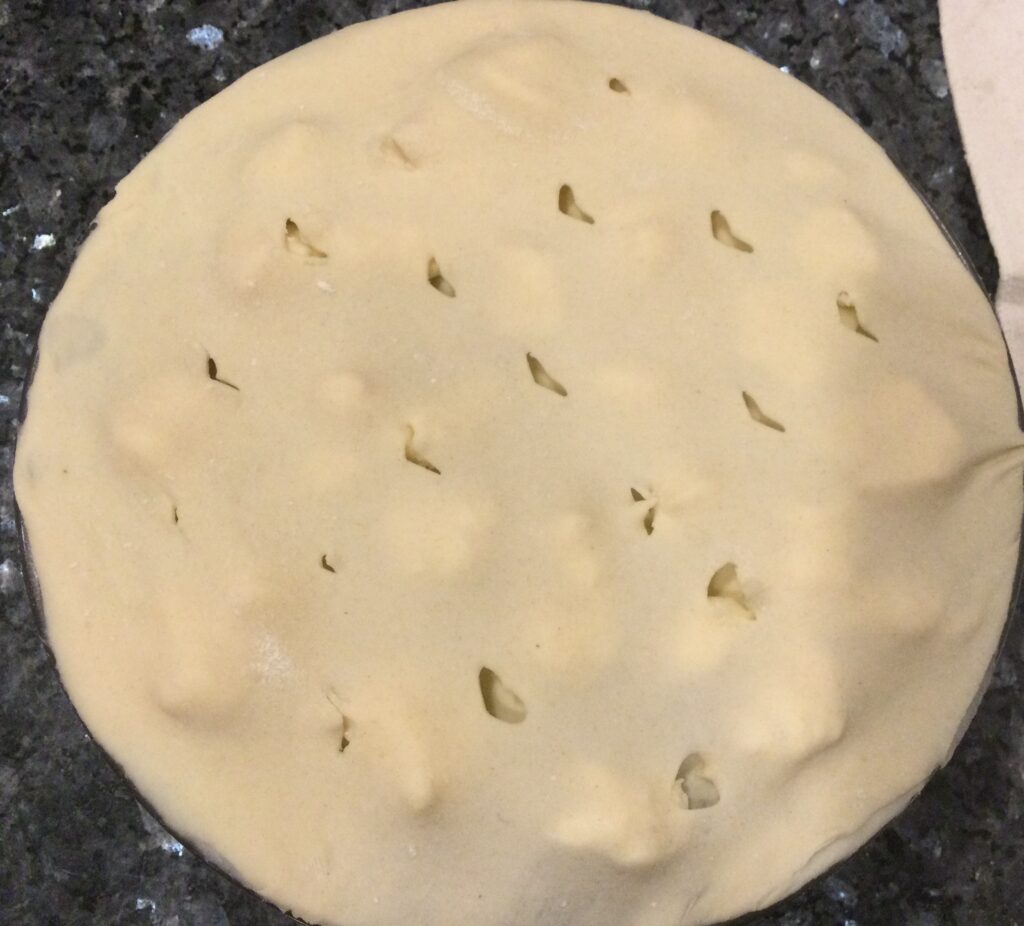 Bake for 8-10 minutes until nicely browned and crispy. Rest it for about 30 seconds, and then cut and serve.
If making the bigger batch, allow the pan to cool enough to work with, and then regrease and repeat.