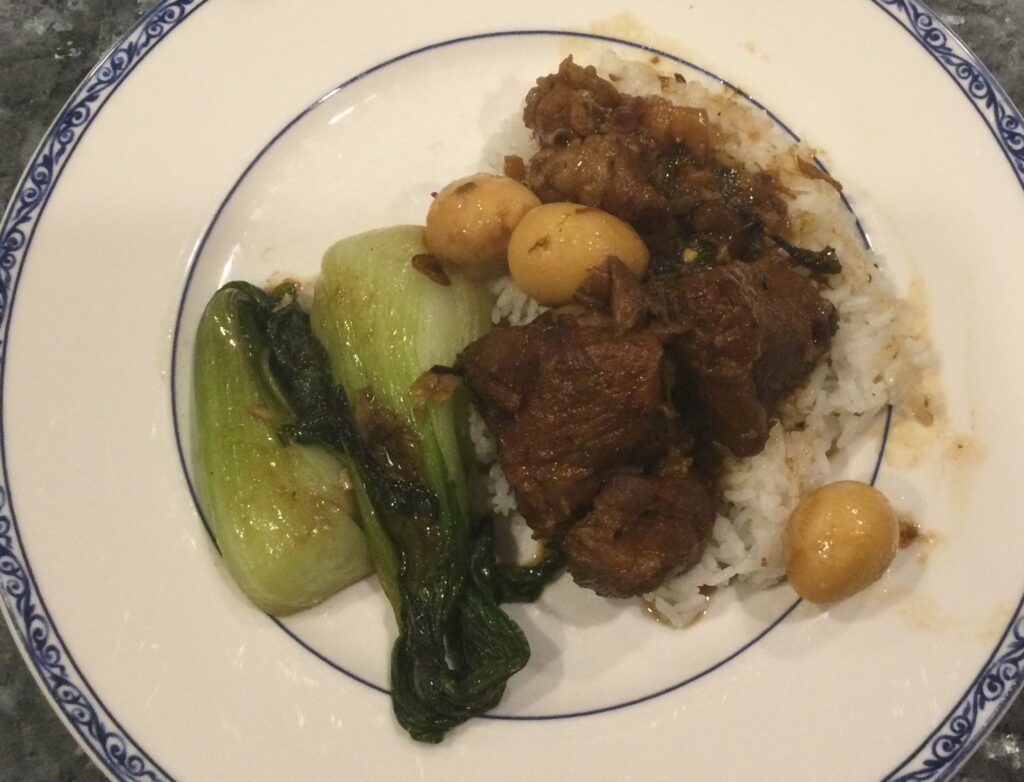 Caramelized pork is a Vietnamese classic which is popular for the Tet holiday. I found recipes for this dish in most of my Vietnamese cookbooks. It is normally made with pork belly, to get the richness of pork fat into the dish. I followed a recommendation in one book to use half pork belly and half something less fatty, such as pork butt. Here is an improved version of how I made it yesterday. The quantities shown make 4 servings with steamed rice and a saut vegetable.
Coconut juice is not common in the US, so one has to work with what one can find. For example, coconut soda is described in one book as an alternative. The key point is that one needs some sugar to caramelize, but not so much that it would make the whole dish too sweet.
1 lb. pork belly, cut in large chunks (This was available at New Grand Mart, pre-cut)
1 lb. pork butt, cut in large chunks
1 tsp. kosher salt
1 Tbs. sugar
1/3 cup fish sauce
17.6 oz. can coconut juice (I used the Foco brand, which I got at New Grand Mart)
3 green onions, chopped
6 bullet chilies, whole
18 quail eggs (or 8 chicken eggs)
Put the pork and salt in a large saucepan. Cover with water. Bring to a boil and reduce to a simmer. Cook for 10 minutes to remove impurities from the meat. Drain the pork and put it in a bowl. Wash out the saucepan.
Return the saucepan to the stove and add the drained pork. Cook over medium heat until the fat starts to render and the meat starts to fry. Sprinkle the meat with the sugar. Cook, stirring as needed, until the pork and sugar have browned, taking care not to let the sugar burn. Deglaze the pan with the fish sauce and coconut juice. Bring to a boil and reduce to a simmer. Add the onions and chilies. Cook uncovered and stirring occasionally until the meat is tender and the liquid is reduced to a brown sauce. Add additional water if it gets too dry.
While the pork is cooking, hard boil and peel the eggs. (I cooked quail eggs for 6 minutes in a small saucepan, drained them, and then shook them vigorously in the saucepan to crack the shells.)
About 10 minutes before the pork is done, add the hardboiled eggs to the large saucepan and coat them with the sauce. Check the sauce for the right salt and sugar balance. Serve with steamed rice.