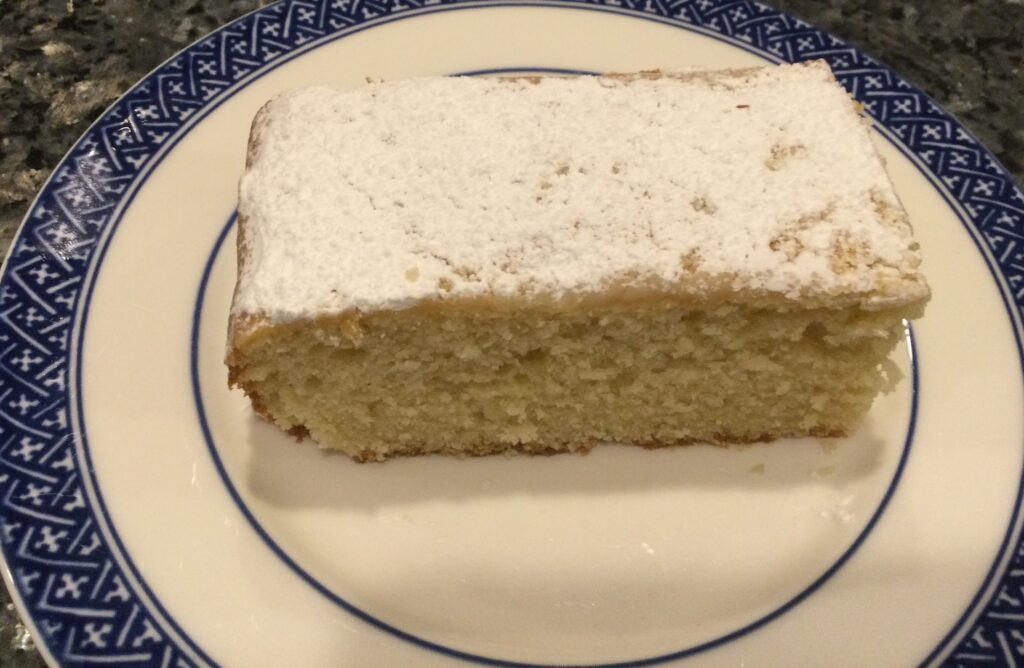 The New Yorker recently had an article "The Irresistible Allure of Snacking Cakes" which raved about the cookbook Snacking Cakes: Simple Treats for Anytime Cravings written by Yossy Arefi. The idea behind the book was to develop recipes which could be simply mixed together with a single bowl and spoon and then baked. The article included a recipe from the book to make a cake which tastes a lot like a powdered sugar donut.
The recipe called for an 8 x 8 inch pan, which is what I used. A 9 inch circular pan would be the same size. I think this kind of cake would be very suitable for baking on camping trips, which is why I baked this cake as a trial. It was easy and tasty. (For canoeing, powdered sour cream and eggs could be used.)
¾ cup (150 g.) granulated sugar
2 large eggs
1 cup (220 g.) sour cream
½ cup (113 g.) plus 1 Tbs. unsalted butter, melted and divided
1-1/4 tsp. freshly ground nutmeg
1 tsp. vanilla extract
¾ tsp. kosher salt
1-1/2 cups (190 g.) all-purpose flour
1-1/2 tsp. baking powder
¼ tsp. baking soda
Confectioner's sugar
Preheat the oven to 350 degrees.
Line an 8 x 8 inch baking pan with baking parchment. Use 2 8-inch wide strips at right angles extending beyond the pan so that they provide handles.
In a large bowl, whisk together the sugar and eggs until pale and foamy. Add the sour cream, ½ cup of melted butter, nutmeg, vanilla, and salt. Whisk until smooth. Add the flour, baking powder, and baking soda. Whisk until well combined and smooth.
Pour the batter in the prepared pan and bake 25-35 minutes until it is golden and a skewer poked into the middle comes out clean. Cool for 15 minutes in the pan on a rack, and then remove the cake from the pan to finish cooling. When the cake is barely warm, brush it with the tablespoon of melted butter and heavily coat it with powdered sugar. (Leftover cake may need to be re-dusted with powdered sugar.)