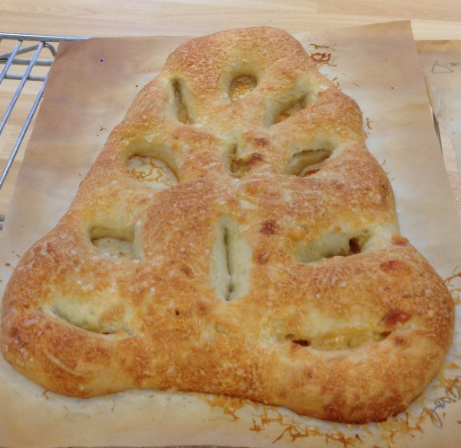 We learned how to make this Ligurian leaf-shaped flatbread at King Arthur Flour's baking school in Norwich, VT in December 2012, and it has since become a favorite. This is our variation of their recipe:
Preferment
1/8 tsp. instant yeast
4 oz. (1/2 cup) water
4 oz. (1 cup) King Arthur All Purpose Flour (this is a relatively high protein all purpose flour)
Final Dough
All of the preferment
13 oz. (3-1/4 cups) King Arthur Flour
1-1/2 ts. Salt
¾ tsp. instant yeast
8 oz. (1 cup) water
2 oz. Asiago Cheese, cut into ¼ inch dice
Topping
1 oz. Asiago cheese, coarsely grated
2 cloves garlic, chopped
2 Tbs. olive oil
High quality coarse salt, like Maldon flakes
Make the preferment by blending together the yeast, water and flour until well blended. Cover and allow to ferment for 12-16 hours.
For the final dough, put all of the final dough ingredients (except the cheese) in a large bowl and mix until all the flour is hydrated. Cover the bowl and let it rest for 15 minutes (This step is called an autolyse, and this hydration of the flour helps to develop gluten).
Knead the dough until smooth, with a minimal addition of flour. Since this dough is very sticky, this will require some special techniques. One technique is to cut the dough into small pieces and throw them in a pile on the counter, gather them up together with a bench scraper (a.k.a. dough knife) and then cut and throw them multiple times. (This helps mix the dough uniformly and develops gluten.) Another technique is to lift and fold the dough, stretching it on each lift and turn. When the dough is fairly smooth, mix in the Asiago Cheese cubes, place in a covered container and allow it to rise until doubled, about an hour.
Preheat the oven to 500 degrees F., preferably with a baking steel or baking stone.
After the dough has doubled, put it on a well floured surface, a pat and pull it into an oval about 15 inches by 12 inches. Using a spatula or a knife, cut two vertical slits in the center of the dough, and three angled cuts on either side of the central slits. Pull and shapes the dough to open out the cuts. The oval will look like a leaf with veins.  Place the dough on a sheet of baking parchment. Brush on the olive oil, and then sprinkle the dough with the garlic, cheese and coarse salt.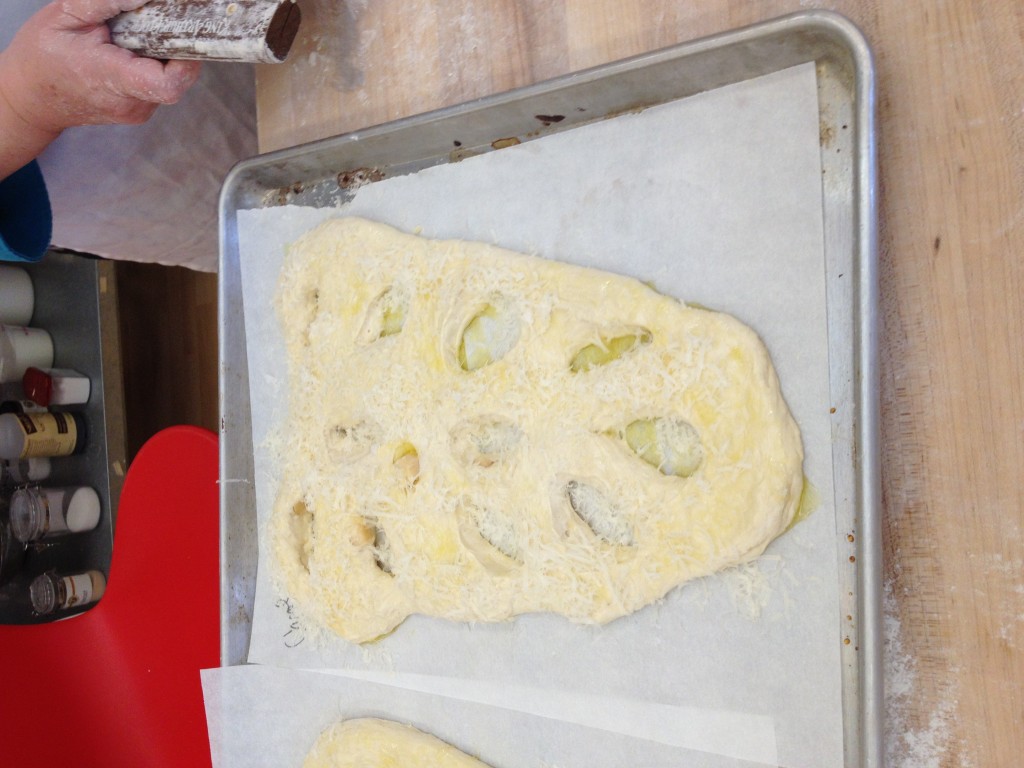 Bake about 15 minutes until golden. Allow to cool slightly, and then cut into pieces and serve.