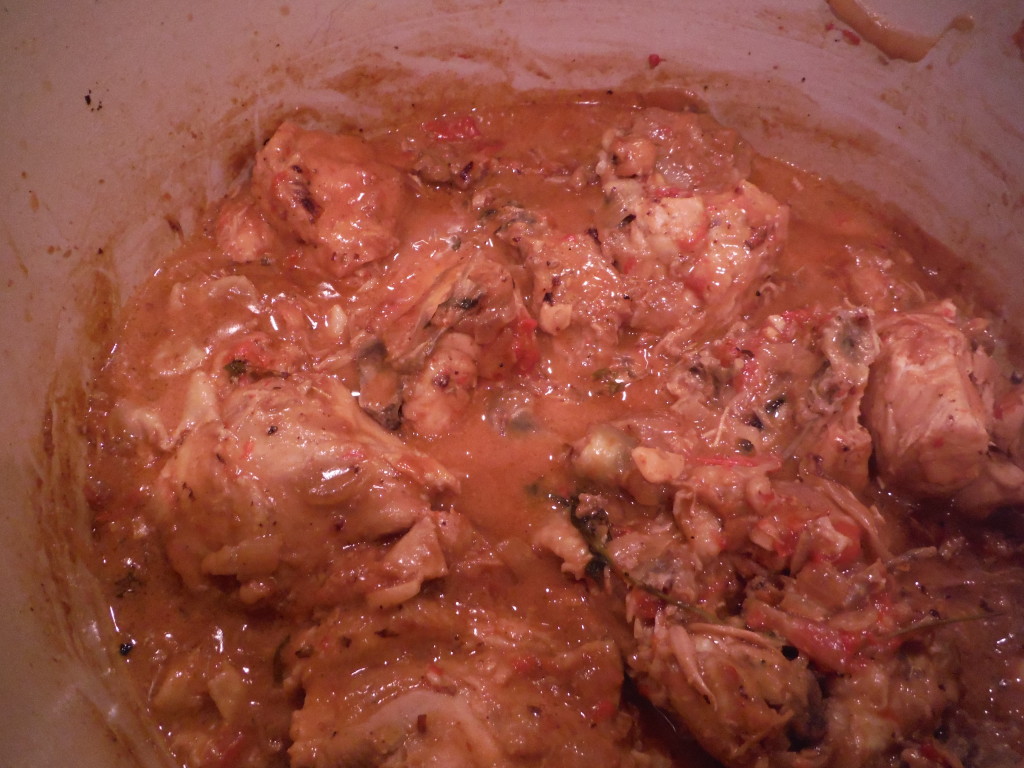 This recipe is adapted from a Wall Street Journal article on a signature dish of Chez Hugon in Lyon  The combination of cream and vinegar makes it exceptionally good.
2 Tbs. vegetable oil
3-4 lb. chicken, cut into 8 pieces
3 cloves garlic, chopped
2 shallots, chopped
1 large yellow onion, chopped
1 Tbs. flour
4 Roma tomatoes, skinned and chopped
2 cups dry white wine
1 cup white wine vinegar
3/4 cup chicken stock
2 sprigs fresh tarragon
4 sprigs fresh thyme
Salt and freshly ground black pepper
1/2 cup heavy cream
1/2 cup whole milk.
Heat the oil in a large pot and saute the chicken in two batches until the skin is golden.  Put the chicken on a plate.  Saute the garlic, shallots, and onions in the pan until translucent.  Add the flour, mix it with the vegetables and saute for a minute,  Add the wine, vinegar, chicken broth, chopped tomatoes, and herbs, and deglaze the pan.  Return the chicken to the pan and cook over medium heat covered until the chicken is tender.  Then remove the chicken to a platter and add the milk and cream.  Cook the sauce uncovered for about an hour over medium low heat until reduced to a thick sauce, stirring from time to time.  Skim off any oil from the surface and taste for seasoning.  Return the chicken to the pot for the last time and heat for about ten minutes.
Serve with noodles, rice or crispy bread..