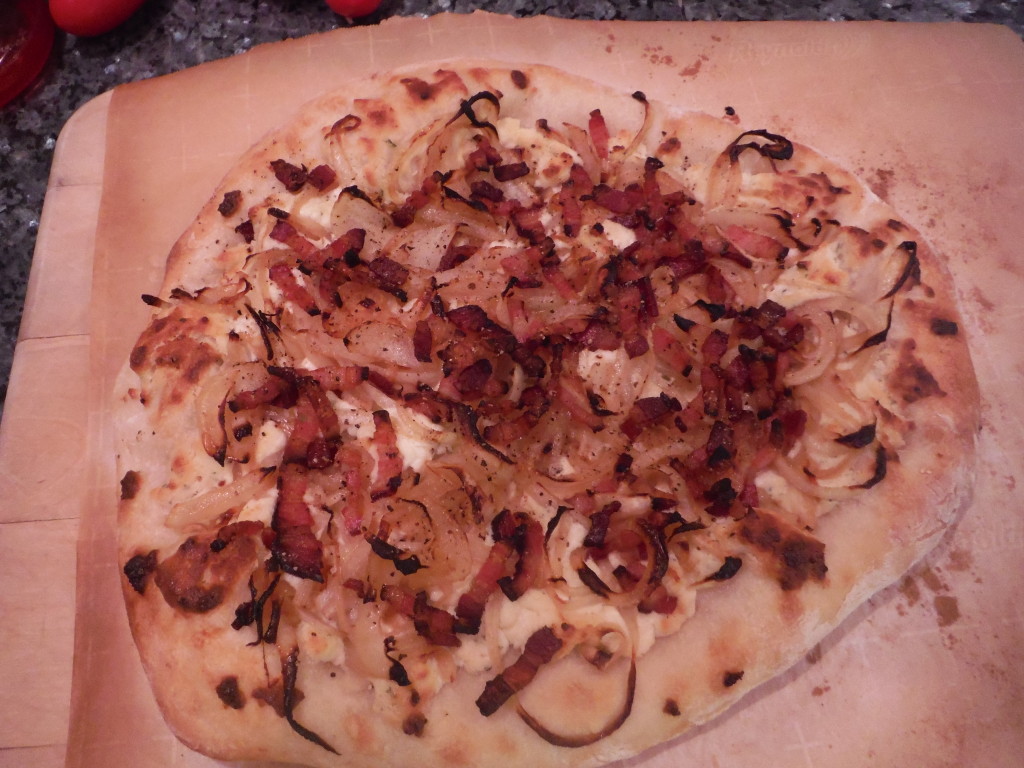 There cannot be many dishes with as many different names as this Alsatian cousin to the pizza.  It can be called using its name in French, German, and the Alsatian dialect.  The legend of this dish is that it was invented by Alsatian bakers who would make a snack out of bread dough and pantry items (cream or cheese, bacon or sausage, and onions) to test how hot their ovens were.
The recipe below is sized for two people and contains two alternative dairy toppings.
Make a pizza dough following the recipe in my pizza posting.  For two people the dough would consist of 6.25 oz. of bread flour, 5/8 cup water, 3/4 tsp. salt, and 1/8 tsp. yeast.  With this low amount of yeast the dough will be ready in about 8 hours.
Dairy topping number 1 is a 5.25 oz. package of Boursin garlic and herb cheese spread
Dairy topping number 2 is 1/3 cup of sour cream mixed with 1/3 cup of grated gruyere cheese and 2 tsp. flour
1/4 lb. bacon
1 medium onion, thinly sliced
Salt and fresh black pepper.
Cut the bacon into 1/4 inch strips and cook in a skillet until some of the fat is rendered.  Do not cook the bacon until it is crisp since it will be cooked a second time when baked on top of the tarte.  Remove the bacon from the skillet and drain off all but a tablespoon or so of the fat.  Saute the sliced onion in the fat until it is translucent.
Heat the oven to 475 degrees.
Form the pizza dough into a round on a sheet of baking parchment and spread the dough with one of the dairy toppings.  Then sprinkle with the bacon and onion and add salt and pepper to taste.  Bake about 15 minutes until the bread is baked and the toppings have browned and crisped.  Cut into slices and serve immediately.  This is an excellent dinner with a good salad.
A number of variations are possible depending on what items are available.  I made an excellent version with sliced Cajun andouille sausage.