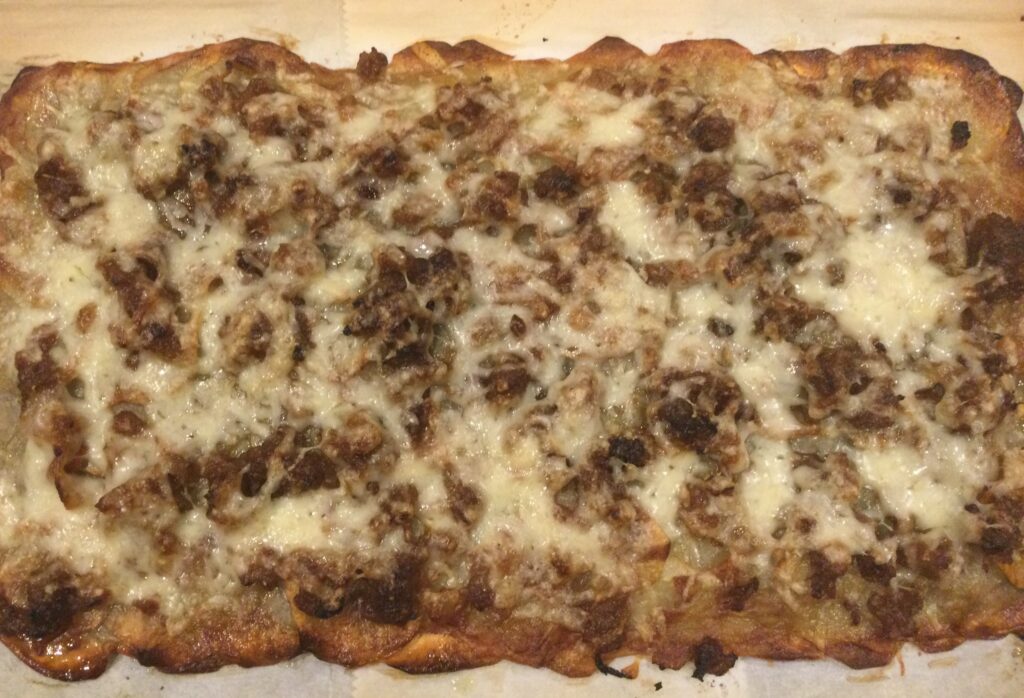 This is an adaptation of a recipe I saw on thekitchn.com which they called "French Onion Domino Potatoes". The idea is to layer thin slices of potato with caramelized onion and Gruyere cheese so that it is a lot like the flavors of French onion soup on potatoes. I made this last night to accompany a steak and salad and it was very good. This will make about 6 servings as the starch course in a meal and the total time is about 1 hour and 20 minutes.
The original idea involved turning russet potatoes into cubic rectangles to that the slices were domino shaped. I thought that wasted too much potato, so I only slightly cut the potatoes.
2 lbs. russet potatoes
5 Tbs. olive oil
1.25 tsp. kosher salt, divided
1.5 lbs. yellow onions, peeled and sliced
0.5 tsp baking soda
0.5 tsp. sugar
4 oz. (1 cup) shredded Gruyere cheese
¼ cup dry sherry
1 Tbs. unsalted butter
Preheat the oven to 400 degrees with a rack in the middle of the oven.
Peel the potatoes and trim them on the end and sides into a more rectangular shape. Slice 1/16th inch thick with a mandolin. In a large bowl toss the sliced potatoes with 3 Tbs. of olive oil and ½ tsp. of kosher salt.
Line an 18 x 13 baking sheet with baking parchment. Lay the sliced potatoes down in an overlapping array about 15 inches by 10 inches. Overlap each potato slice about a half inch with the previous row of potatoes and with the previous slice on the current row. Drizzle the potato array with any olive oil left in the mixing bowl. Bake until golden brown and with crispy edges, about 40 minutes. Remove from the oven when done and turn the oven temperature up to 500 degrees.
While the potatoes are baking, heat the remaining 2 Tbs. of olive oil in a large skillet. Add the onions, 0.75 tsp. kosher salt, and the baking soda and sugar. Stir well, and then cook over medium heat, stirring occasionally until the onions are a deep golden brown. Add the dry sherry and unsalted butter and cook for another minute.
Top the cooked potatoes with the caramelized onions and then with the grated cheese. Bake about 5 minutes, until the cheese is browned and bubbly. Remove from the oven and allow to cool slightly. Cut into large pieces to serve.