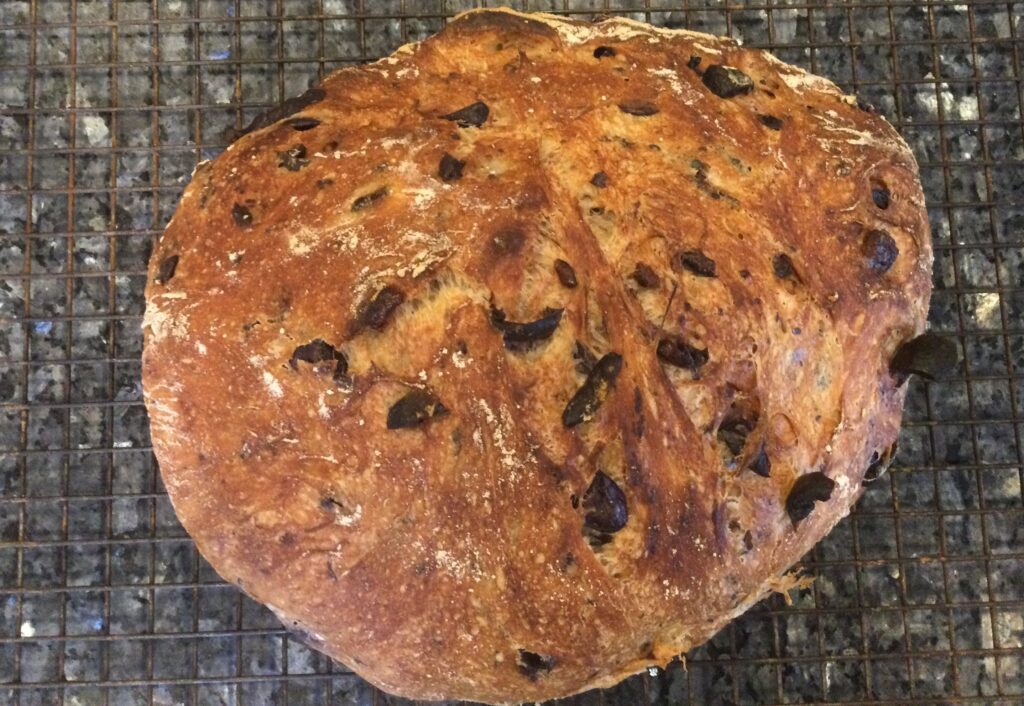 This is another variation of the Basic No-Knead Bread from Jim Lahey of the Sullivan Street Bakery and which was popularized in the New York Times. This variation includes chopped Kalamata olives and excludes any added salt because of the saltiness of the olives.
Once again, this takes 18-24 hours and involves working with a hot pot, so be careful and don't burn yourself!
400 g. bread flour
200 g. Kalamata olives, pitted and coarsely chopped
3 g. yeast
300 g. cool water
Flour, cornmeal, bran, semolina for dusting.
The day before the bake, put the flour, olives, and yeast in a mixing bowl. Pour the water on top of the yeast and let it sit for 5 minutes to activate the yeast. Stir with a dough whisk until well blended. Cover and rest for 15 minutes. Massage briefly with a wet hand to ensure that all the flour has been incorporated into a smooth and sticky dough. Put the dough into a
doubling container, cover, and allow to rise on a kitchen counter until
doubled, about 12-18 hours. When doubled, prepare a floured work surface, and remove the dough from the doubling container. With floured hands form the dough into a neat ball. Heavily flour a banneton and put the dough, smooth side down, into the banneton. Cover and allow to rise until doubled, 1-2 hours.
About 30 minutes before the second rising is complete, put a heavy oven-proof pot and lid (~5 quart in size) separately into the oven and heat to 475 degrees. When the rising is complete and everything is preheated, carefully turn the banneton upside down over the empty pot. After the dough falls into the pot, put the lid on and bake for 30 minutes. Remove the lid and bake for another 15-30 minutes until the crust is nicely browned but not burned. Remove the pot from the oven and with a spatula, remove the bread from the pot and allow to fully cool on a wire rack.