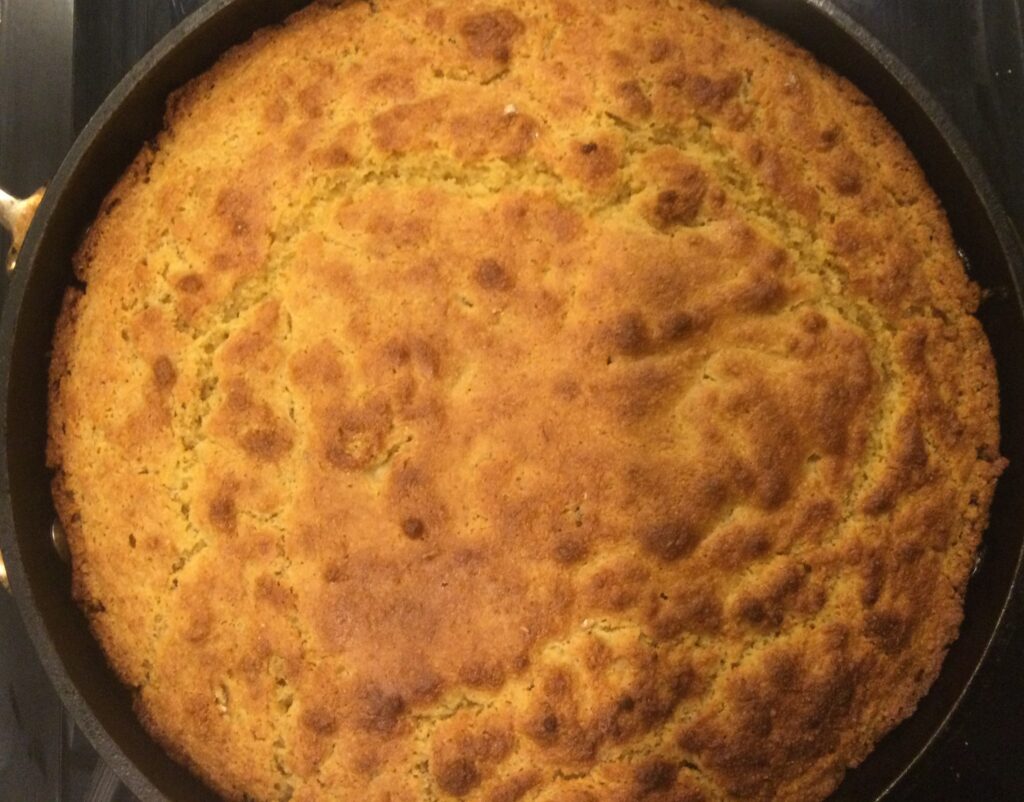 Carol asked for some sweet cornbread to go with the Venison Chili with Beans , and this is what I made based on a recipe in King Arthur Flour's Whole Grain Baking.  The original recipe called for whole wheat pastry flour, which I did not have, so I instead used Irish-style whole wheat flour, which I do have on hand.  It turned out very well.  Preheating the skillet yields a crispy crust.
9.75 oz. (2 cups) cornmeal
3.375 oz. (1 cup) whole wheat flour
4.25 oz. (1 cup) all-purpose flour
2 tsp. baking powder
1 tsp. baking soda
1 tsp. salt
2 cups whole-milk buttermilk
2 Tbs. honey
0.25 packed cup brown sugar
2 large eggs
0.5 cups (1 stick) unsalted butter, melted
1 Tbs. butter for greasing the pan.
Preheat the oven to 400 degrees. Put in the oven to also preheat a 9-inch cast iron or other ovenproof skillet.
In a bowl mix together the cornmeal, flours, baking powder and soda, and salt.
In a second bowl mx together the buttermilk, honey, brown sugar, eggs, and melted unsalted butter.
Mix together the wet and dry ingredients, just enough to combine them.
Carefully remove the hot skillet from the oven and add the Tbs. of butter to grease the bottom and sides of the skillet. Add the batter and spread it in the pan. Return the pan to the oven and bake for 25-30 minutes, until the top is browned and toothpick in the center comes out clean. Cool on a rack in the pan before serving warm.