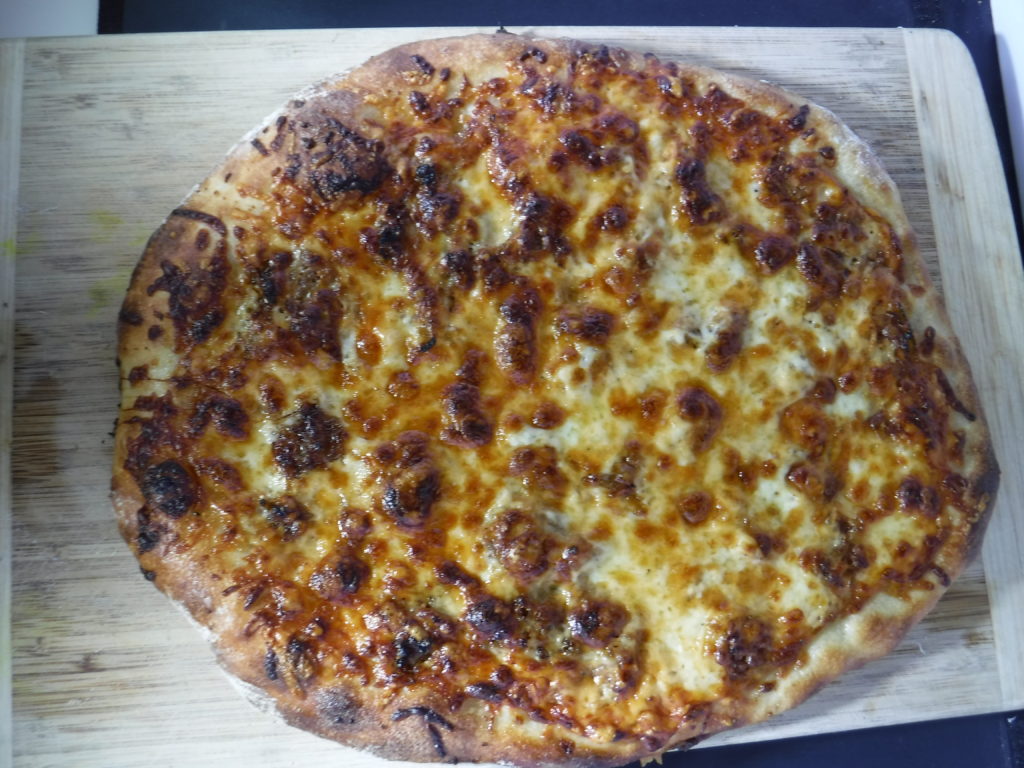 Fugazza con queso is an Argentine variation of pizza.  This version is adapted from Ross Dobson's and Rachel Tolosa Pas's cookbook The Food of Argentina.  Ingredients have been sized for a half recipe of the dough from Pepperoni Pizza from The Pizza Bible , which will serve 2-3 people.  The contrast between caramelized onions (and anchovies) and the melted and browned cheese, was very tasty.
Preheat the oven to 500 degrees with a pizza stone or steel.
Topping
2 Tbs. olive oil
2 large onions, sliced
Large pinch of sugar
Small pinch of baking soda
3 cloves garlic, finely chopped
½ can anchovies
1 tsp. dried oregano
7 oz. mozzarella, grated
5 oz. provolone, grated
Heat the olive oil in a large skillet. Add the sliced onions with the pinches of sugar and baking soda (which facilitate caramelization). Stirring frequently, cook for about 5 minutes over medium heat. Add the chopped garlic, and continue cooking until the onions are nicely caramelized, about another 5 minutes. Add the anchovies and dried oregano. Cook and stir until the anchovies are dissolved. Remove the skillet from the heat and allow the onions to cool.
Mix the grated cheeses together.
When cool, top the pizza dough with half the cheese. Sprinkle the onion mixture on top of the cheese. Then top the pizza with the rest of the cheese.
Bake for 10-12 minutes until the pizza dough is cooked and the cheese is nicely browned. Remove from the oven, allow to cool for a couple of minutes, and then divide into 8 or 9 slices and serve.