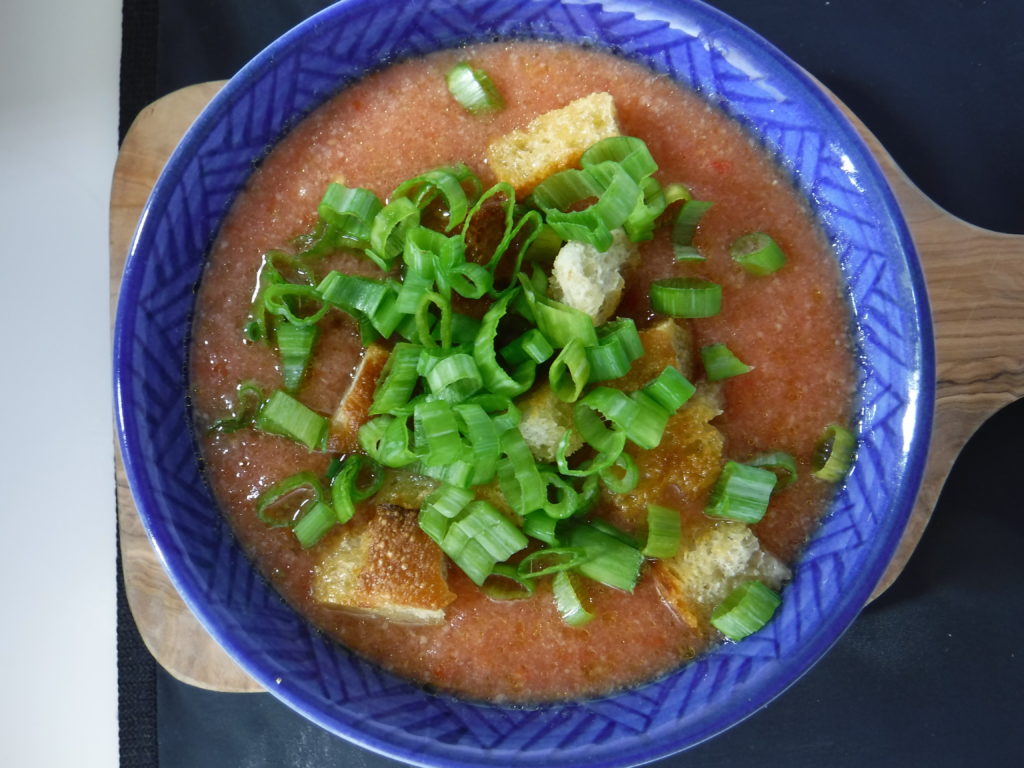 Gazpacho, a chilled liquid salad, is a Spanish classic for high summer when tomatoes are at their best. This straight-forward version is adapted from one of my oldest and most well-worn cookbooks, The Time-Life International Cookbook. It will serve 6 to 8 and needs to be made a few hours before serving to meld and chill.
Soup
2 medium cucumbers – peeled, seeded and coarsely chopped
5 medium tomatoes – peeled, and coarsely chopped
1 large onion – coarsely chopped
1 medium bell pepper – seeded and coarsely chopped
5 cloves garlic – finely chopped
4 cups good quality white bread – crusts removed and coarsely crumbled
4 cups cold water
¼ cup red wine vinegar
4 tsp. salt
¼ cup olive oil
1 Tbs. tomato paste
Optional Garnishes
Toasted bread cubes
Finely chopped onions
Sliced scallions
Finely chopped cucumbers
Finely chopped bell peppers
Put the ingredients through the salt in a large bowl. Ladle the mixture a few cups into a time into a food processor or blender and process until it is a relatively smooth puree. Put the puree in a bowl, and repeat ladling and processing until all of the mixture is a puree. Add the olive oil and tomato paste to the puree and stir in. Put in a non-reactive container in the refrigerator for at least 2 hours before serving.
Serve with the optional garnishes to taste. In the photo, I used bread cubes and sliced scallions.