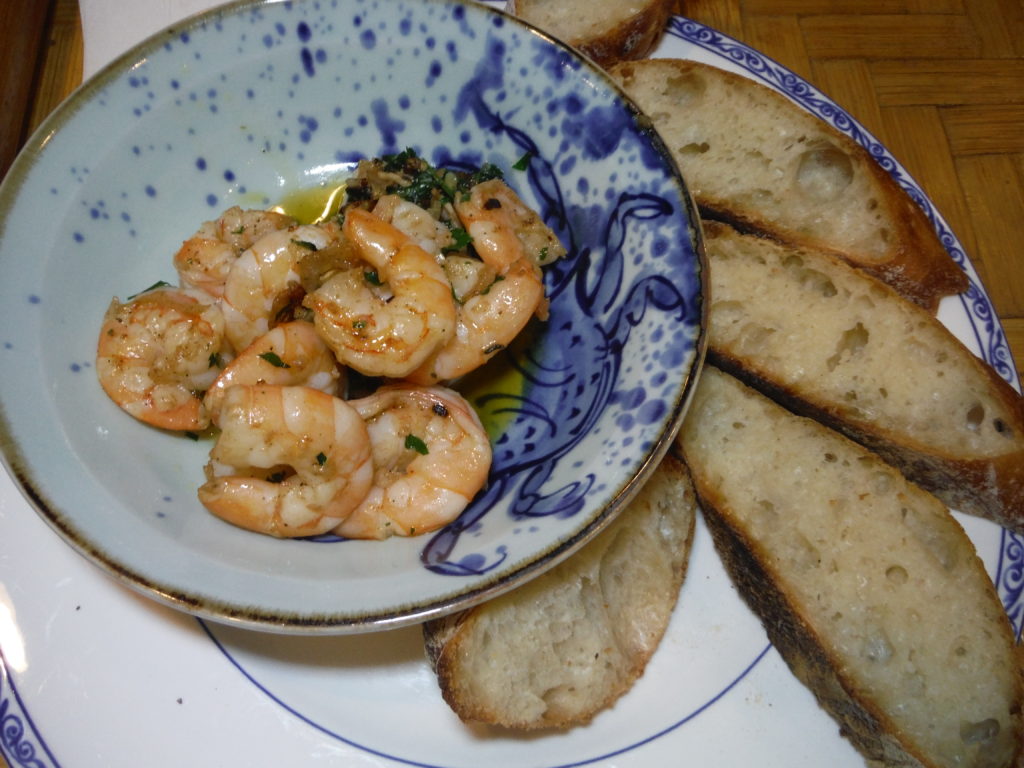 Gambas al Ajillo was one of the first Spanish dishes I ever ate, and it has long been one of my favorites. With some good bread, a salad, and good white wine, it makes about a perfect dinner, and is fairly quick to put together since it is essentially just a shrimp saute with lots of garlic. In this earlier post, I documented the way that I usually make it. Gambas al Ajillo .
This post is about a different way of making it, which is a little more time consuming, but also very good. What intrigued me about this version was cooking the shrimp shells in olive oil as a separate step to infuse the olive oil with more shrimp flavor. This is adapted from a Serious Eats article, and was served with a fresh baguette Baguettes in a Fourneau Oven . It made 3 main course servings. Like many Serious Eats ideas, there is some sophisticated layering of flavors going on.
12 cloves garlic , peeled and divided
1 lb. shrimp in the shell, peeled, but with the shells reserved
½ cup extra virgin olive oil
Kosher salt
¼ tsp. baking soda
Pinch red pepper flakes
1-1/2 tsp wine vinegar (sherry if you can find it)
2 Tbs. fresh parsley, chopped.
Finely chop 4 of the cloves of garlic, and put them in a large bowl. Thinly slice 4 of the cloves of garlic and put them into a small bowl. Smash the last 4 cloves of garlic under the flat side of a large knife, and put them into another small bowl.
Into the large bowl with the chopped garlic, add the peeled shrimp, 3 Tbs. olive oil, ¾ tsp. kosher salt, and the baking soda. Mix well. Set aside at room temperature while working on the rest of the recipe.
In a large skillet, add the remaining olive oil (5 Tbs.), the shrimp shells, the smashed garlic, and the red pepper flakes. Cook over medium-low heat until the shrimp shells are red, the garlic is golden, and the oil is very aromatic, which will be about 10 minutes. Pour the flavored oil through a sieve into a small bowl, extracting all the oil possible. Discard the shells and garlic. Wipe out the skillet with paper towels, and return the flavored oil to it.
Heat the skillet with the flavored oil over medium-high heat until the oil is shimmering. Add the sliced garlic, and fry until golden. Add the shrimp mixture, and cook, stirring frequently, until the shrimp is barely cooked, about 2 minutes. Remove from heat, stir in the vinegar and parsley, check for seasoning, and serve immediately with crusty bread.