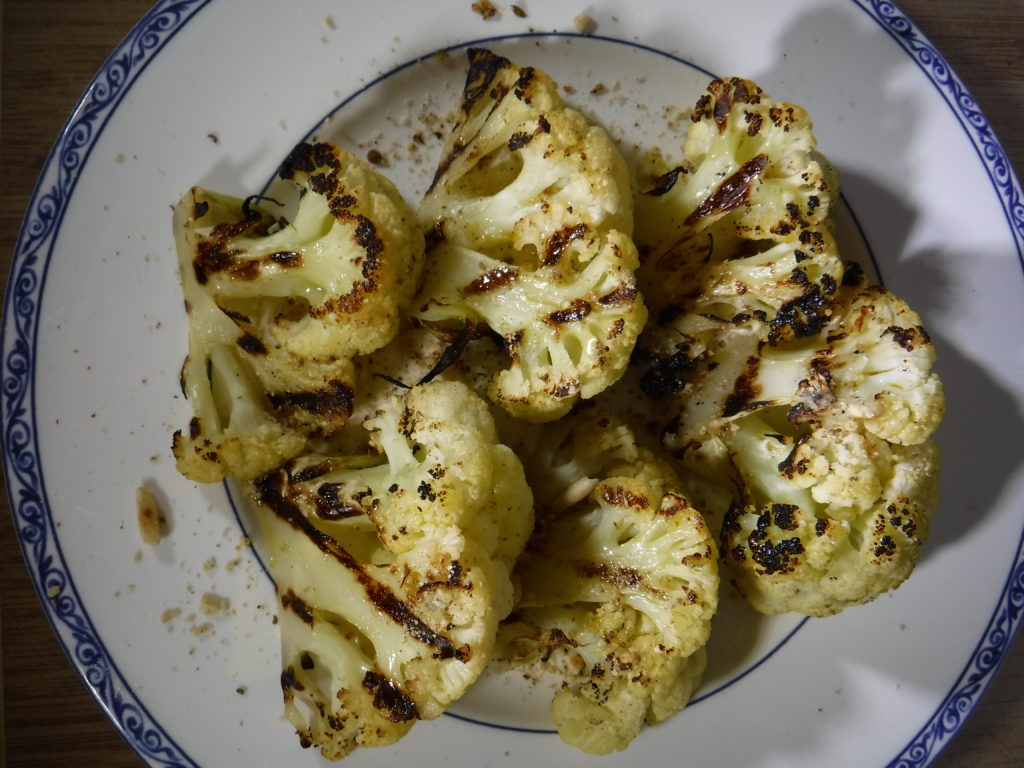 Grilled cauliflower is very popular these days, and if done well, it is very tasty. This version is based on an article by Cook's Illustrated. To get the cauliflower to be both nicely grilled and cooked through, it is deep seasoned by dunking in a brine, microwaved until tender, and finished on the grill. The cauliflower I had was a bit over a pound, which made two generous servings.
1 head cauliflower
2 cups water
¼ cup salt
2 Tbs. sugar
2 Tbs. extra virgin olive oil
Optional seasonings and garnishes (chives, lemon, balsamic vinegar, etc.  I used an Almond Dukkah, a Middle-Eastern spice mix)
Trim the green leaves and the end of the stem from the head of cauliflower, and cut it into 6 wedges, each of which contains part of the stem.
In a medium bowl, mix together the water, salt, and sugar, and stir until dissolved.
Carefully dunk each wedge of cauliflower into the brine and place it on a microwavable plate. Continue with the rest of the wedges until there is a single layer of cauliflower wedges on the plate. Cover the plate with a microwavable bowl or other cover. Microwave until the florets are fully tender. For a ~17 oz. cauliflower, this was ~10 minutes. For a 2 lb. cauliflower, this would be ~14-16 minutes.
Handling gently, remove the cauliflower from the microwave and pat dry with paper towels. Drizzle with one Tbs. of olive oil.
Heat the grill.  When hot, grill the cauliflower wedges about 3 minutes on each side.  Drizzle with the remaining Tbs. of olive oil, and serve hot with one of the seasonings or garnishes.  I used an Almond Dukkah.