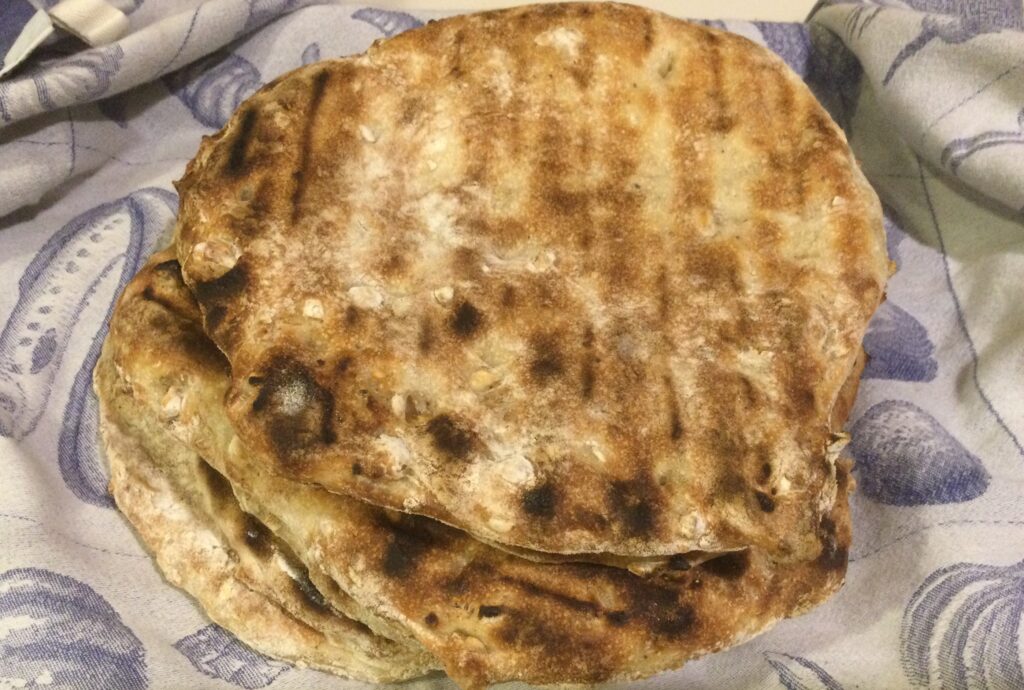 This flatbread is an adaptation of a recipe which appeared in Fine Cooking in June/July 2010. It goes very well with Middle Eastern dips and is less glycemic than most breads because of the chickpea content. This recipe makes 6 flatbreads and takes 3-4 hours.
1 Tbs. honey
1.5 cups lukewarm water
2 tsp. yeast
18 oz. (4 cups) all-purpose flour
2.25 tsp. kosher salt, divided
2 Tbs. olive oil
2 tsp. cumin seeds, toasted
2 tsp. coriander seeds, toasted
1 small yellow onion, cut in half
1.25 cups canned chickpeas, rinsed, drained, and coarsely mashed
Dissolve the honey in the lukewarm water. Add the yeast and stir. Wait 5 minutes for the yeast to proof
In a mixing bowl put the flour, 1.5 tsp. of salt, and the olive oil. Add the yeast mixture. Stir well with a dough whisk to form a rough dough. Cover and allow to rest for 15 minutes. With a dough hook, knead the dough for about 5 minutes on low. Add a teaspoon or so of flour if the dough is too wet to form a ball. Cover and allow the dough to rest for 5 minutes. With a dough hook, knead the dough for another 5 minutes on medium-high speed, so that the dough hook slaps around the dough ball. Move the dough to a doubling container and let it rise 1 to 1.5 hours until doubled.
While the dough is rising, prepare the mix-ins. Heat a cast iron skillet. When hot, add the onion halves, cut side down, and cook until lightly charred, about 5-7 minutes. Allow the onion to cool enough to handle. Peel the charred onions and finely chop them. Add them to a bowl with the mashed chickpeas.
In a mortar, grind the cumin and coriander seeds with the remaining .75 tsp. of salt. Add to the bowl with the onion and mashed chickpeas and mix well.
When the dough has doubled put it in a wide bowl with the chickpea filling. Using a dough knife or similar tool, cut the dough repeatedly and mix in the chickpea mixture until it is evenly incorporated.
Flour a cookie sheet and a work surface. Cut the dough into 6 even pieces and with floured hands form each piece into a ball. Put the balls on the cookie sheet, cover with plastic wrap and allow to rise for an hour.
Heat a barbeque grill.
On a floured surface, roll each of the dough balls into a disk about 9 inches in diameter. Cook the disks on the barbecue grill about 3 minutes on each side, or until cooked through. Keep the cooked breads warm with kitchen towels. Serve with Middle Eastern food such as dips.