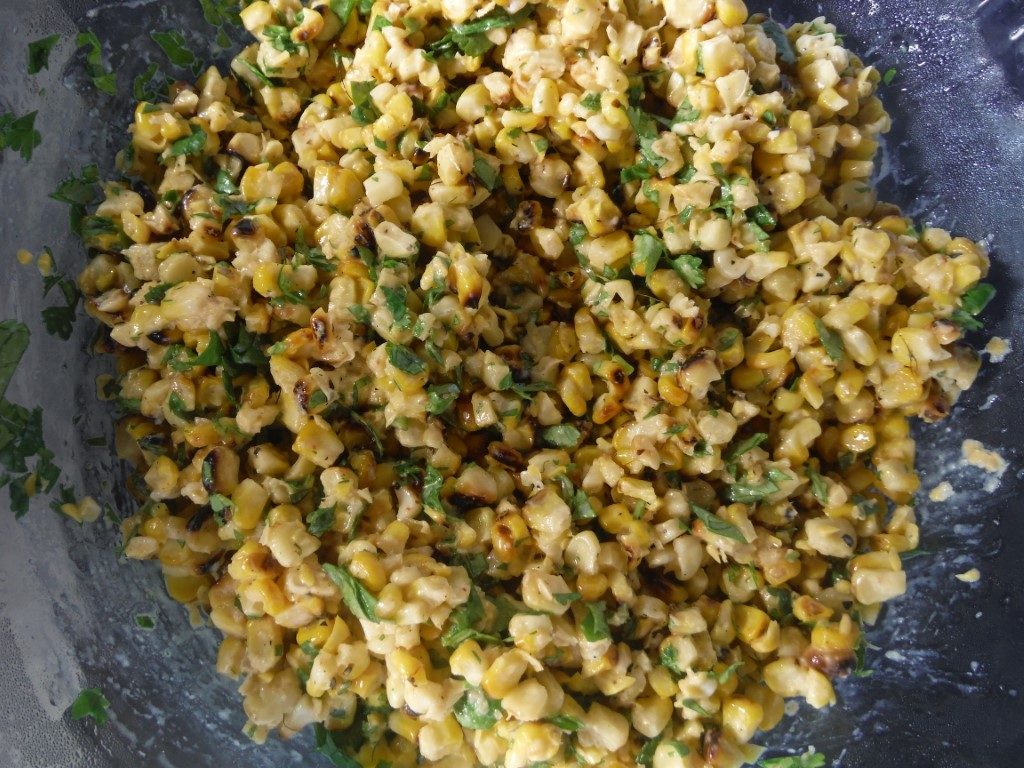 I heard about this corn salad from a recipe in the eatsiptrip website mentioned in an article in USA Today.  The article raved about the anomaly that there is a very good restaurant in a Cenex service station in Walla Walla, Washington, and said that their best-selling dish is a grilled corn salad, modeled on Mexican street corn.  I made a batch to bring to the Boy Scout end of the year pool party, and it was a hit.  This is one of those dishes in which adding ingredients to taste (and knowing the taste of your audience) is key.  I made this much less spicy than the original recipe, and Carol initially cautioned me that, even then, I had made it too spicy.  (She later revised that opinion.)
A key ingredient to this was the  Two-minute Aioli , which gives a nice garlicky base to the dressing of the salad.
12 ears fresh corn
¼ cup (or more) freshly grated parmesan (I used about ½ cup)
½ cup (or more) aioli (I used about ¾ cup)
1 tsp. (or more) cayenne pepper (Original recipe was for 1 Tbs.)
Lime juice to taste (I used 4 Tbs.)
Salt to taste (I used a light sprinkle)
Black pepper to taste (I used a few grinds)
Chopped cilantro to taste (I used about ½ cup)
Grill the corn until cooked through and with a nice char on the kernels, about 20 minutes.  Cut off the kernels and put them into a large bowl.  To the bowl add the Parmesan, aioli, cayenne pepper, lime juice, salt, and pepper to taste, mixing well to ensure that the dressing ingredients are evenly distributed.  Just before serving, add the chopped cilantro to taste.  Serve with tortilla chips as a base to the salad.