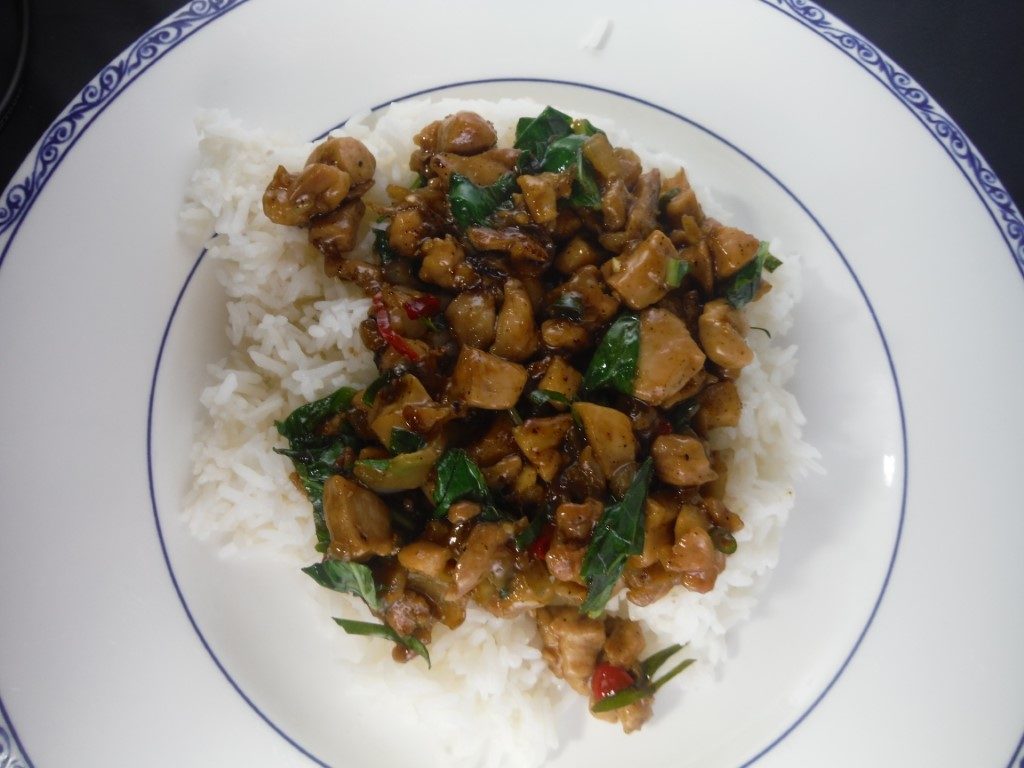 This is one of my favorite Thai dishes, and one that I have made many times over the years.  I recently saw a version on an Asian cooking blog www.tasteasianfood.com run by KP Kwan, and decided to try his version.  I liked a few things about his variation:  a more complex sauce, some cornstarch to make the sauce more like a glaze, and the optional use of Kaffir lime leaves from the trees on our lower deck.  I have cut out the sugar in his original recipe since it was good, but more sweet than this dish needs to be.  Here is my version of KP Kwan's Sauteed Chicken with Basil.  As Carol has pointed out, this is not the way our Thai maid Suteen cooked it, which had a thinner sauce with more lime juice in it.
3 Tbs. vegetable oil
¾ large onion, diced
3 large cloves garlic, minced
1.25 lbs. boneless chicken thighs, diced
6 Thai bullet chilies, thinly sliced
2 Kaffir lime leaves, thinly sliced (optional)
1-1/2 Tbs. sweet soy sauce (like Kepis Manis)
2-1/2 Tbs. fish sauce
2 tsp. oyster sauce
¼ tsp. pepper
3 Tbs. water
1 tsp. cornstarch mixed with 1 Tbs. of water
30 g. basil, coarsely chopped (~1-1/2 cups)
Lime slices (optional)
Nam Pla Prik (fish sauce with chilies)
Have all the ingredients in place before starting cooking, since like all stir fries, this cooks very quickly.
In a small bowl mix together the chilies, Kaffir lime leaves (if using), sweet soy sauce, fish sauce, oyster sauce, sugar, pepper, and water.
Heat the oil in a wok or large frying pan.  Add the chopped onions and cook until soft.  Add the garlic and cook for a minute.  Add the diced chicken and continue stir frying until the chicken is cooked.  Add the sauce mixture, and cook until it is largely reduced and absorbed into the chicken.  Add the cornstarch and water, and cook until the sauce looks like a glaze on the chicken.  Add the basil, and cook for about a minute until wilted.  Serve over rice with optional lime slices (and more fish sauce and chilies.)