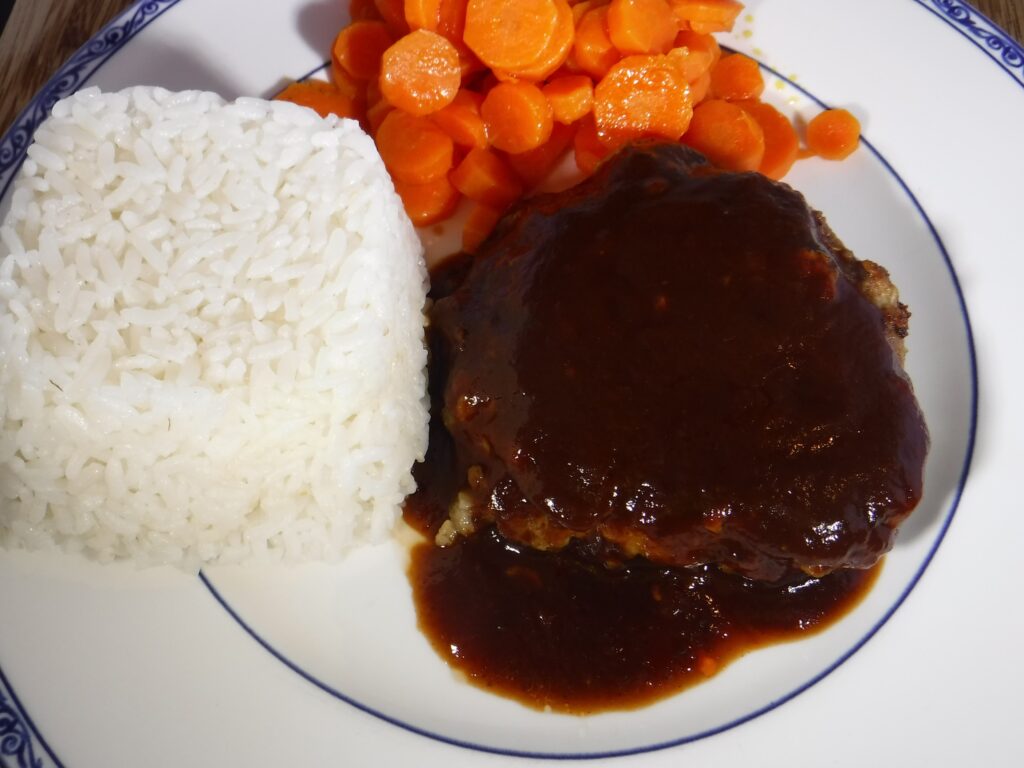 This is an example of Yoshoku, Japanese style western food. It is a meat patty served with a sauce, rice, and a salad or vegetables. The patty is made from a mixture of pork and beef and is quite tasty. It is a bit like meatloaf. This version comes with a tangy sauce based on sake, Worcestershire sauce, and ketchup, which is a combination I like, but is a bit vinegary for Carol's tastes. The same patty with a mushroom or onion gravy would be quite good. This version is an adaptation from a recipe in Tadashi Ono's book Japanese Soul Cooking.
2 Tbs. butter, divided
6 oz. onion (about 1 med-large onion), finely chopped
1 clove garlic, finely chopped
½ cup panko breadcrumbs
½ cup milk
8 oz. ground beef
8 oz. ground pork
½ tsp. salt
1 tsp. soy sauce
1 egg, beaten
1 Tbs. vegetable oil
¼ cup sake
¼ cup Worcestershire sauce
½ cup ketchup
Melt 1 Tbs. of butter in a large skillet and saute the onion and garlic until soft and translucent. Remove from the heat and allow to cool.
Mix together the panko and milk in a bowl and allow to rest for 5 minutes. Add the egg, salt and soy sauce, and mix. Add the ground beef and pork, and the cooled onion and garlic, and mix all together with your hands. Form into 4 equal patties, depressing each patty a little in the center to reduce swelling when it cooks.
Heat the remaining Tbs. of butter and the oil in the skillet over medium heat. Add the patties and cook for about 12 minutes, until done, flipping once. Put the patties on serving plates. Pour off the grease from the skillet. Deglaze the skillet with the sake, and then add the Worcestershire sauce and ketchup, and cook for about a minute, stirring constantly. Pour the sauce over the patties and serve with steamed rice and a salad or vegetables.