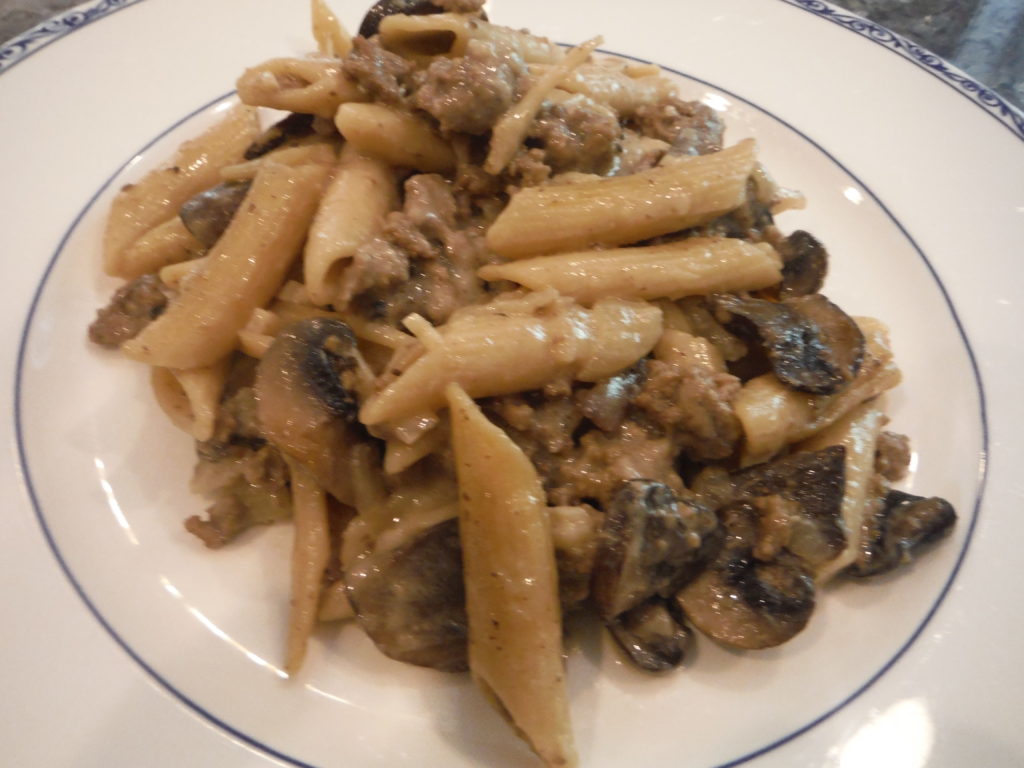 This is planned for one of the  dinners on our upcoming Boundary Waters canoe trip.  I just tested it tonight under semi-field conditions (one pot and using the sour cream powder), and it tasted fine other than discovering that we were using old mustard powder which was bitter and needed to be replaced.  Thus the picture above is on a china plate instead of a plastic bowl.
I hope to have some additional pictures after the canoe trip.
(6 servings)
4 Tbs. cooking oil
1-1/2 lb. lean ground beef
1-1/2 large onion, chopped
3 cloves garlic, chopped
1-1/2 lb. mushrooms, sliced
Maggi seasoning to taste
12 oz. small pasta
15 Tbs. sour cream powder
1-1/2 Tbs. mustard powder
Saute the ground beef in 1 Tbs. of oil until cooked, breaking up the clumps. Pat dry with paper towels and then put in a dehydrator at 165 degrees until fully dry. The dried beef will have the same texture as grape nut cereal. Put the ground beef in a sandwich zip lock baggy.
Add 3 Tbs. of oil to the pan and saute the onion, garlic, and mushrooms until the vegetables are softened and all their moisture is evaporated. Add 2-3 tsp. of Maggie seasoning, and taste. Put into a dehydrator and dry the vegies until they are well dried. Move around the mixture on the dehydrator tray from time to time to help it dry evenly. Put the dried mixture into a zip lock baggie.
Put the pasta in another zip lock baggie.
Put the sour cream and mustard powders in a zip lock baggie.
Place the baggies with the dried beef, the onion/mushroom mixture, the pasta, and the sour cream/mustard powders into a gallon sized ziplock baggie.
At camp, add the beef and the onion/mushroom mixture into a pot and add around 6 cups of water. Bring to a boil, turn off the heat, and allow it to rehydrate. Bring back to a boil, and add the pasta and more water as required. This is making a one pot dish, so the objective is to add enough water to cook the pasta and prevent burning, but not so much that the final dish is soupy. Cook until the pasta is done. Meanwhile mix the sour cream/mustard powder with 9 Tbs. of water until smooth. Mix in and serve.