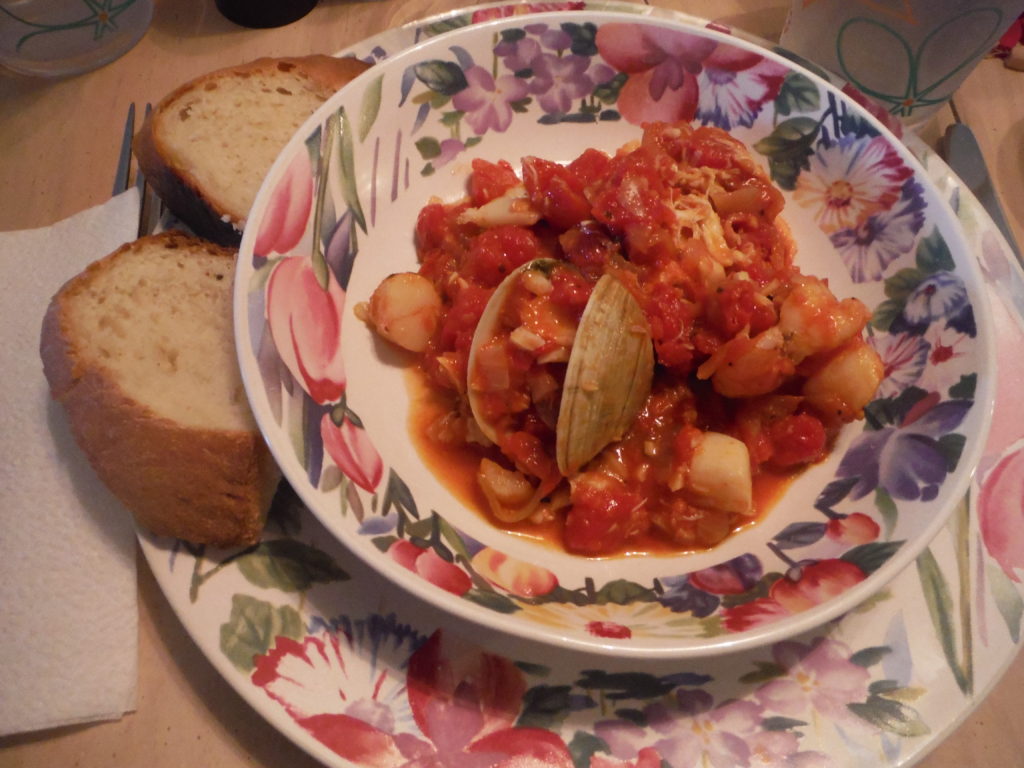 This San Francisco Italian-American classic was our contribution to dinner at family beach week on the Outer Banks this year.  This will provide 4 ample servings.
See the bottom of the posting for notes about quantities for large groups.
Scoma's Cioppino
Serves 4
Cioppino Sauce Base
¼ cup olive oil
1 medium onion, diced
2 T chopped fresh garlic
½ cup vegetable stock (or water)
3 T red wine vinegar
½ t dried oregano
2 medium cans high-quality chopped tomatoes
2 T tomato paste
2 t Kosher salt
½ bunch fresh basil
Heat olive oil in a medium size, heavy bottomed pot.
Add onions and open, then add garlic and saute for 10 min. on low heat.
Add the stock and the vinegar and cook until almost dry.
Add tomatoes, paste and the oregano and cook for 30-40 minutes.
Add the salt and the basil and cook for 5 more minutes.
Adjust seasoning to liking (chile flakes are a nice addition).
Cool rapidly, store tightly covered when cold. Use within 2 days.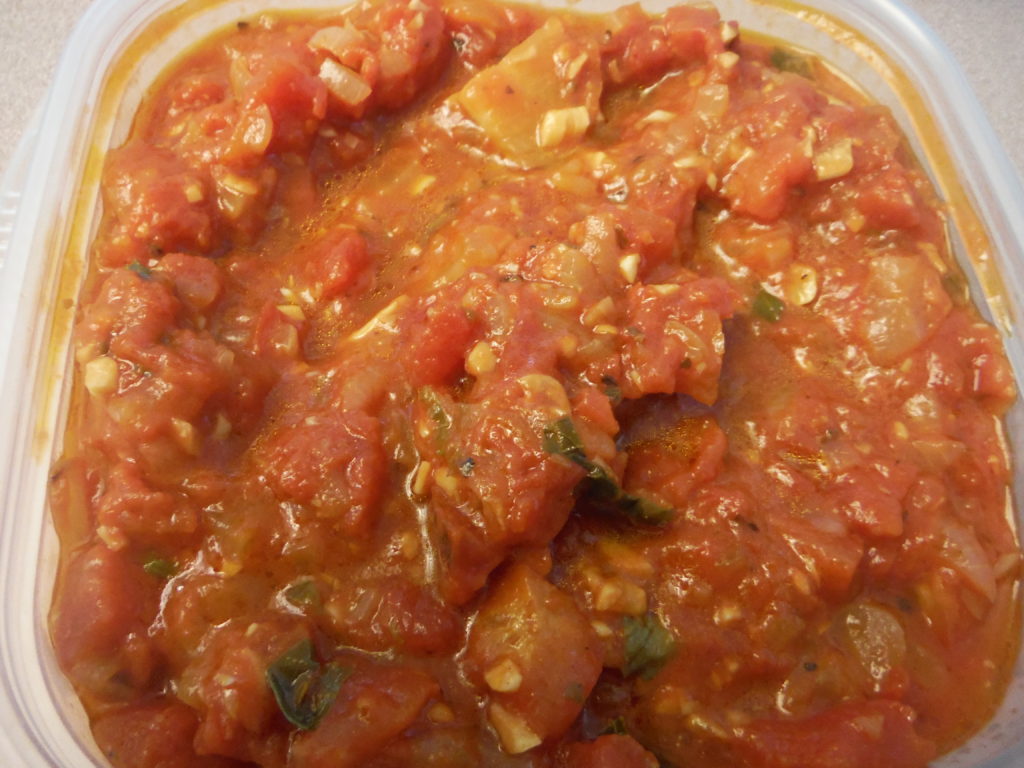 Cioppino (Restaurant Method for a Large Individual Serving)
1½ cup cioppino sauce base
5 each littleneck clams
5 each mussels
2 pieces ling cod or other white fish (3 oz. total)
1¾ oz cooked crab meat
3 each large gulf prawns
3 each dry pack dayboat scallops
1 piece toasted garlic bread
1 sprig Italian flatleaf parsley
Put 1 tablespoon olive oil in a cold pan and warm over medium.
Add clams and mussels, moving the shellfish around in the pan. Be careful not to let the pan flame up.
Remove each clam and mussel as it opens, reserve to the side.
Next, add the fish, prawns and scallops, and let simmer gently until almost cooked through.
Add back shellfish to the pan to heat through.
Plate in large bowl with ling cod in middle, shellfish around the perimeter and the rest of the stew piled in center. The crab meat should be sticking up on top.
Finish with other garnishes and serve immediately.
Group Method
Warm the sauce to a simmer in a large pot and add a variety of seafood.  Cover, and cook over medium heat until the seafood is cooked and the clams and mussels are open.  Serve in shallow bowls with plenty of good bread.
For a group of 12 adults, I made the following quantities and had a modest amount left over:
3 recipes of the sauce, prepared a day in advance
2 lb. shrimp, peeled and deveined
2 lb. fresh mussels
50 count littleneck clams
1 lb. dry pack sea scallops
1 lb. crab meat
1 lb. tuna steaks, cut into 1 inch cubes
1 lb. swordfish steaks, cut into 1 inch cubes
I also took the shrimp shells and boiled them in about 3 cups of water for 15 minutes.  I then strained the broth from the shells, and reduced it in a frying pan to about 3/4 cup, which I added to the sauce.