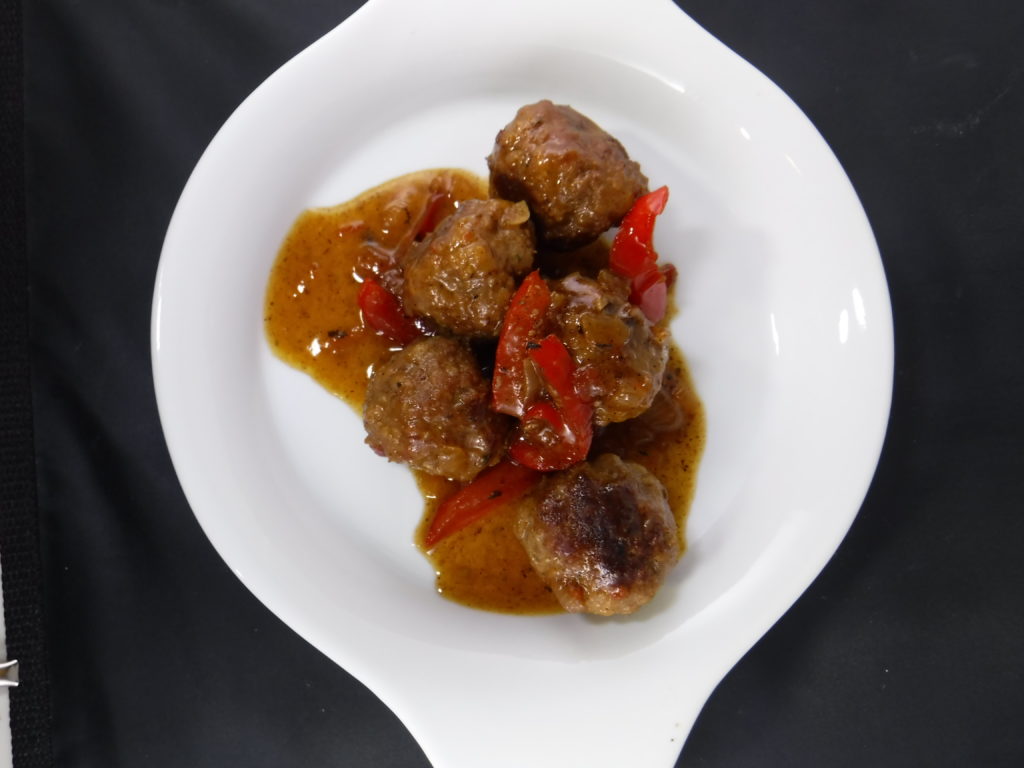 I like meatballs, and this is a recipe which I have made many times over the years. It was originally from the Triton Bar/Restaurant in Barcelona, as recorded in one of my favorite cookbooks, Penelope Casas' Tapas: The Little Dishes of Spain. This will make ~ 40 one-inch meatballs, which is about 6-8 servings.
The original recipe calls for ½ lb. ground beef, 1 lb. ground veal, and ½ lb. ground pork. I took a shortcut and made it with 2 lbs. of 50/50 ground beef/pork mix, which was available at Kroger. Sometimes it is possible to buy meatloaf mix, which is a convenient mixture of beef, pork, and veal.
1 lb. ground beef
1 lb. ground pork
¾ cup unseasoned bread crumbs
5 cloves garlic, crushed – divided
2 eggs
½ tsp. nutmeg
2 tsp. salt
¾ tsp. freshly ground black pepper
All-purpose flour for dusting
3 Tbs. olive oil
1 medium onion, coarsely chopped
1 red or green bell pepper, cut into strips
1 Roma tomato, peeled and chopped
½ cup white wine
¾ cup chicken broth
Salt and pepper to taste.
To make the meatballs, mix together in a large bowl the egg, 4 crushed cloves of garlic, nutmeg, salt, and pepper. Next mix in the breadcrumbs. Last mix in the meat and with hands evenly distribute the ingredients. Portion the meatball mixture with a one-inch scoop. Put the portions on a cookie sheet and form by hand into balls. Dust the balls with flour.
In a large skillet, heat the olive oil over medium heat. In two batches, cook the meatballs until browned on all sides. Remove the meatballs to a bowl, and saute the onion, peppers, and the remaining 1 crushed clove of garlic in the pan until softened. Deglaze the pan with the cooking vegetables. Return the meatballs to the pan, and add the tomato, white wine, and chicken broth. Bring to a boil and reduce to a simmer, cooking covered for about 45 minutes until a thick sauce is formed. Serve with bread or rice.