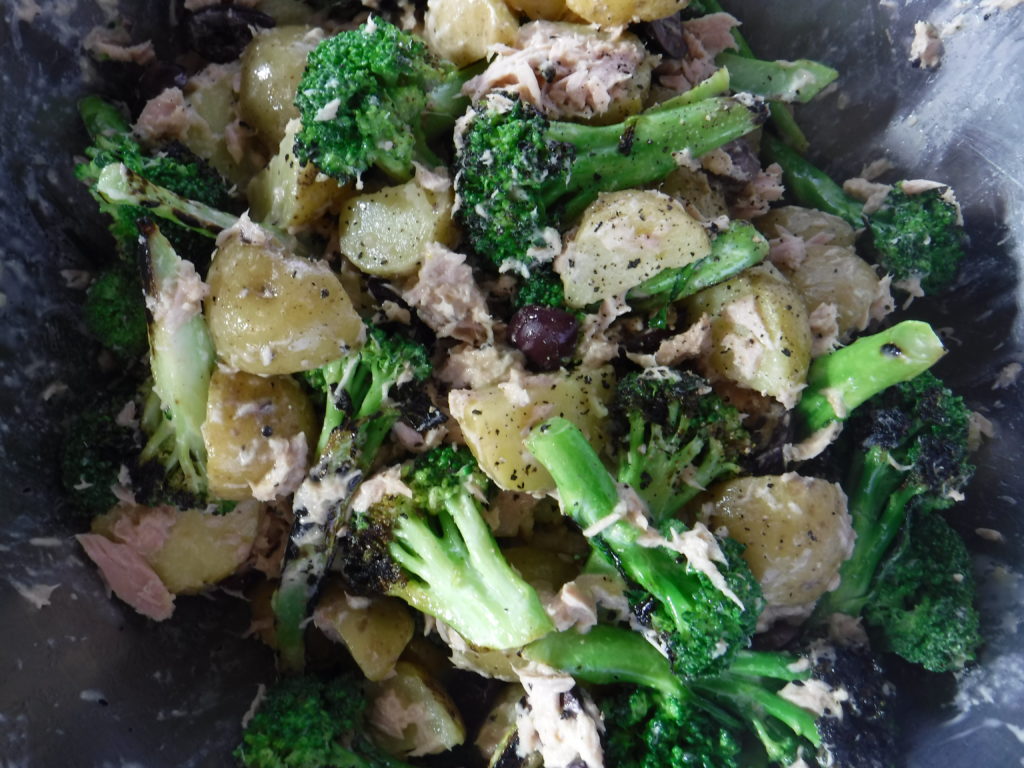 Back in February, the Wall St. Journal published a "Slow Food Fast" recipe about making a variation of salad nicoise suitable for the winter, since it used only pantry ingredients and broccoli, which is readily available in the winter.  I thought this was a good idea since it was a salad based on a vegetable other than the usual salad vegetables and would be quick.  It turned out very well.  Quantities below made about 5 servings.
2 heads broccoli
~1-1/2 lbs. baby Yukon Gold potatoes
½ cup pitted Kalamata olives, sliced
2-6 oz. cans tuna packed in oil, drained
Vegetable oil
Lemon juice
Salt and pepper to taste
Start by making a batch of Two Minute Aioli.
Bring a pot of salted water to a boil, and then boil the potatoes until tender, about 20 minutes. Cool and cut into quarters. Place the quarters in a large bowl.
Cut the broccoli heads into florets, and slice the large florets lengthwise. Heat a large skillet with a few tablespoons of vegetable oil. When hot, add the florets, in as much of a single layer as possible. Cook, stirring occasionally, until browned in spots all over and al dente, about 8 minutes. Add additional oil if needed. When cooked, place on a cookie sheet lined with paper towels to drain and add salt.
Add the tuna, sliced Kalamatas, and cooked broccoli florets into the bowl with the potatoes. Add about ¾ cup of the aioli and stir until everything is evenly mixed and coated. Add additional aioli, lemon juice, salt, and/or pepper to taste, and serve.