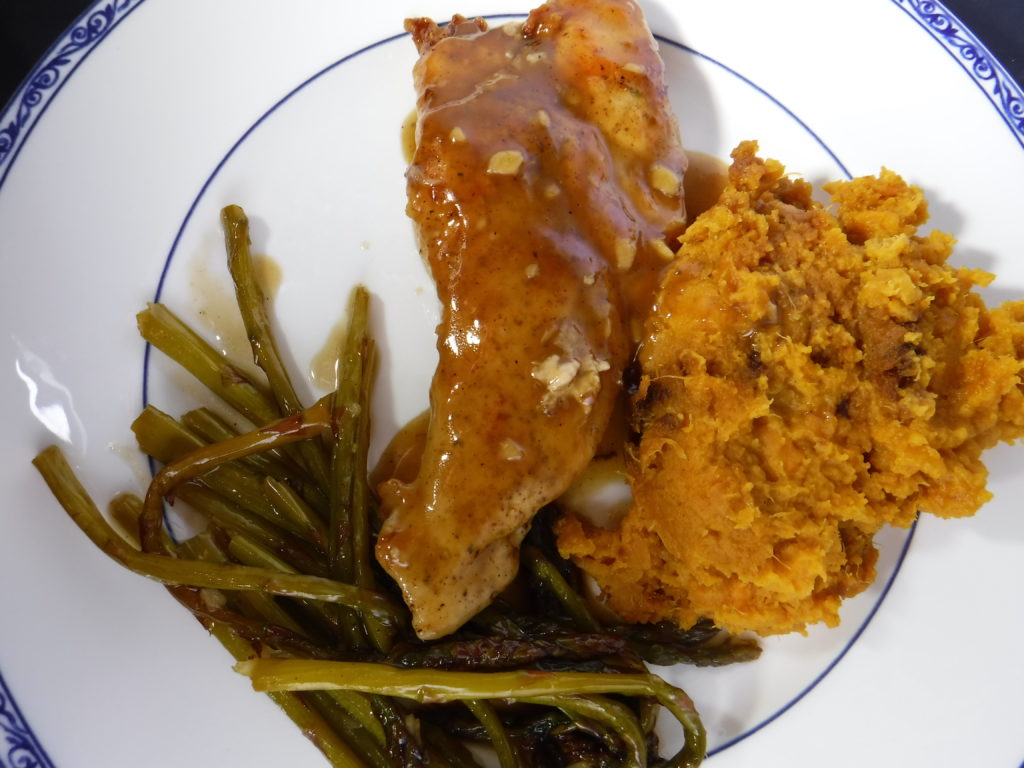 Before Thanksgiving, the supermarkets had great deals on frozen turkey.  We thawed a small turkey and cut it up and used the carcass to make gravy for Thanksgiving in advance.  I saw an article in Food 52 regarding a Honey Lemon Chicken in recipetineats.com which I re-purposed for turkey breast cutlets I had made from the frozen turkey.  It was a nice sweet-sour dish which can be made easily on a weekday with pantry ingredients.  As shown on the picture, we served it with (leftover) mashed sweet potatoes and asparagus.
If starting with whole chicken breasts, slice them into cutlets less than ½ inch thick so that they will cook quickly and evenly.  Another tip is to make sure that everything is ready (mise en place) before starting to cook.  This will go quickly.
1 lb. chicken or turkey cutlets
Salt and pepper
¼ cup flour, divided
1-1/2 Tbs. butter
1 Tbs. olive oil
¾ cup chicken broth
1 garlic clove, minced
¼ cup honey
¼ cup fresh lemon juice
1 tsp. soy sauce
2 Tbs. water
Reserve 1 Tbs. of the flour and mix it with the 2 Tbs. of water in a small bowl.
Dry the chicken or turkey cutlets.  Salt and pepper them and sprinkle them with the remaining flour.  Shake off any excess.
In a small bowl, mix together the honey, lemon juice, and soy sauce.
In a large non-reactive skillet, melt the butter and olive oil.  When hot, saute the floured chicken or turkey for two minutes on a side.  Do not move them while cooking to help them get a nice crust.  Remove the chicken or turkey to a dish to stay warm.  (I stored them in a 180 degree oven.)
Add the garlic, and cook for about a minute, until fragrant.  Add the chicken broth and deglaze the pan, dissolving all the browned bits.  Whisk in the honey/lemon/soy mixture, and the flour/water mixture.  Bring to a boil, and reduce to a simmer and cook until thick enough to coat the chicken or turkey, about 5 minutes.
(Alternatively, at this stage, add asparagus and cook in the sauce until done, adding additional water if needed.  Plate the cooked asparagus.)
When the sauce is thick enough, return the chicken or turkey to the skillet and coat it in the sauce.  Serve immediately.