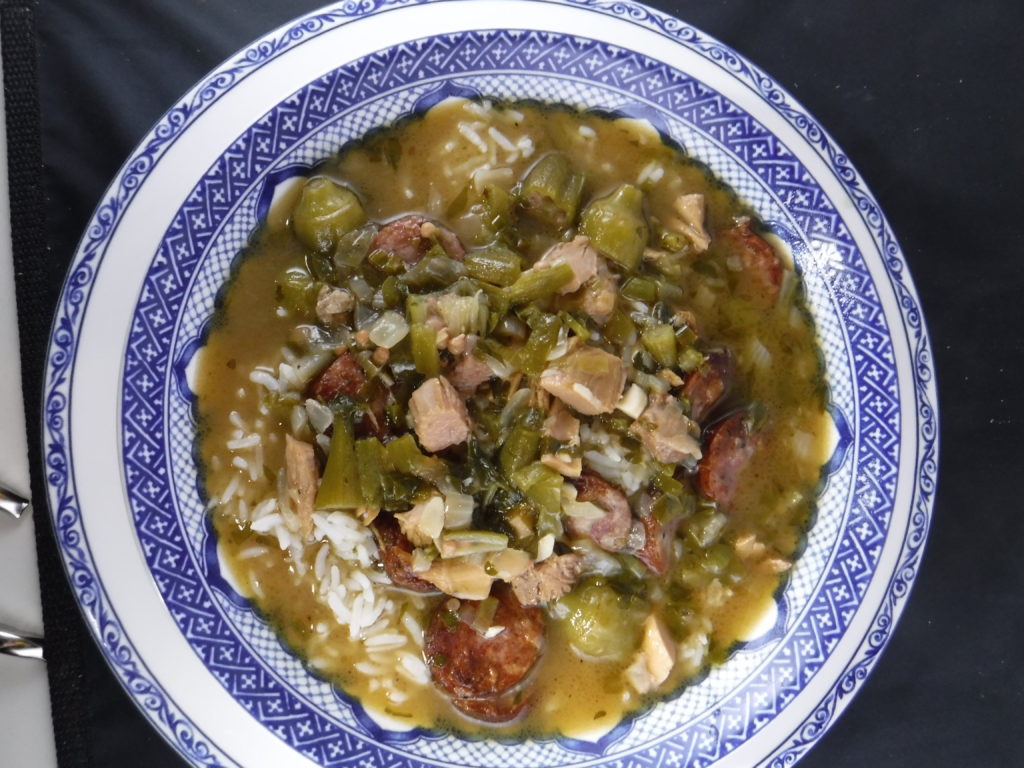 For several years my first use of leftover turkey from Thanksgiving has been to make gumbo, based on a recipe in Justin Wilson's Homegrown Louisiana Cookin'.  Looking over my cookbook library using Eat Your Books, I have found that this is a common idea in Louisiana since there are recipes for it in several Louisiana cookbooks.  The spirit of gumbo is to use what you have on hand, so this recipe is more a guideline than a commandment.  If there are children or other people who do not like spicy food, the hot sauce can be added to taste at the table.  A key thing to remember is that home-made turkey stock is essentially sodium free, and will not taste like much until an appropriate amount of salt is added.
After all the nice slices of light and dark meat have been cut for the Thanksgiving dinner platter, save all the bones and the residual meat.  Perform a second cutting operation to cut off the best meat from the bones so that it can be added toward the end of the gumbo making, and make the stock with the bones and skin, and any meat sticking to them.
Turkey Stock
1 turkey carcass
2 Tbs. oil
1 onion, peeled and quartered
Handful of peeled carrot pieces
1 stalk of celery, cut into big chunks.
Roux
½ cup oil
1 cup all-purpose flour
Meat, vegetables and seasonings
1 cup chopped onions
1 cup chopped green onions
½ cup chopped green bell pepper
½ cup chopped parsley
¼ cup chopped celery
1 Tbs. chopped garlic
3 cups frozen okra, cut into ½ inch slices
1 lb. smoked sausage, cut into ¼ inch slices and sautéed in a separate pan.
Leftover turkey meat
1 Tbs. Worcestershire sauce
Louisiana hot sauce, SriRacha sauce, etc.  to taste (or add at the table)
Salt to taste
Start by making the turkey stock.  Heat the oil in a large stock pot and brown the turkey carcass.  Add one gallon of water and the vegetables.  Scrape the bottom of the pan to dissolve the browned bits.  Bring to a boil and reduce to a simmer and cook for about two hours until all the flavor has been extracted from the carcass and vegetables. Remove any foam or oil floating at the top of the pan. Strain the broth, skim any fat from the surface and reserve for the gumbo.
To make the roux, put the oil and flour in a large heavy pan, stir together, and cook over medium-low heat, stirring occasionally.  The roux will slowly change from an off-white, to a cream, to a light brown, to a medium brown, and ultimately to a dark brown if you let it get that far.  The browner it is, the more distinct the flavor of the roux will be.  On the other hand, if the roux goes too far and is burned, it is useless and needs to be thrown out.  Towards the end, the roux needs to be watched more carefully and stirred more frequently.  I usually cook it for about 30 minutes until it has reached a medium brown.
When the roux is ready, add the vegetables, and mix them with the roux.  Cook until the onions are translucent.  Add the stock a ladle at a time to form first a paste, and then a gravy, and last a stock.  Add the okra, the smoked sausage, the leftover turkey, hot sauce to taste, and salt to taste.  Remember that home-made stock has no sodium and will need salt to taste like anything.  (I like to add some of the salt in the form of fish sauce and Marmite.  In small quantities, they are undetectable, but add an extra level of umami (savoriness) to the gumbo.)  Simmer the gumbo at least an hour, and serve over white rice.  Add hot sauce to taste at the table