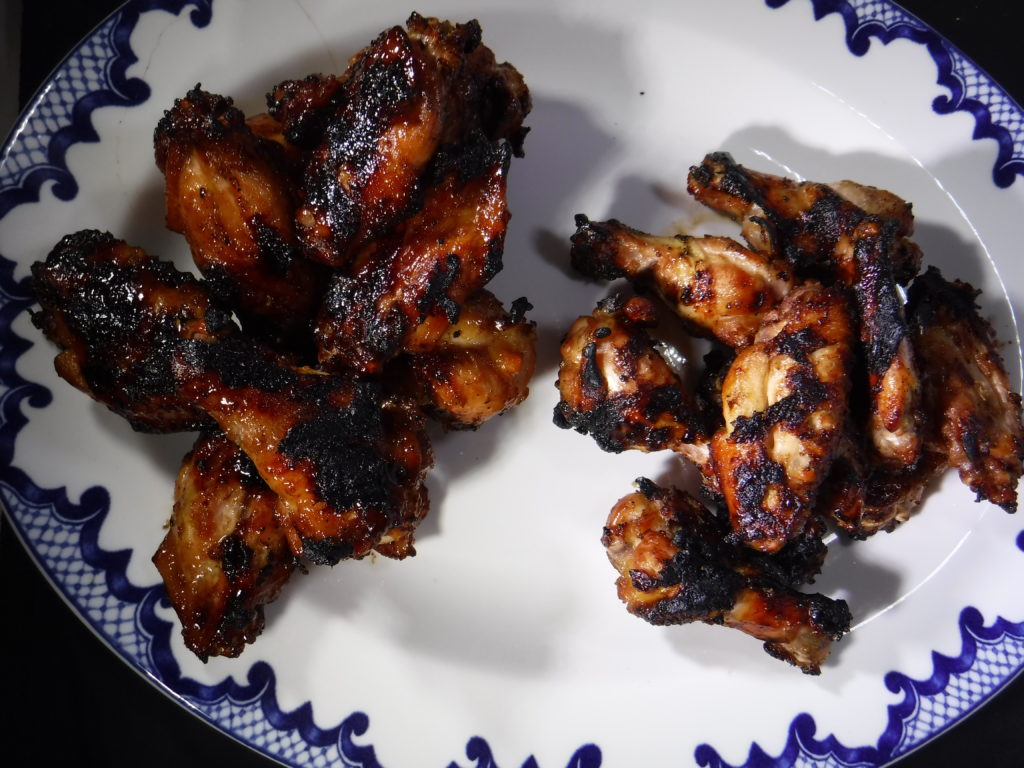 Huli Huli chicken is a Hawaiian variation of chicken teriyaki. "Huli, huli" means "turn, turn" in Hawaiian, and the chicken is in fact frequently turned and basted. I made this variation based on an article in SeriousEats.com last night. The shinier wings to the left were basted and the less shiny wings to the right were not. (Both are good. The basted wings are better.)
The marinade contains pineapple juice, which is why the chicken should not be in the marinade for more than 8 hours. Too long a time in an acidic marinade will make the meat mushy.
Serious Eats recommends cooking mostly on the cooler side of a grill and then moving them to the hotter side to finish them. I just cooked them all the time at the same heat. The unglazed wings were on what turned out to be a hotter side, maybe because some of the gas holes are blocked on the right side. Serious Eats also recommends grilling pineapple slices to accompany the wings. I bought the pineapple, and then forgot to slice and grill it.
We ate half of these wings with rice and stir-fried vegetables.
3 lbs. chicken wings
1 cup unsweetened pineapple juice
½ cup soy sauce
½ cup lightly packed brown sugar
¼ cup low sodium chicken broth
1 inch of ginger, peeled and finely grated
2 cloves garlic, crushed
1 tsp. Sri Racha sauce
Combine the marinade ingredients in a bowl and mix well. Put half in a separate container and refrigerate. Put the other half in a gallon ziplock baggie with the chicken wings. Squeeze the air out, and marinade the wings in the refrigerator for 1 to 8 hours.
Start the grill and drain the chicken wings, discarding the used marinade. Grill the wings, turning them frequently. After a few minutes, brush them periodically with the reserved marinade to form a glaze. Grill until cooked through, 20-30 minutes. Note that the flat sections will cook faster than the mini-drumstick sections.
Enjoy as an appetizer or as a main course with stir-fried vegetables and rice.