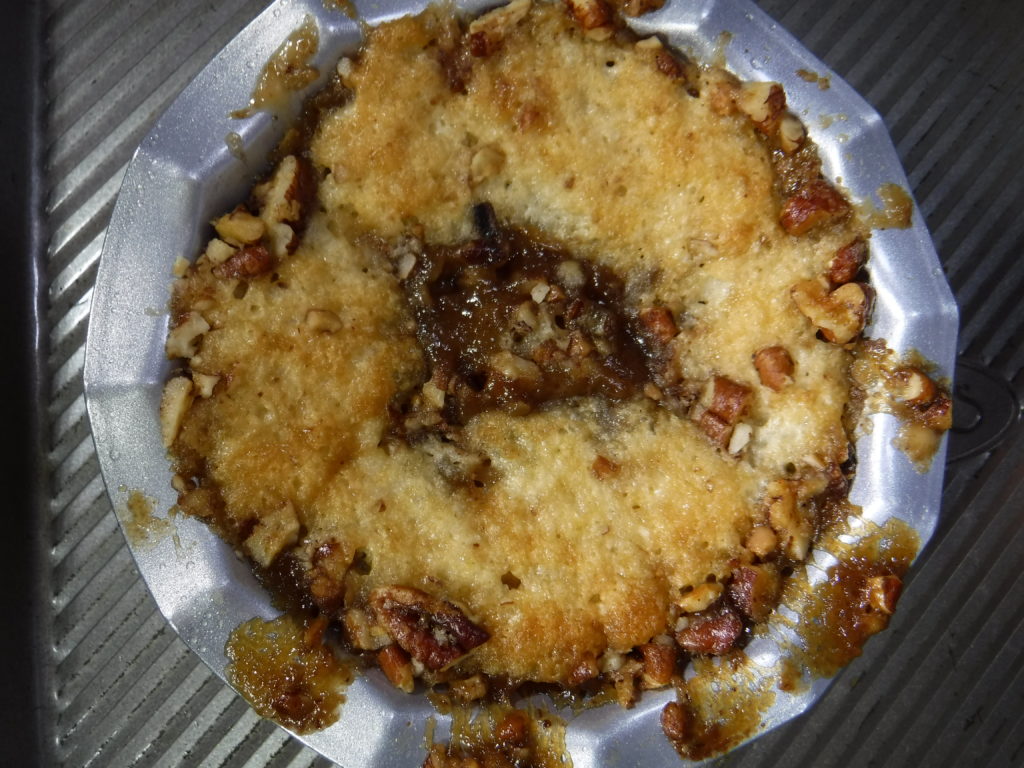 I spotted a recipe on the Taste of Home website, which seemed to have great promise as a camping dessert since it mostly used staple ingredients.  I have done it twice now at home as a proof of concept.  The first version (which was consistent with the original recipe, I thought was pretty good and Carol thought was too sweet.  The second version increased the dough vs. the filling and was pronounced a winner by Carol.  If car camping, this can be served with canned whipped cream.  At home, it could either be served with whipped cream or vanilla ice cream.
This could be made as a backpacking or canoeing dessert by using powdered milk and baking it in a reflector oven.
I have shown below quantities for both a 9-inch round cake pan (to serve ~6 people) and 2 little tartlet pans (to serve 2 people). The photo shows one of the tartlet pans.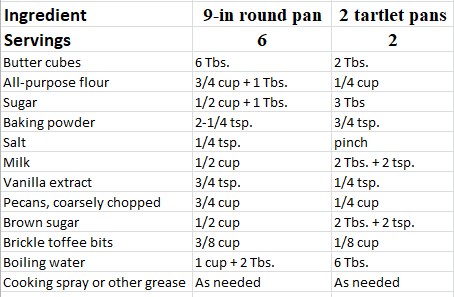 Preheat the oven to 350 degrees or heat enough charcoal briquettes to heat a Dutch oven to ~350 degrees.
Spray the cake pan (or tartlet pans) with cooking spray or grease it with some oil or some extra butter.
Cut the butter into little pieces and put them on the bottom of the pan. Melt the butter.
Mix together in a small bowl or baggie the flour, sugar, baking powder and salt. Add the milk and vanilla extract and mix to form a dough. Put the dough evenly in the baking pan on top of the melted butter.
Mix together in a small bowl or baggie the chopped pecans, brown sugar, and brickle toffee bits. Sprinkle them on top of the dough.
Spoon the boiling water evenly over the pan. Do not stir.
Bake until the dough is set, around 30 minutes for the cake pan and about 20 minutes for the tartlet pans. Allow to cool to warm, and then serve with whipped cream or vanilla ice cream, if available.