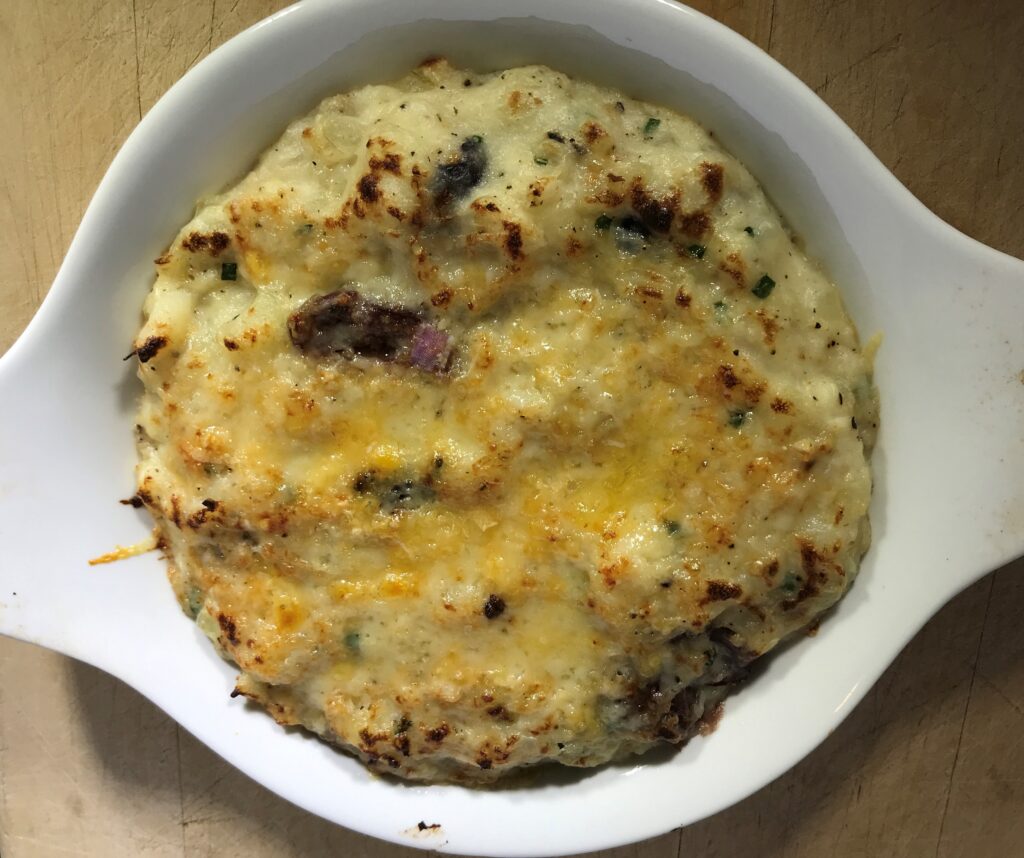 Carol and I recently took a food tour of Reykjavik. This was the dish that our guide was most enthusiastic about. It is classic Icelandic comfort food and he thought his grandmother made the best of all possible versions. Cod and potatoes are two staples of the Icelandic diet, so there would frequently be some of these leftover, and this is a good way of using them up, just like home-made hash in the US. This version makes 4 servings and takes about 45 minutes if the ingredients are fresh, and about 25 minutes if pre-cooked cod and potatoes are available. This is adapted from a recipe by twissis in Food.com. I have enhanced it by adding sherry, Kalamata olives, and cheese, but those are not necessary.
1.25 lb. floury potato (such as russet)
1.25 lb. cod or haddock
4 Tbs. butter
1 large onion, chopped
3 cloves garlic, chopped
3 Tbs. flour
2 Tbs. dry sherry
12 oz. whole milk
3 Tbs. chives
¾ cup halved Kalamata olives
Salt and pepper to taste
2 oz. Gouda, Gruyere, or similar cheese
Peel and half or quarter the potatoes. Cook in salted water until cooked through. Drain and put in a large bowl
Cook the fish in salted water until the fish flakes. Drain and put in the bowl with the potatoes. Mash together the fish and potatoes.
Preheat the broiler
In a large skillet melt the butter over medium heat, and cook the onions until translucent. Add the garlic and cook for another minute. Sprinkle in the flour and cook for a few minutes, stirring occasionally. Add the sherry and cook, stirring frequently, until absorbed. Add the milk, and cook, stirring frequently, until the sauce thickens. Remove from the heat and add the fish and potatoes from the bowl and mix together. Stir in the olives, chives, and half of the cheese, and season to taste with salt and pepper.
Put the mixture into 4 broiler-proof dishes and top with the rest of the cheese.  Broil until the mixture is hot and bubbly and the top is browned.  Icelanders serve this with a sweet rye bread.  I made a not-sweet rye bread to go with it. ( Sourdough Rye Bread with Caraway Seeds )