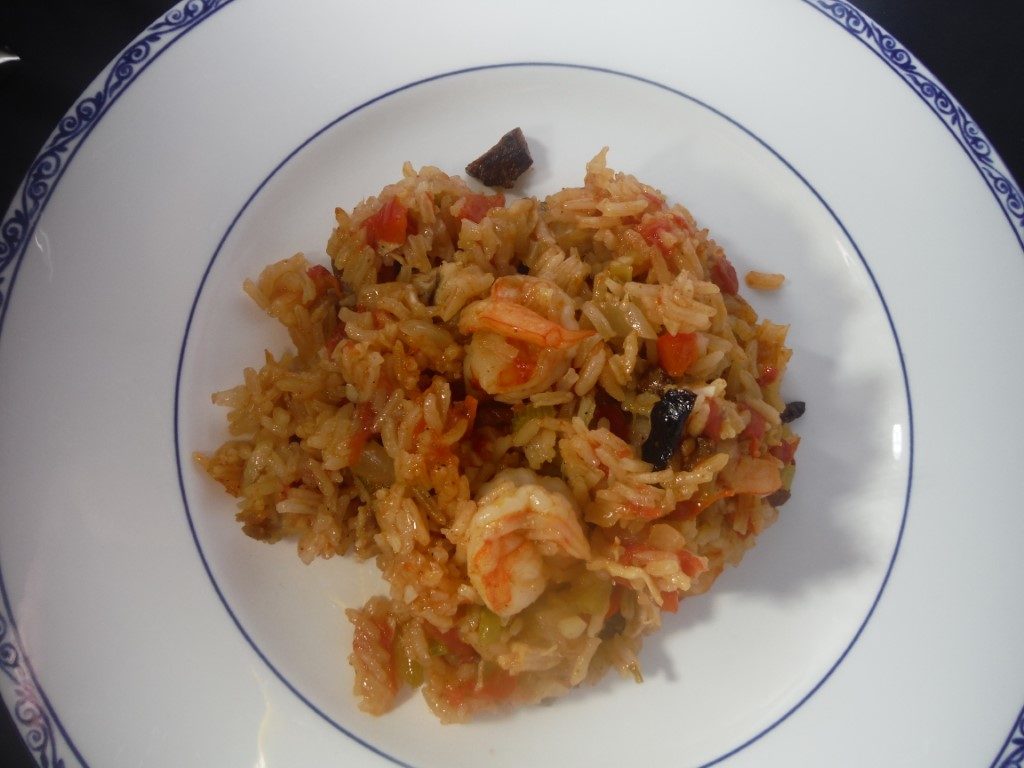 After making a batch of Tasso a few days ago, I was looking for a dish to use it in and hit on jambalaya, the Cajun dish of meat, vegetables, and rice.  In the true spirit of jambalaya, I used what I had on hand, which were bags of frozen chicken wings and shrimp in addition to the tasso, rather than feeling compelled to stick to a recipe.  I basically followed a recipe in Gumbo Shop: Traditional and Contemporary Creole Cuisine, although I used less meat and different ones.  Here is how I made this batch:
1 lb. chicken wings
8 oz. tasso, cut into small pieces
5 Tbs. vegetable oil, divided
2 cups chopped onions
½ cup chopped bell pepper
½ cup chopped celery
4 cloves garlic, chopped
16 oz. can diced tomatoes
1 tsp. black pepper
1 tsp. Sri Racha sauce (or other hot sauce)
1 tsp. salt
1-1/2 cups chicken stock (from poaching the chicken wings)
8 oz. shrimp
Heat a large saucepan with a Tbs. or so of vegetable oil and brown the chicken wings.  Add enough water to cover and simmer until the wings are done, about half an hour.  (You want to have at the end 1-1/2 cups of stock for the rice.)  Add any spare aromatics (onions, etc.) to the pan while the wings are cooking, and scrape the bottom of the pan to dissolve into the stock the browned bits from frying the wings.
Separate the cooked wings from the stock, and reserve both.  When cool, separate out the meat from the wings and discard the skin and bones.
In a Dutch oven, heat the remaining 4 Tbs. of oil and fry the tasso.  Remove the cooked tasso with a slotted spoon.  Add the onions, bell pepper, and celery, and cook until softened.  Add the garlic, tomato, pepper, and Sri Racha sauce and salt.  Stir well and cook for about 10 minutes.  Add the rice and stir well.  Add the chicken stock, shrimp and reserved chicken and tasso, and stir well.  Bring to a boil, reduce to a simmer, cover, and cook for about 20 minutes until the rice is cooked through.