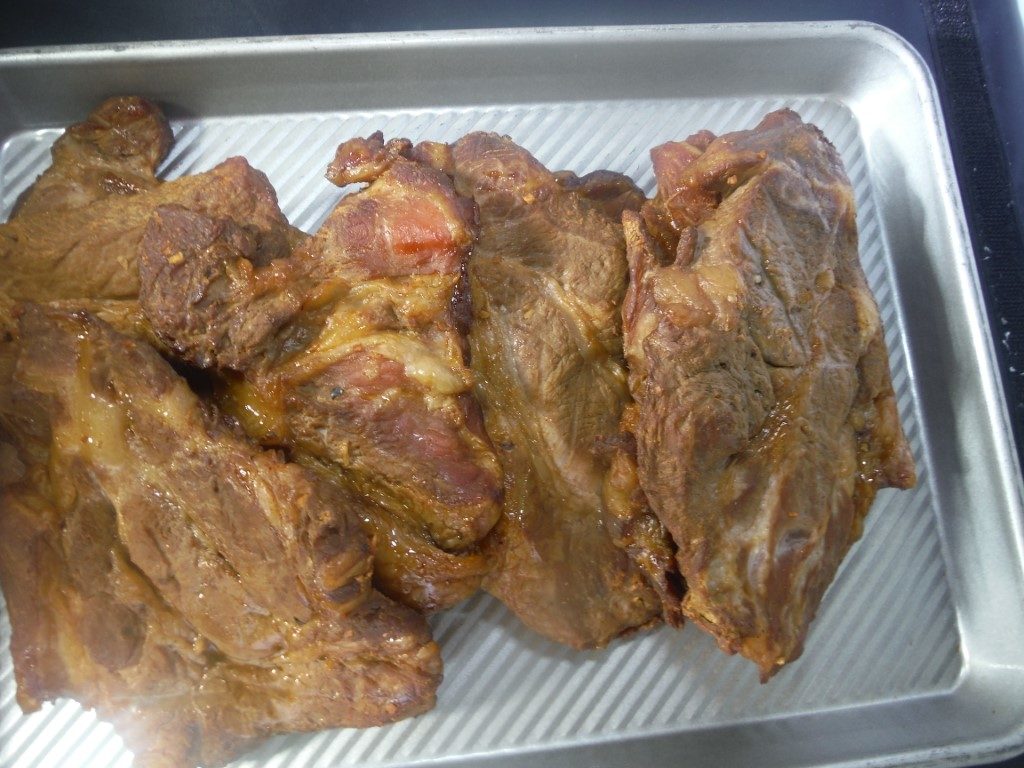 Tasso is a spiced and smoked ham which is used as an ingredient in a number of Cajun dishes, such as jambalaya.  When I bought a pork butt for carnitas, I found that that butts were all about 8 lbs. even though I only wanted 4 lbs. for the carnitas.  I ended up using the extra 4 lbs. for a batch of tasso using the recipe in Chef John D. Folse's The Encyclopedia of Cajun and Creole Cuisine.
4 lbs. pork butt
½ cup Worcestershire sauce
1 Tbs. Louisiana hot sauce (like Tabasco)
¼ cup cayenne pepper
¼ cup cracked black pepper
¼ cup salt
½ cup granulated garlic.
Cut the pork butt into ½ inch strips and place in a gallon ziplock baggie.  Mix together in a bowl the Worchestershire and hot sauce and add to the baggie.  Mix together in another bowl the cayenne, black pepper, salt, and garlic, and then add to the baggie.  Massage the bag well to ensure that all surfaces of the pork are covered in the marinade mix.  Seal the baggie after pressing out the air, and marinade overnight in the refrigerator, flipping the baggie a few times.
The next day, preheat an electric box smoker to 190 degrees.  Remove the pork strips from the baggie, briefly rinse off the marinade, and pat dry on paper towels.  Allow the pork to dry under a fan until the surface is tacky.  Smoke for about 2-1/4 hours adding wood chips every 45 minutes.  Use as ingredient in anything which would benefit from a spicy ham (gumbo, jambalaya, shrimp and grits, beans, etc.
Note – Depending on how this turns out, next time could skip the rinsing step so that the final product would be spicier.