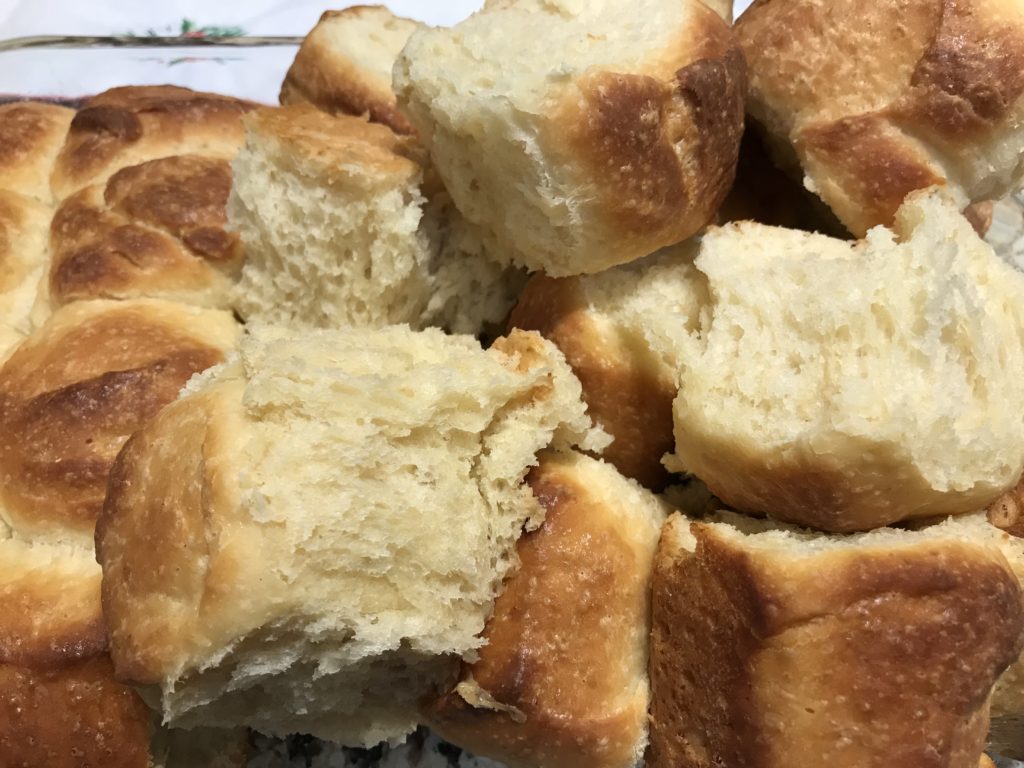 This is a popular example of yoshoku, Japanese adaptations of Western food. It is an enriched bread with a soft texture, which is in part from the use of a Chinese technique, tangzhong, in which a cooked paste of flour, milk, and water is added to the dough. I have made this twice for Aunt Patricia, who prefers soft breads to crusty ones. A batch of these rolls was popular at her Christmas dinner last night. This recipe is an adaptation from a recipe for a loaf of milk bread which appeared in the New York Times. I am sure this would make a very good loaf bread for sandwiches, French toast, etc.
This recipe will make 24 rolls (or two loaves).
Starter
½ cup (45 grams) bread flour
½ cup whole milk
½ cup water
Dough
5 cups (650 grams) bread flour
1/2 cup (120 grams) sugar
4 tsp. yeast
2 tsp. salt
2 eggs
1 cup warm whole milk (plus a little more for brushing)
½ cup (8 Tbs.) softened butter
Butter or cooking spray to grease the baking dish
Put the starter ingredients into a small heavy-duty saucepan. Whisk together, and cook over medium-low heat, stirring frequently until it looks like a thick (but pourable) paste. This will take 5-10 minutes. Remove from heat and cool to room temperature.
In the bowl of a stand mixer, add together the flour, sugar, yeast, and salt. Mix well. Add the starter, eggs, and warm milk. Mix well. Turn the mixer on low and with the dough hook mix knead for 5 minutes. This is a stiff dough. Cut the softened butter into little pats, and sprinkle them on the dough. Continue kneading on low another 10-12 minutes until the butter is fully absorbed. The dough will be firm and smooth. Form the dough into a ball, coat it with a little oil, and place it in a bowl or other doubling container, and allow to rise until doubled. This will take about an hour in a warm kitchen, and longer in a cool environment. I usually make it the day before and let it rise slowly overnight in the refrigerator.
About an hour before baking, punch down the dough, and divide it into 24 pieces. Grease a large lasagna pan. Roll each of the 24 pieces into a ball and place them evenly in the pan.   Spray the top with cooking spray and cover with plastic rack to rise a second time.
Heat the oven to 350 degrees. Brush the top of the dough balls with milk. Bake until golden and cooked through, about 35 minutes. Cool at least 20 minutes before serving to let the crumb fully set.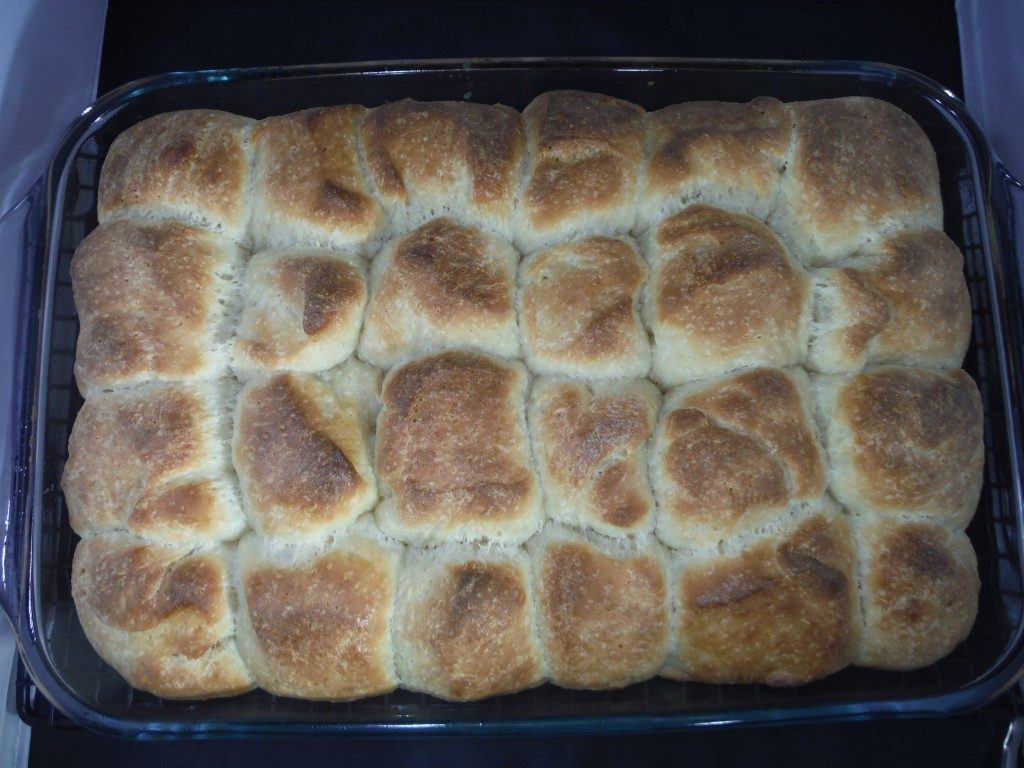 These rolls are very good with butter and jelly or with ham and mustard.