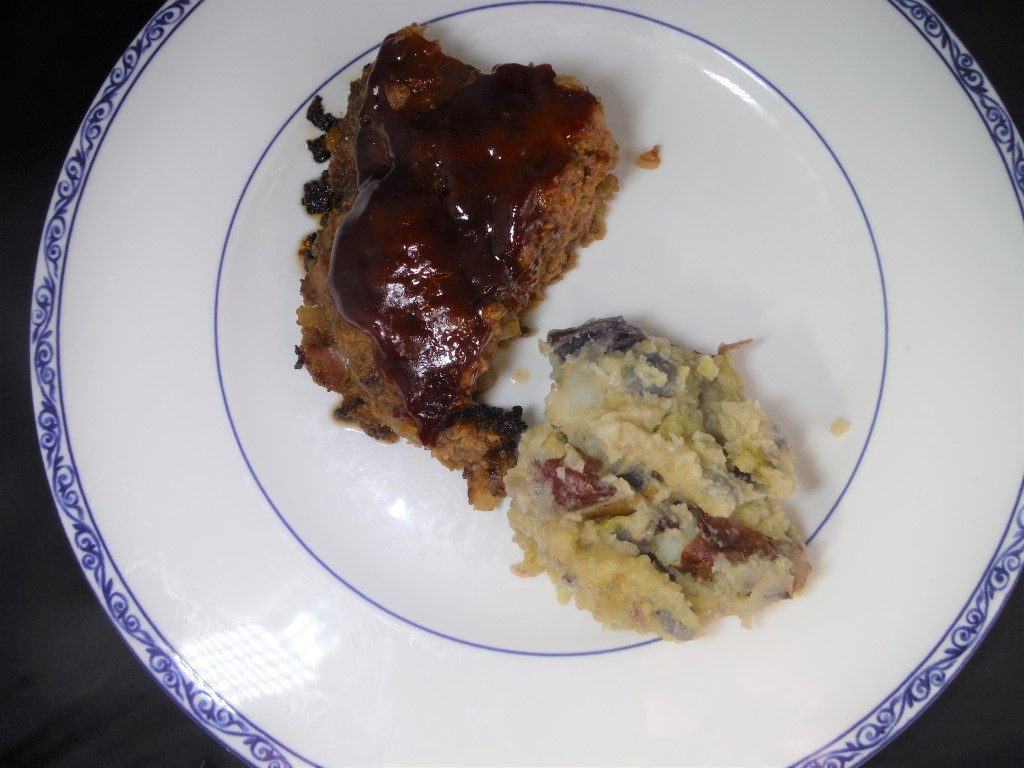 This variation of the comfort food classic comes from Korean-American and Southern chef Edward Lee and appeared in the Wall St. Journal's Slow Food Fast series. This is a flavorful meatloaf with more vegies included than is typical, with onions, celery, and mushrooms. It took me longer than the 35 minutes claimed by the article, but was still relatively quick and suitable for a weeknight dinner. A key reason why it is relatively quick to cook is that the meatloaf is free-form and thinner than if it was cooked in a loaf pan. Another time-saver is roasting the potatoes and mashing them in their skins.  It makes 4 servings.
1-1/2 lb. small thin-skinned potatoes (I used Private Selection Petite Medley from Kroger)
Salt and freshly ground black pepper
7 Tbs. butter, divided
1 cup finely chopped onions
½ cup finely chopped celery
1 clove garlic, finely chopped
3 oz. bacon, cut into ¼ inch dice
1 cup diced mushrooms (about 2 large)
1 lb. 80/20 ground chuck
½ cup bread crumbs
1 egg yolk
½ cup ketchup, divided
1-1/2 Tbs. bourbon
1 tsp. Worcestershire sauce
½ Tbs. soy sauce
1 Tbs. brown sugar
3 Tbs. half and half (or milk)
Preheat the oven to 400 degrees.
Toss the potatoes with salt and roast them on a small sheet pan until cooked through and soft, about 25 minutes.
While the potatoes are cooking make the meatloaf. Start by melting 1 Tbs. of butter in a frying pan, and sautéing the onions, celery, and garlic until the onions are translucent, about 3 minutes. Add the bacon and mushrooms, and cook another 5 minutes or so until the bacon is starting to brown. Put the vegie and bacon mixture in a large mixing bowl and allow to cool slightly. Add to the bowl the beef, bread crumbs, egg yolk, ¼ cup of ketchup, Bourbon, Worcestershire sauce, freshly ground black pepper, and 1 tsp. of salt. Mix well by hand and form into a rectangular loaf about 2 inches high on a small sheet pan. Put into the oven and bake for about 25 minutes, until it reaches an internal temperature of 145-150 degrees. While the meatloaf is baking, make the glaze by mixing together ¼ cup of ketchup, the soy sauce, and brown sugar. After the meatloaf has baked about 6 minutes, spread the glaze over the top of the cooking meatloaf.
When the potatoes are cooked through, coarsely mash them with 6 Tbs. of butter and the half-and-half. Check for seasoning.
When the meatloaf is done, slice or cut into chunks and serve with the mashed potatoes and a green vegetable or salad. (Last night I served asparagus cooked with a slice of bacon diced and diced onions, finished with about a Tbs. of vinegar.)